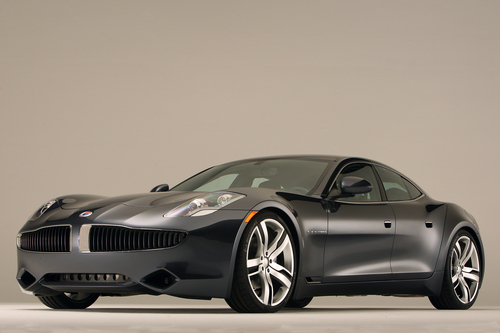 Did Fisker deliver Karma before it was ready, for DoE loan?
Please
SHARE
with friends and include TorqueNews in
Google Alerts
for tomorrow's interesting stories.
Last week Consumer Reports posted a brief report that the Fisker Karma, a plug-in hybrid luxury sedan, that CR had bought for testing had died, and was towed back to the dealer for servicing. This prompted a flurry of coverage, some of it over-hyped negativity, and I posted a piece noting that while it looks bad for Fisker that CR's Karma died during testing, it's not unknown for newly built cars to inexplicably die and require servicing. Yesterday, Katie Fehrenbacher, writing on GigaOM's Earth2Tech blog, reported that Fisker had pushed delivery of the Karma in an effort to meet deadlines in the Dept of Energy loan program, implying that quality problems of the sort CR reported last week were due to the rush to meet DoE deadlines.
While attending yesterday's launch of the Coda electric car, Fehrenbacher reports having talked with a former Fisker employee who is now a Coda employee. That unnamed Fisker employee claimed that it was not uncommon for Karma's to be shipped to customers to have technical issues, and that the company rushed to launch before the car was ready.
As we have noted before, Fisker has had repeated delays, over the years, in getting the Karma into production. Those delays caused the company to miss milestones in the Dept of Energy loan program, resulting in the DoE freezing Fiskers loans. Additionally, Fisker's battery supplier, A123 Systems, is beginning to stumble because Fisker has not purchased of batteries from A123 at the expected rate. Clearly these issues are likely to have placed Fisker Automotive management under pressure to meet the company's commitments to the Dept of Energy and the suppliers like A123. If nothing else Fisker's management signed contracts, and made other commitments, putting the company under an obligation.
The questions before us are: Whether Fisker did rush the Karma to production? Is the failure of CR's Karma is an abnormality indicating the Karma is a lemon? Whether all this means Fisker Automotive is headed towards bankruptcy?
It seems likely from what we just wrote that Fehrenbacher's source is accurately saying that Fisker's Karma was rushed to production. They had the motive, pressure to meet commitments, and the means, in setting schedules and priority.
Does the string of bad news about quality issues on the Karma mean it's an undriveable lemon? First was the battery flaw found by Fisker's QC team, leading to a recall to replace the battery packs. Then there was a software glitch causing the need for a software upgrade. The most recent is this report from Consumer Reports where the Karma they'd purchased for testing got into a confused state and wouldn't drive.
Pages
Please
SHARE
with friends and include TorqueNews in
Google Alerts
for tomorrow's interesting stories.