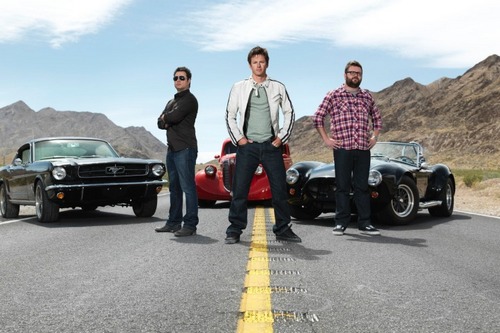 It's time to Cancel Top Gear
Please
SHARE
with friends and include TorqueNews in
Google Alerts
for tomorrow's interesting stories.
For those that don't know, Top Gear revolves around three British auto journalists, Jeremy Clarkson, James May, and Richard Hammond. The show is comprised of car reviews, putting stars in a reasonable priced car or on a racetrack, and generally crazy antics in moving vehicles of some sort.
If you were to ask anyone who loves cars about Top Gear, more than likely you will hear, "Top Gear is the greatest show EVER!" I concur!
Fans, like myself, of the one and only good and original Top Gear on the BBC, feel the History channel needs to stop. Please, please CANCEL Top Gear USA! We don't like, we don't want it, and we really, really hate it! We rather have you re-run episodes of the original.
Sure in the second season, Top Gear USA did good business for the History channel. There is no doubting that. I am sure the History channel execs are pleased with the 1.9 million estimated viewers. For History Top Gear USA represented a 24-percent increase in audience size for Adults 18-49. Essentially this mean that this is the youngest audience ever for the History channel. (That's sad people!)
The thing is, for anyone who has brain cells that actually function and that has seen the original, why would you want to watch Top Gear USA? It lacks, the originality and chutzpah of the BBC version with the three awful American hosts, Adam Ferrara, Tanner Foust and Rutledge Wood.
Tanner Foust, is a race car drive that has little in the way of natural camera ability. Most of the time it feels like he is reading from a script, which I am fairly sure he did not write himself. Rutledge Wood, is the fun loving pudgy one out of the bunch. Somehow he just doesn't work either and it also seems like he reads from scripts he did not write.
Adam Ferrara, while I don't want to admit it... is actually good. (I might be biased, since I firmly believe all people named "Adam" are awesome.) He is quick on his feet and is able to carry himself on camera well. No doubt working as a stand-up comic and actor, gives him an edge over the other two hosts. However, he can't carry the show for the other two and the three lack chemistry.
Top Gear USA just feels like a rehashed version of the original, which is not as good. Most of the episodes give the feeling of Deja-Vu of the BBC original.
I hate to say this, but we Americans have a serious problem of taking good British TV shows, and completely ruining them. Anyone ever heard of The Office? I wonder if we will be doing an Americanized version of Downton Abbey?
Even with History channel's success with Top Gear USA's second season, I highly doubt it will continue to grow. Being among the coveted young demographic that History is so keen on, I realized something... most 20-30 year-olds, don't have cable. Those that do most, don't even watch it much.
Pages
Please
SHARE
with friends and include TorqueNews in
Google Alerts
for tomorrow's interesting stories.