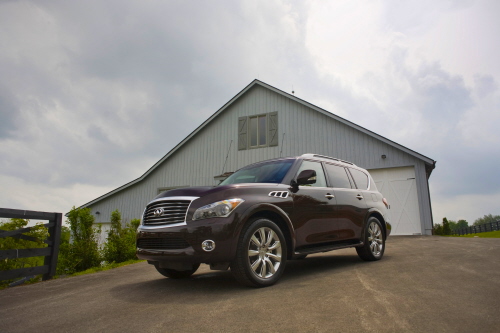 Mexico is 37th market for Infiniti automobiles
Please
SHARE
with friends and include TorqueNews in
Google Alerts
for tomorrow's interesting stories.
The intro was this week in Mexico City when more than 350 guests came together to celebrate. In an atmosphere combining art, gastronomy and the finest wines, five new vehicles that will be sold at "Infiniti Centers" were introduced.
The new rides are the QX56 (pictured), G37 Sedan, G37 Coupe, M37 and M56. The FX35 and FX50 also are available for purchase in Mexico now.
José Muñoz, president and general director of Infiniti, greeted guests with inspiring words and explained why the brand has arrived to Mexico. Infiniti's message: "All or Nothing."
Socialites, celebrities and important business people came to see the cars at the introduction, capped off with a performance by Magos Herrera, a leading jazz voice on the Mexican contemporary scene.
Please include TorqueNews in
Google Alerts
to receive tomorrow's stories and
SHARE
this with friends if it was interesting.
Inspired by key attributes of the Infiniti brand — Inspired Performance, Brave, Human Touch — Mexican architect Michel Rojkind created five exclusive structures to display each of the Infiniti models. Various master craftsmen — using the most advanced techniques — worked for days to bring each of the structures to life. They are to be exhibited to support philanthropic endeavors. Sebastian Vettel, the youngest double world champion in the history of Formula 1 racing, also was part of the launch.
Infiniti also unveiled its Essence Concept Vehicle — the brand's muse. Infiniti says the concept "functions as an inspiration for the creation and design of the entire Infiniti portfolio."
There will be five Infiniti Centers serving the key markets in Mexico: Polanco, Interlomas, Pedregal, Monterrey and Guadalajara.
Mexico is the 37th country where Infiniti automobiles are sold.
Reach TN's Hawke Fracassa at [email protected] and (248) 747-1550. Follow him on Twitter @HawkeFracassa.
Image source: Infiniti
Please
SHARE
with friends and include TorqueNews in
Google Alerts
for tomorrow's interesting stories.