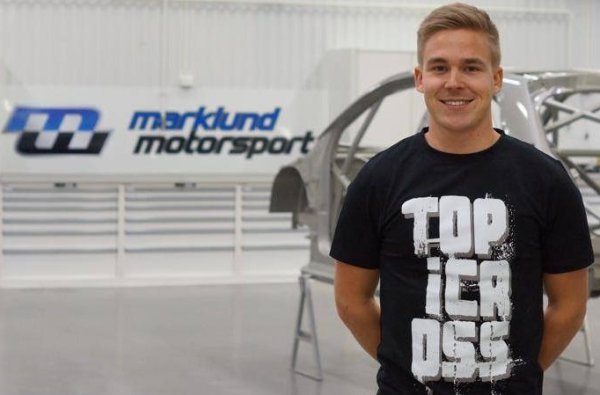 Topi Heikkinen Rocks the Global RallyCross World - Leaves Ford for VW
Please
SHARE
with friends and include TorqueNews in
Google Alerts
for tomorrow's interesting stories.
Topi Heikkinen was hurt during practice for the 2012 X Games and that injury knocked him out for the season but he returned with a furious vengeance in 2013, winning 5 races, finishing on the podium in 3 others and his worst finish of the year was a 4th at the Vegas season finale. Not surprisingly, success like that allowed Topi to secure the driver's championship ahead of the final event and Ford had the manufacturer's championship locked up a couple weeks before the end of the season. Heikkinen displayed dominance like few other drivers have displayed in the entire world of motorsports and it was widely expected that Topi would come into the 2014 Global RallyCross season with his aim on a second driver's championship behind the wheel of his OlsbergsMSE Ford Fiesta.
"After a successful year winning the 2013 GRC title, my goal now is to win the new FIA World Rallycross Championship with Marklund Motorsport – and nothing less," Heikkinen asserts. "I'm confident that together we can develop a winning car and team. I want to thank Jan Marklund for this great opportunity to join Marklund Motorsport. I'm pumped for the season ahead!" He plans to do this by winning the 2014 World Rallycross Championship with Marklund Motorsports in a Volkswagen Polo RX Supercars – not the Ford Fiesta in which he crushed the competition last year in the GRC ranks.
It is unclear whether or not Topi Heikkinen will compete with his new team in the world of Global RallyCross but considering the busy schedule of the World RallyCross series and the fact that Marklund Motorsports intends to compete in the 2014 X Games in Austin Texas, it seems that Topi has left his ride with Ford and will not attempt to win a second straight GRC driver's championship. Heikkinen will field one of the two Marklund Motorsports VW Polos in the World RallyCross (WRX) series with 21 year old Anton Marklund, the son of team owner Jan Marklund.
This new partnership with Marklund Motorsports could allow Topi Heikkinen a chance of winning the 2014 World RallyCross Championship but the young Finn could run into trouble when he hits American soil for the X Games. That race will feature the dominating Ford Fiesta teams which controlled the GRC in 2013 with Heikkinen's help but the success of Ken Block, Tanner Foust and Brian Deegan could continue into 2014 without Topi. Even if you took Heikkinen's #57 Fiesta out of the mix, Ford still dominated every single race with only Liam Doran's Mini snagging a win in Germany.
Pages
Please
SHARE
with friends and include TorqueNews in
Google Alerts
for tomorrow's interesting stories.