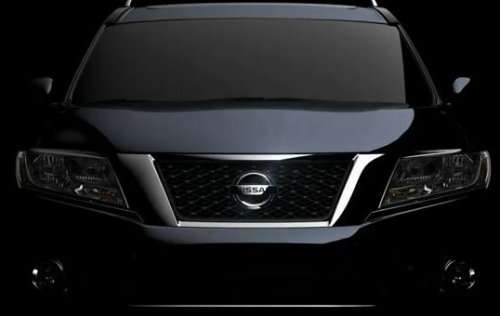 The next Nissan Pathfinder teased in two short videos
Nissan first addressed the next generation of the popular SUV a few weeks ago with a shadowy image of the new Pathfinder from the side which showed very little shy of the windshield line and the top line of the doors. This time, Nissan has offered two videos – one being 7 seconds and the other 11 seconds – showing us the front and rear end of the upcoming Pathfinder with some artsy camera and lighting work.
The first video, lasting just seven seconds, starts off with complete darkness until a light pans from left to right – giving us a glimpse of the new front end of the next Pathfinder as the light illuminates the various parts of the front end. Around 3.5 seconds we get our best look at the new front end, showing the straight line running across the front end, forming the top line for the grille and headlights. While this is just a quick look, the front end looks to be a refreshing improvement from what is currently offered with headlights that extend in towards the center more than the current model and an angular "scowl" created across the front end giving the new Pathfinder a more aggressive look.
The second new Nissan Pathfinder teaser video is 11 seconds long and it offers a look at the rear end of the new SUV from a low camera angle. Like in the first video, this back end shot begins with darkness and the light pans from side to side; moving across the vehicle like the internal workings of a photocopier. As the light moves across the back of the Pathfinder, we see what looks to be a molded spoiler along the top of the vehicle with large, chrome laden taillights sitting in the middle of the rear gate.
The only real information on the Nissan Pathfinder is that it will seat seven while also having lots of cargo room with four wheel drive allowing it a great deal of versatility. This isn't exactly groundbreaking information as it sounds as though the next generation Pathfinder will follow similar lines to the previous models. The Nissan press conference at next week's Detroit Auto Show is on Tuesday so it could be the second day of the 2012 NAIAS before we see the new Pathfinder but when we do, we will be bringing you complete information and high resolution images of the sporty new Japanese utility vehicle.
Check out the two videos below of the upcoming Nissan Pathfinder Concept – the vehicle said to offer a preview of the next generation Nissan Pathfinder. Based on what we can see in these few images, we can expect the production version to closely follow the design cues of the concept mode set to debut next week.
TorqueNews will be at the 2012 Detroit Auto Show next week, bringing you the best and the brightest of the Motor City show in Cobo Hall!
Other Detroit Auto Show News:
Nissan Releases 2013 Pathfinder Info Ahead of Detroit Auto Show
Another piece of the Buick Encore teaser unveiled
Mopar Coming to Detroit Auto Show with 2012 Dodge Charger Redline
Toyota Motors teases the Lexus Concept bound for Detroit
Jaguar, Land Rover will both skip 2012 Detroit Auto Show
GM announces 270 horsepower turbo 4-cylinder for Cadillac ATS