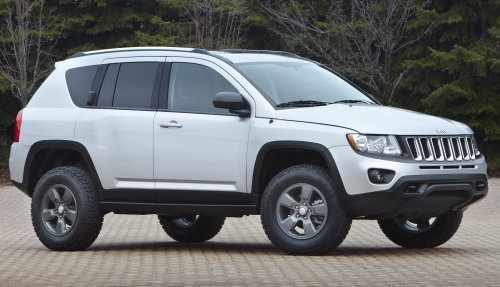 The Jeep Compass Canyon is headed to Moab
Please
SHARE
with friends and include TorqueNews in
Google Alerts
for tomorrow's interesting stories.
Mopar's people started with a 2011 Jeep Compass with the Freedom Drive II drivetrain – including a continuously variable transmission (CVT) and Jeep's Trail Rated four wheel drive system. They then added a Rocky Road Suspension 2 1/8th inch lift kit to make room for the Mickey Thompson Baja ATZ 225/75-R16 tires wrapped around a set of standard Jeep Liberty 16" alloy wheels.
Helping to bolster the off-road abilities of the compact Compass Canyon, Mopar removed the front and rear sway bars and to give the Compass a little more power, a Mopar Cold Air Intake kit and cat-back exhaust system were added. Helping to keep the undercarriage intact, Mopar has added front and rear skid bars, side sill bars and longitudinal skid plates to prevent anything (like massive rocks on the trails of Moab) from tearing up the underside of the Compass Canyon.
Please include TorqueNews in
Google Alerts
to receive tomorrow's stories and
SHARE
this with friends if it was interesting.
While the Jeep Compass Canyon isn't likely to completely change the perception of the Compass to those who don't care for the compact sport ute, this sporty design vehicle shows what the Compass is capable of with a little help from the performance aftermarket.
The Jeep Compass Canyon will make its public debut at the 2011 Easter Jeep Safari in Moab Utah on April 16th but we can expect this (and the other Moab-bound Mopar SUVs) pop up at shows around the country throughout the 2011 calendar year.
Check out the links below for more Chrysler news and stay tuned to TorqueNews.com as we bring you more of the vehicles of the 2011 Easter Jeep Safari.
Introducing the Jeep Wrangler Pork Chop
Mopar builds the Hemi-powered Jeep Wrangler Renegade for Moab
The Easter Jeep Safari special show vehicles are announced
Chrysler unveils the Ram 1500 Express
Chrysler alters production at Charger/Challenger, Fiat 500 plants due to Japanese crisis
Please
SHARE
with friends and include TorqueNews in
Google Alerts
for tomorrow's interesting stories.