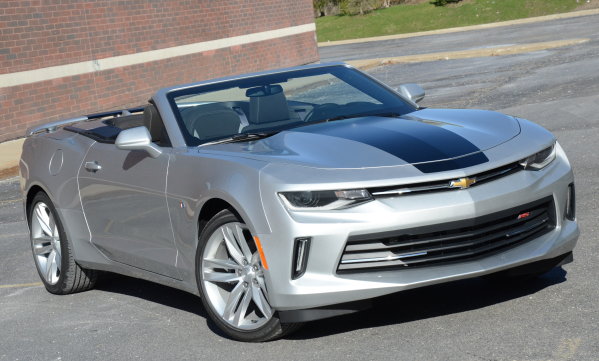 GM Idling Camaro, Corvette and Cadillac Production as to Trim Inventory Levels
Please
SHARE
with friends and include TorqueNews in
Google Alerts
for tomorrow's interesting stories.
In the American auto industry, automakers try to maintain an inventory supply level of around 70 days, but with some of their vehicles grossly exceeding those ideal levels, General Motors will idle production at five plants around the United States, including those plants which build the Chevrolet Camaro, the Chevrolet Corvette and a handful of other popular models. This will allow dealerships some time to sell off some of the cars already on lots around the country before building more .
Inventory Levels Across the Industry
Across the auto industry, companies try to maintain an inventory supply level of around 70 days – meaning that they have enough vehicles on lots around the country to satisfy 70 days' worth of sales. When a company has a much larger inventory supply which is continuously growing, they are essentially building vehicles at a greater rate than they are selling, and that is bad for business.
Unfortunately, General Motors has a list of vehicles with a much larger inventory around the country, so they are halting production for a short time to reduce inventory levels. Those vehicles which are in-excess of the normal 70-day threshold are the Buick LaCrosse, Cadillac CT6, Cadillac ATS, Cadillac CTS, xChevrolet Impala, Chevrolet Malibu, Chevrolet Camaro, Chevrolet Volt, Chevrolet Cruze and Chevrolet Corvette – all of which are built in one of five plants around the USA.
GM's High Inventory Levels
According to The Detroit News, the Camaro and Corvette had the biggest inventory levels at the end of November, with the Camaro sitting at 177 days and the Corvette at 170 days' worth. The Buick LaCrosse had a 168-day supply, the Cadillac CTS had 132 days, the Chevy Cruze had 121 days, the Cadillac ATS had 119 days and the Cadillac CT6 had 110 days.
As a result, GM will stop production at the Detroit Hamtramck plant (LaCrosse, CT6, Impala, Volt) and at the Fairfax Kansas plant (Malibu) for three weeks. The Lansing Grand River plant (ATS, CTS, Camaro) will pause for two weeks. The Lordstown Ohio plant (Cruze) and the Bowling Green Kentucky plant (Corvette) will each stop building cars for a week. The third shift at Lansing Grand River and Lordstown will also be removed altogether in January, presumably following this newly planned downtime.
Pages
Please
SHARE
with friends and include TorqueNews in
Google Alerts
for tomorrow's interesting stories.