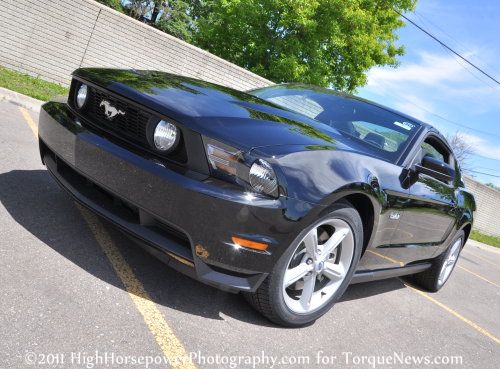 Ford Racing 2011 Mustang GT sets production car world record
Ragan, who makes a living driving the UPS-sponsored #6 Ford Fusion in the NASCAR Sprint Cup Series ripped around the half-mile Bristol oval in just 19.481 seconds at a speed of 98.497mph.
Just how fast is that? The NASCAR Sprint Cup Series raced at Bristol this past weekend and the rear of the qualifying field made it around the track in around 15.5 seconds with speeds around 120mph. That means that the 2011 Ford Mustang GT used for the world record run was able to make a trip around the famous half-mile track less than 4 seconds slower than a fully-prepped NASCAR race car. Keep in mind that the 2011 Ford Mustang GT driven by David Ragan was fully street legal with all of the amenities that you would find in any other production 2011 Mustang GT.
In order to give the 2011 Ford Mustang GT a little better chance of setting the world record for production cars, Ford Racing added their Ford Racing/Whipple supercharger package that ups the power from the standard 412 to 624. Helping the 2011 Mustang to handle the extra power and the high-banked race track, Ragan's car was equipped with the Ford Racing FR3 handling package which adds adjustable dampers, lowering springs, an anti-roll bar kit, jounce stoppers and a strut tower brace. While these items make the 2011 Mustang GT far from stock, these are packages available from your local Ford dealership so while using only Ford parts, Ragan and his 2011 Mustang GT set the record.
The most enticing part of this news is how inexpensively the average Joe can put together a very similar car to the one driven by David Ragan at the World's Fastest Half-Mile Speed Trials. The 2011 Ford Mustang GT starts at roughly $30,000 with the 624hp Ford Racing supercharger package carrying an MSRP of $7,500 and the Ford Racing FR3 handling package that tacks another $1,800 to the final price. That means that for around $40,000 ($39,300 with the values above) plus the cost of whatever labor you need to make it happen, you too could own a 2011 Ford Mustang GT capable of setting the world's fastest half-mile production car record.
The World's Fastest Half-Mile Speed Trials at Bristol Motor Speedway will air on SpeedTV on April 2, 2011 at 10pm (check your local listings for the correct time).
Source: MustangsDaily
Other Ford News:
Win a 2011 Ford Mustang GT from Bristol Motor Speedway, Ford and Scotts
Continental recalls tires on 65,000 Ford F250 and F350 Super Duty pickups
Video of the 2012 Ford Mustang Boss 302S in action
Ford and the feds continue to discuss F150 airbag recall
Saleen Performance Vehicles to end vehicle production in 2011
Ford execs get massive stock bonuses worth over $100 million
Please
SHARE
with friends and include TorqueNews in
Google Alerts
for tomorrow's interesting stories.