The 2017 Ford Flex is an interesting vehicle. It has a unique design with lots of hard angles and sporty stance which is magnified by the black accents from top to bottom, but when I spent a week driving it, most of my passengers made a comment like "what is it?" They have a good point, as the Flex isn't really an SUV, with its low, wide stance which is unusual among four wheel drive SUVs and crossovers. In fact, being based on a similar platform to the current Ford Taurus, the Flex could almost be called a wagon if not for the SUV-like body.
The Ford Flex isn't really a wagon and it isn't really an SUV, but it offers the interior functionality of a large SUV in a package which delivers the fun-to-drive factor of a sport wagon, so when people asked me what it was – I replied by telling them that it was a ton of fun to drive as 7-passenger vehicles go.
Driving the 2017 Ford Flex Limited AWD
The 2017 Ford Flex Limited AWD which I spent a week driving was powered by the 3.5L EcoBoost V6, which is mated to a 6-speed automatic transmission and an advanced all-wheel drive system. This drivetrain offers 365 horsepower, 350lb-ft of torque and the surefootedness of the all-wheel drive system, essentially combining the performance of the modern Ford Taurus SHO with the interior of a large SUV.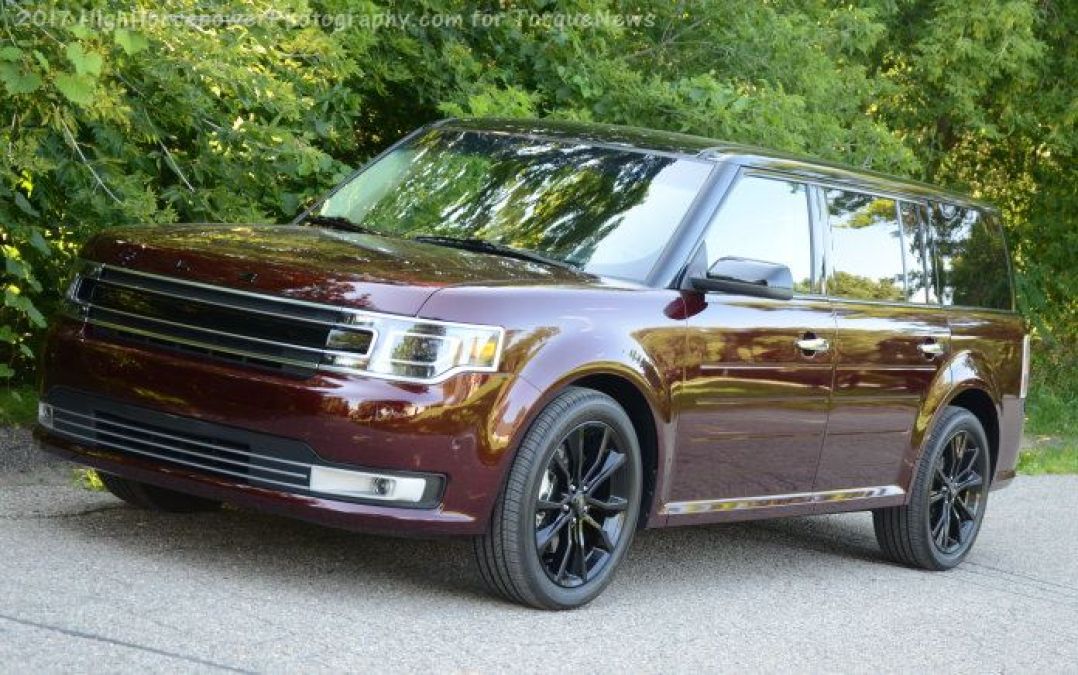 That 365 horsepower EcoBoost engine makes the Ford Flex surprisingly quick, with the AWD system allowing you to launch the vehicle as hard as you please without any concern of traction issues. When you floor the twin turbo Flex from a stop, there is a faint hint of hesitation as the turbos spool up, but that period is so brief that most drivers will never noticed it. More importantly, once the turbos spool up, the Flex pulls hard enough to get to 60 miles per hour in the low 6-second range, but that 3.5L V6 continues to provide plenty of acceleration power to speeds well beyond any posted speed limit in the USA.
In addition to offering solid straight line performance, the low stance of the Ford Flex affords this 7-passenger vehicle impressive handling characteristics. Most 7-passenger vehicles are minivans or larger SUVs, all of which have a taller ride height and a higher center of gravity, leading to reduced cornering capabilities. On the other hand, the Flex hugs the corners far better than your average minivan or SUV, so while I don't imagine that many Flex buyers will purchase one with the intention of going road racing, owners who want to be able to enjoy a spirited romp through the twisties should find this 7-passenger Ford superior to other vehicles with similar interior space. Also, while it will handle a twisty road better than most SUVs with similar interior space, the suspension and chassis setup provides a smooth, comfortable ride on the highway.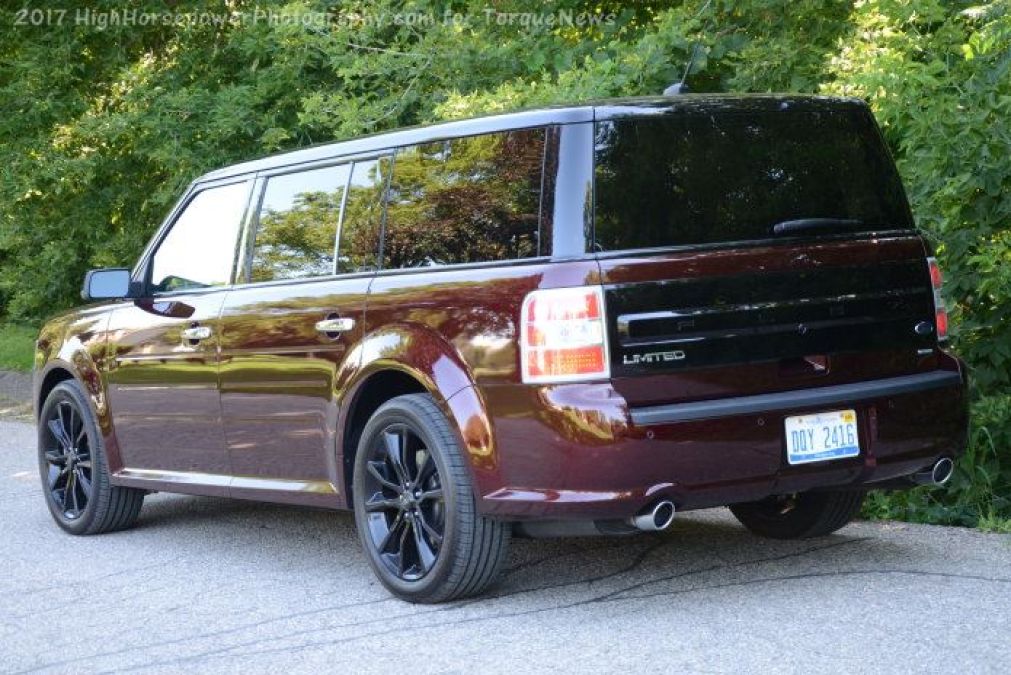 Really, the Flex launches, accelerates and handles like a slightly heavier Taurus SHO, and while that might seem like an odd comparison, we need to keep in mind that we are talking about a 7-passenger vehicle with cargo room to spare. If the Flex had a slightly smaller body, it would likely be classified as a sport wagon, but since it is a boxy 7-passenger vehicle with big time cargo potential – it gets group in with larger SUVs. When compared to larger SUVs, the Flex feels like a performance car.
Most importantly, in addition to packing all of that power, the 2017 Ford Flex makes for a great daily driver in pretty much any condition. While I drove it in the summer, I did take it down some slick dirt roads after a hard rain and it performed well in the slippery mud. My one key concern with the rougher roads as that the Flex was a bit too low, so I took some of those roads very slowly and if I drove a Flex every day – I would avoid dirt roads with deep ruts and potholes. However, on smooth dirt roads, even when blanketed in mud, the Flex had no issues getting from Point A to Point B.
In other words, the 2017 Ford Flex AWD with the EcoBoost engine offers tons of power and plenty of fun-to-drive factor, but it does so without compromising any of the comforts expected of a daily driven vehicle. A higher riding SUV might be needed for someone who lives on a rough dirt road, but for everyone else, the Ford Flex offers far greater driving dynamics than almost any 7-passenger SUV or minivan.
Finally, while the fuel economy numbers aren't going to blow your mind, the EPA ratings of 15mpg city, 21 highway and 17 combined proved to be accurate, based on my time in the 2017 Flex. I averaged just over 17mpg for the week, perhaps because I saw slightly better than 21mpg when cruising on the highway, but it seems that many buyers should be able to hit those EPA numbers.
A Loaded, Spacious Interior
My 2017 Ford Flex test vehicle was fitted with the features of the premium Limited trimline, as well as the added features which come with the 3.5L EcoBoost V6. Adding the EcoBoost engine also adds the Intelligent AWD system and the 303A popular equipment group, which adds things like 10-way power adjustable heated/cooled front seats, a heated steering wheel, power folding 3rd row seats and adaptive cruise control. The Flex Limited package comes standard with leather seats and trim, the premium Ford Sync 3 infotainment system with an 8-inch touch screen, a 12-speaker Sony sound system, remote start, adjustable interior lighting, dual zone automatic climate control and a long list of high tech safety features, so when combined with the items in the 303A popular equipment group – the Ford Flex Limited with the EcoBoost is a heavily appointed vehicle, with basically every option that you could want in a 7-passenger vehicle.
Gadgetry aside, the biggest advantage of the 2017 Ford Flex interior is the space, with seating for 7 and a cargo area which can hold a couple large pieces of luggage. Both the front seats and the outboard 2nd row seats offer plenty of space in every dimension for taller adults and the 2nd row middle seat offers solid leg and head room for a taller adult, but of course, putting three adults in the 2nd row is going to make hip and elbow room a little tight.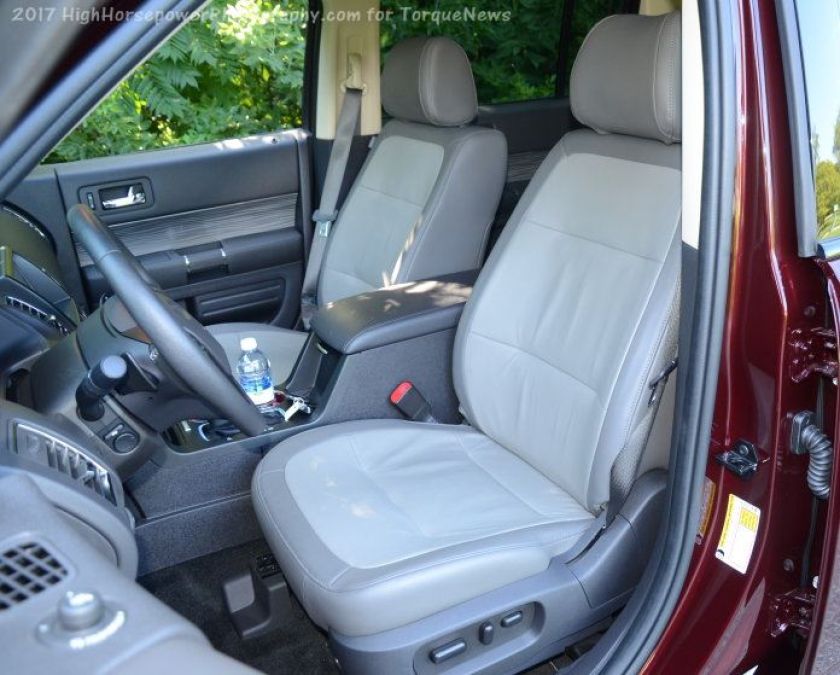 The 3rd row seats are slightly elevated as the cabin crosses over the rear differential and this higher seating position reduces headroom a bit for the rear-most riders. As a result, the 3rd row seats in the Flex are best reserved for kids or shorter adults, but it is a vehicle which can comfortably seat two adults and five kids or five (friendly) adults and two kids – or seven adults if two of them are around the 5-foot mark. My 5-foot tall wife could sit comfortably, but a 6-foot tall friend was a little cramped.
Finally, if you fold down the 3rd row seats, you gain a ton of cargo space and if you fold down the 2nd row seats, the Flex offers as much covered cargo space as most larger SUVs.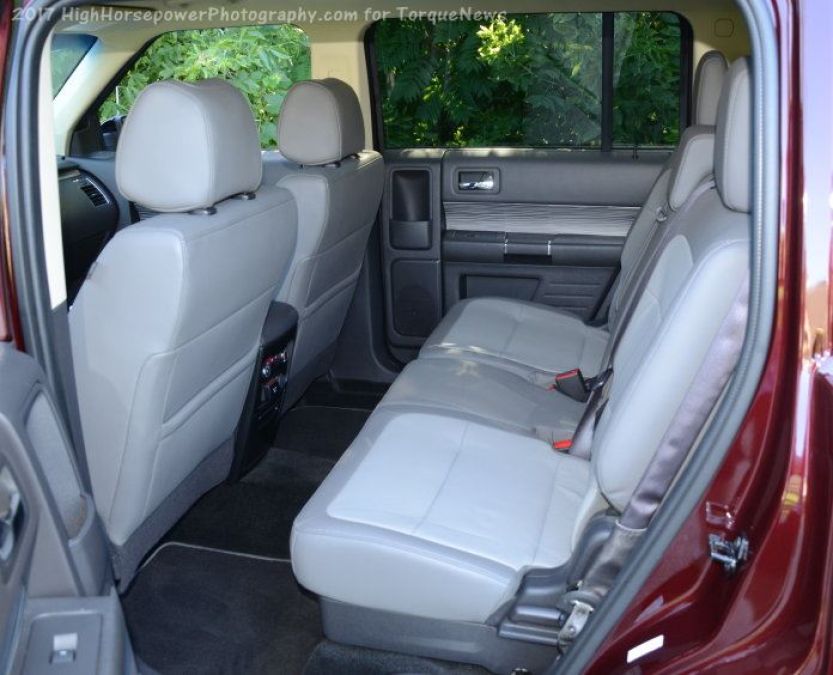 A larger SUV or a minivan does offer a little more rear headroom for the 3rd row of seats, so if you really need to comfortably seat seven adults on a regular basis, the Flex might not be for you, but if you have four or five kids or you are an active carpool driver for your kids' school, the Flex is an excellent alternative to a minivan or SUV for someone who wants a smaller package and improve driving dynamics. Even if you carpool with a group of adults, the Ford Flex could serve as a great option to a minivan or large SUV, provided that some of your coworkers are of below-average height.
The Final Word
The 2017 Ford Flex might be a tough vehicle to classify, but it combines seating for seven people with car-like driving dynamics like few other vehicles. If you want a vehicle with all of this seating space, but you want something that it more fun to drive than a minivan or a large SUV while also being less expensive than many 7-passenger SUVs, the Flex might be the best option on the market today. The price-as-tested of my Ford Flex Limited with the EcoBoost engine was $48,905 and while that is no small chunk of change, many 7-passenger SUVs are well into the $50k+ range, so the fully-loaded price of my Flex test vehicle makes it quite the bargain compared to many other 7-passenger vehicles.
So, if you need lots of passenger space or lots of cargo space and you want something that is more comfortable and more fun to drive than a minivan or large SUV – the 2017 Ford Flex with the EcoBoost engine might be your ideal new vehicle. Few 7-passenger vehicles under $50k combine performance and functionality like the Flex, making this boxy Ford an awesome option for someone who wants to enjoy driving six of their friends (or kids) through the daily grind.