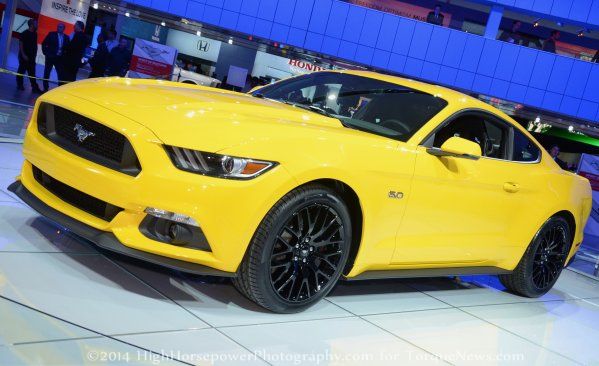 2015 Ford Mustang GT #001 Sells for Roughly 10 Times the MSRP (Video)
Please
SHARE
with friends and include TorqueNews in
Google Alerts
for tomorrow's interesting stories.
The 2015 Ford Mustang was designed to compete on a global level and although the vast majority of the S550 Mustang is very similar to the current 2014 Mustang, the redesigned front end sporting a heavy dose of the Evos styling language that is also featured on the new Ford Fusion has drawn some harsh criticism from those folks who expected that the Mustang would forever look like the current (2104) models from front to back. Those self-appointed industry experts insist that the design of the 2015 Ford Mustang will hurt the sales numbers of the fabled pony car but the results of the Barrett Jackson auction for 2015 Mustang GT #1 indicated otherwise as a handful of bidders battled it out for the rights to buy the first ever S550 Mustang.
When the 2015 Ford Mustang arrives in showrooms later this year, we can expect that the least expensive V8-powered Mustang GT coupes will carry a price in the area of (roughly) $30,000 but the buyer of the first new Mustang built was willing to pay a whopping $300,000. While the 2015 Ford Mustang GT that rolled onto the auction block was finished in the gorgeous Deep Impact Blue, the buyer (whose name has not been announced) will get to configure the first 2015 Ford Mustang GT exactly how he or she wants including exterior color, interior color, stripe packages and the various option packages. Even if Ford allows the buyer of 2015 Mustang #1 to pick every possible option and the price rises above $40,000 – the owner will have still paid better than 7 times the MSRP of the new Mustang GT for the right to own the first unit built for public sale. You can watch the 2015 Mustang auction action in the video at the end of this article.
Pages
Please
SHARE
with friends and include TorqueNews in
Google Alerts
for tomorrow's interesting stories.