Volt owner shares negative experience at a public charging station
Scott Brown reports from California.
This 2013 Chevy Volt is the "Extended Range" vehicle produced by General Motors. When GM announced that this vehicle would have a full electric range of approximately 40mi and a gasoline engine that could be used to extend that range I became deeply interested for two reasons. One is the fact that my commute into work everyday is 37 miles. The second reason is twofold; by trade, I am an automotive service technician with a keen interest in alternative propulsion systems, and years ago, I had a customer that had two of the early GM electrified vehicles (EV1, first generation & second generation) that he allowed us to explore a bit.
For me, this Chevy Volt is used to get me back and forth to work and approximately 98% of the time I do this 100% in EV mode. In the city where I work, they have multiple Level 2 charging stations that I have had access to over the past year and so far, there has been no cost to me in order to charge my vehicle. Although the vehicle is equipped with a 16.5 kWh battery, the system is designed to only allow access to approximately 10.2 kWh's. On my commute into work (which is slightly downgrade) I typically consume between 7-8kWh and approximately 10.1 on my commute home. At home I have a Level 2 charger installed in my garage and the utility company has my residence on a special plan that allows for a "Super-off Peak" period (between 12:00-6:00am) where I have my vehicle programmed on "Delayed Departure" mode set up to have the vehicle completely charged by 5:30 am each day. This results in an average cost of approximately $0.18/kWh. My daily fuel costs with my previous vehicle that achieved 22MPG cost me about $13/day and now with pure electric, my cost is under $2/day.
I purchased this Volt in September of 2013 and now have 29k miles. In that time I have consumed approximately 126 gallons of fuel. I have been on several long trips, San Francisco, Santa Barbara, Vegas etc and on fuel only the vehicle gets about 40 MPG. Currently the onboard system is reporting lifetime average of 237 MPG.
One day when arriving for work at my usual destination I found that there were two vehicles parked at the public charging station that has a total of 3 parking spot designated for charging and one public spot that could be utilized by most plug in cars. Of the two vehicles (Leaf and a Prius), the Leaf had completed charging, but I was unable to get the charge cord to reach my vehicle because the driver of the Prius parked his RF tire on the cord, limiting reach. I then decided to park my vehicle on the opposite side of the Prius to see if I could get the cord to reach my car. Well I found that my only option was to unplug the charging Prius and attempt to swap the cables. While I was able to plug in my vehicle, the cable the Prius was parked atop of was just too short to reach his car.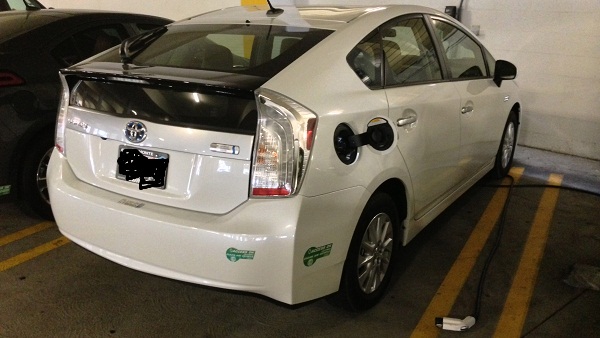 I ended up leaving a note for the Prius owner that was straight forward advising him of my dilemma and that he should be careful not to park his vehicle on top of the electrical cables. When I returned to retrieve my vehicle a few hours later, the Prius was gone and I found that my passenger front door had been keyed. Although I don't have a witness, there is a high probability that this was the work of the Prius driver.
Fortunately I took pictures of his parking skills that also captured a picture of the license plate. The local police took a report and I am still driving around with a signature mark in my RF door.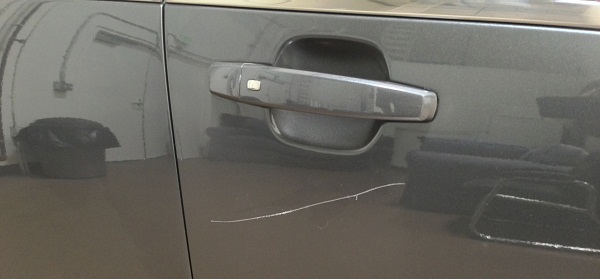 As I indicated above, I am an automotive service technician by trade, but I currently run an on-line service that provides valuable resources for professionals operating in the automotive service industry. The company International Automotive Technicians Network - iATN, is headquartered in Brea, Ca.
A few days after I purchased the vehicle I discovered that the MIL (Malfunction Indicator Light - AKA, Check Engine Light) was illuminated shortly after I had plugged in my Volt at a mall where one of the Level 2 chargers was not operating properly. I decided to call OnStar, but prior to that I decided that this might be a good opportunity to video my session. I can honestly say that it was pretty cool to be able to have the OnStar adviser retrieve the error messages (DTC's) and provide a little perspective on the situation. Here is that video.
This Chevy Volt is fully loaded and very cool to drive.
Written by