In a world where SUVs dominate the roads, the 2023 Nissan Pathfinder Platinum 4WD, which Torque News reviewed this week, stands tall, and ready to take on any adventure that comes its way. Building on the rich heritage of the Pathfinder nameplate, this model combines rugged design, impressive capability, and a host of advanced technologies to deliver a truly remarkable driving experience.
Whether you're navigating the city streets, embarking on a cross-country journey, or venturing off the beaten path, the Pathfinder Platinum 4WD offers everything discerning SUV buyers desire.
The Pathfinder lineage has a storied history, and the 2023 model pays homage to its predecessors while embracing a bold and refined design language. It is the embodiment of Nissan's commitment to meeting the evolving needs of modern drivers.
What's New In 2023 Pathfinder?
Pathfinder gets a number of new features, including a new Rock Creek trim level, which I reviewed last year for Torque News. This year, in 2023, Nissan introduced the off-road-inspired Rock Creek model, catering to those who crave the thrill of venturing beyond the pavement. The Rock Creek is designed for off-road enthusiasts and features a slightly lifted suspension, 18-inch all-terrain tires, a revised front grille and lower bumper, and standard all-wheel drive. The V-6 engine also gets a power boost in the Rock Creek model, to 295 horsepower.
Inside, the Rock Creek's interior differs from the regular Pathfinder with special cloth and vinyl upholstery, orange stitching, and Rock Creek badges on the seats and center console. Other new features for the 2023 Pathfinder include a larger 9-inch infotainment touchscreen with standard Apple CarPlay and Android Auto, wireless smartphone charging for front-seat passengers, and a new Safety Shield 360+ suite of driver-assistance features that includes automatic emergency braking with pedestrian detection, lane departure warning, lane keeping assist, and rear automatic braking.
The Pathfinder's powertrain remains unchanged for 2023, with a 3.5-liter V6 engine that produces 284 horsepower and 259 pound-feet of torque. It's paired with an eight-speed automatic transmission and front-wheel drive is standard. All-wheel drive is available.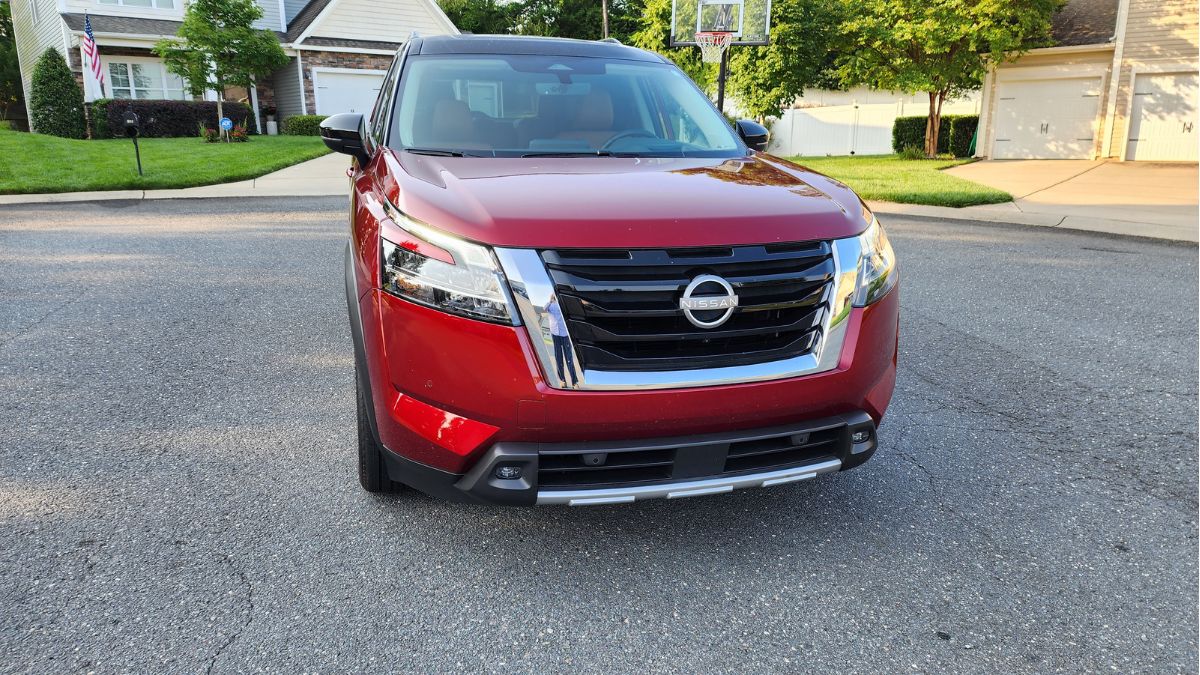 The Pathfinder's towing capacity is also unchanged for 2023, at 6,000 pounds. This is better than some of its rivals, such as the Hyundai Palisade and Kia Telluride, which have a maximum towing capacity of 5,000 pounds.
Trims and Features:
The 2023 Nissan Pathfinder is available in five well-equipped grades: S, SV, Rock Creek, SL, and Platinum. Each trim level offers a unique set of features, ensuring there is a Pathfinder to suit every taste and preference. For those seeking even more off-road capability, the Rock Creek model is the ideal choice, equipped with an off-road-tuned suspension, 18-inch beadlock-style wheels with all-terrain tires, and a tubular roof rack with an impressive 220-pound capacity.
The suggested MSRP of the 2023 Nissan Pathfinder's lowest S trim is $36,535, but our Platinum 4WD trim came with $54,050 price tag.
Under the Hood and Engine:
Beneath the hood of the Pathfinder Platinum 4WD lies a proven 3.5-liter direct-injection V6 engine, delivering a potent 284 horsepower and 259 lb-ft of torque.
However, the Rock Creek variant takes performance up a notch, offering an increased output of up to 295 hp and 270 lb-ft of torque when fueled with premium fuel. This powertrain is mated to a smooth-shifting 9-speed automatic transmission, ensuring confident acceleration and seamless gear changes. With standard idle stop/start technology, the Pathfinder saves fuel by automatically shutting off the engine when stationary.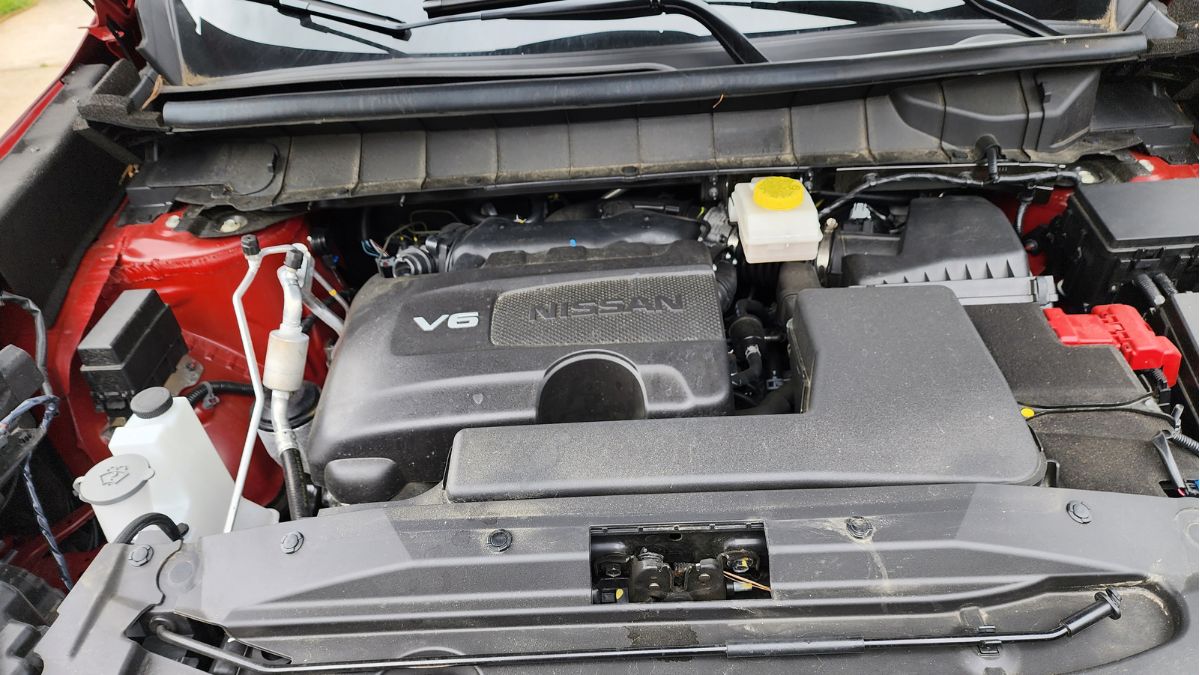 Having said this, I want to say the following too. In order for the Nissan Pathfinder not to fall behind the race, sooner or later the company needs to come up with a more modern and more sophisticated engine.
The fuel economy on the Platinum 4WD 2023 Nissan Pathfiner is 20/25 city/highway and 22 MPG combined.
Exterior:
The rugged and commanding exterior design of the 2023 Pathfinder Platinum 4WD immediately grabs attention. Its bold lines, muscular proportions, and distinctive front grille exude an aura of strength and capability. The Rock Creek model further enhances the visual appeal with LED fog lights and orange interior stitching, while the Intelligent Around View Monitor with Off-Road Mode provides a comprehensive view of your surroundings.
Interior and Technology:
Step inside the 2023 Pathfinder Platinum 4WD, and you'll find a spacious and versatile cabin that caters to the needs of both driver and passengers. With three rows of seats, seating for eight (or seven with optional second-row captain's chairs), and thoughtful features like the EZ FLEX® second-row seats with LATCH AND GLIDE technology, convenience and comfort are at the forefront. Tri-zone automatic climate control, premium leather-appointed seats, and an available panoramic moonroof elevate the luxury factor.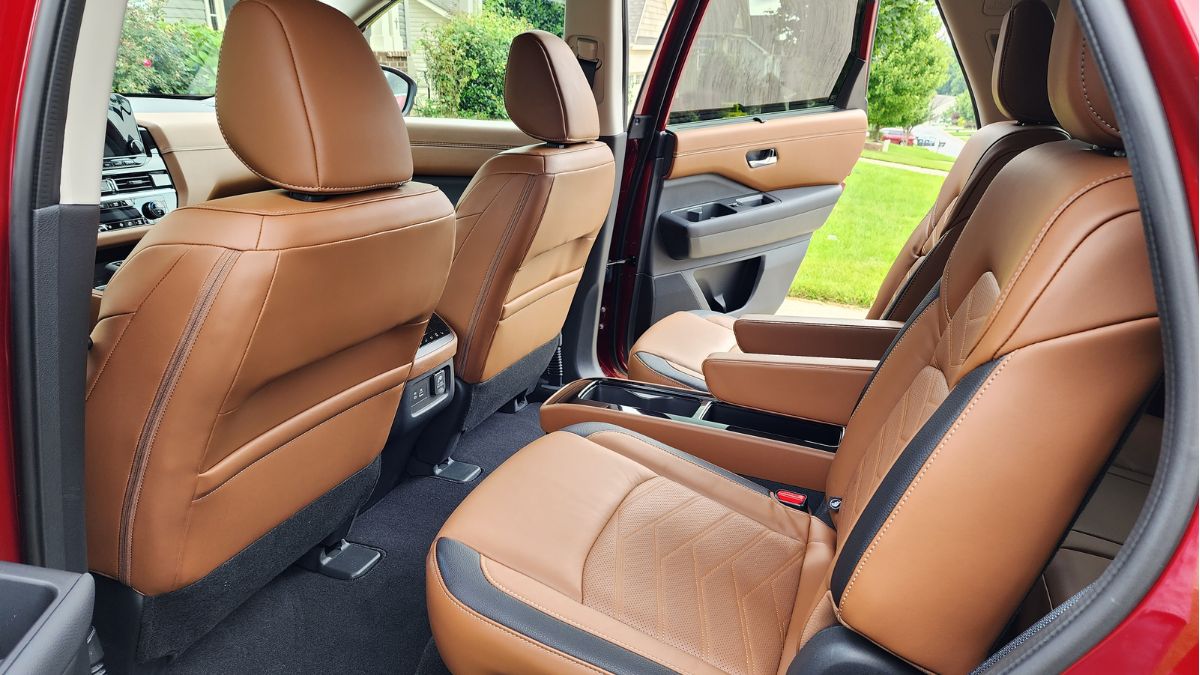 Second row charis are very comfortable.
The trunk isn't that big because of the thrd row. However, if you fold down the sits you get plenty of space.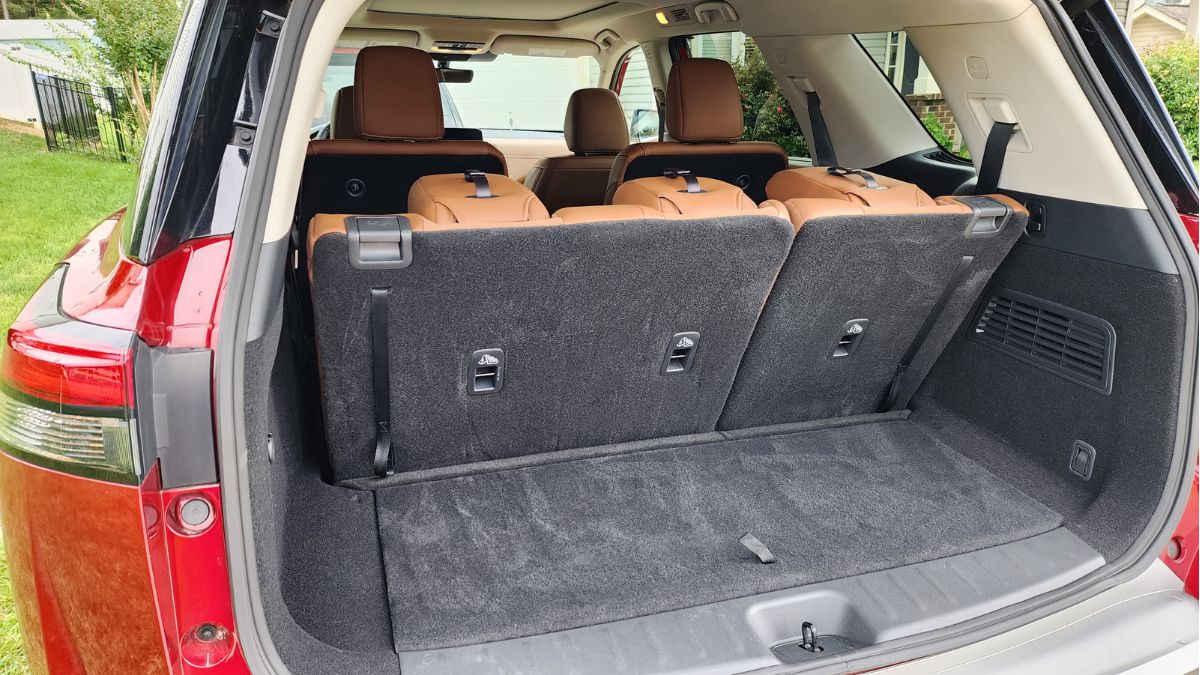 Nissan has been committed to the safety of its vehicle. And that's evident in the 2023 Pathfinder Platinum 4WD, which comes equipped with Nissan Safety Shield® 360 technology as standard. This comprehensive suite of driver-assistance features includes Automatic Emergency Braking with Pedestrian Detection, Blind Spot Warning, Rear Cross Traffic Alert, Lane Departure Warning, High Beam Assist, and Rear Automatic Braking. Additional safety features like Intelligent Driver Alertness, Rear Door Alert, and rear sonar sensors further enhance peace of mind on the road.
The Pathfinder Platinum 4WD also boasts a range of advanced technology to keep you connected and entertained. A standard 7-inch digital meter display provides essential information at a glance, while an available 12.3-inch full-color digital dashboard and a 10.8-inch head-up display offer customizable and intuitive visual interfaces. The 8-inch or available 9-inch touchscreen infotainment system supports Apple CarPlay and Android Auto, ensuring seamless smartphone integration. Wireless Apple CarPlay® and a wireless device charger are available on the SL and Platinum trims, and the Platinum trim also offers a premium Bose® 13-speaker audio system for an immersive sound experience.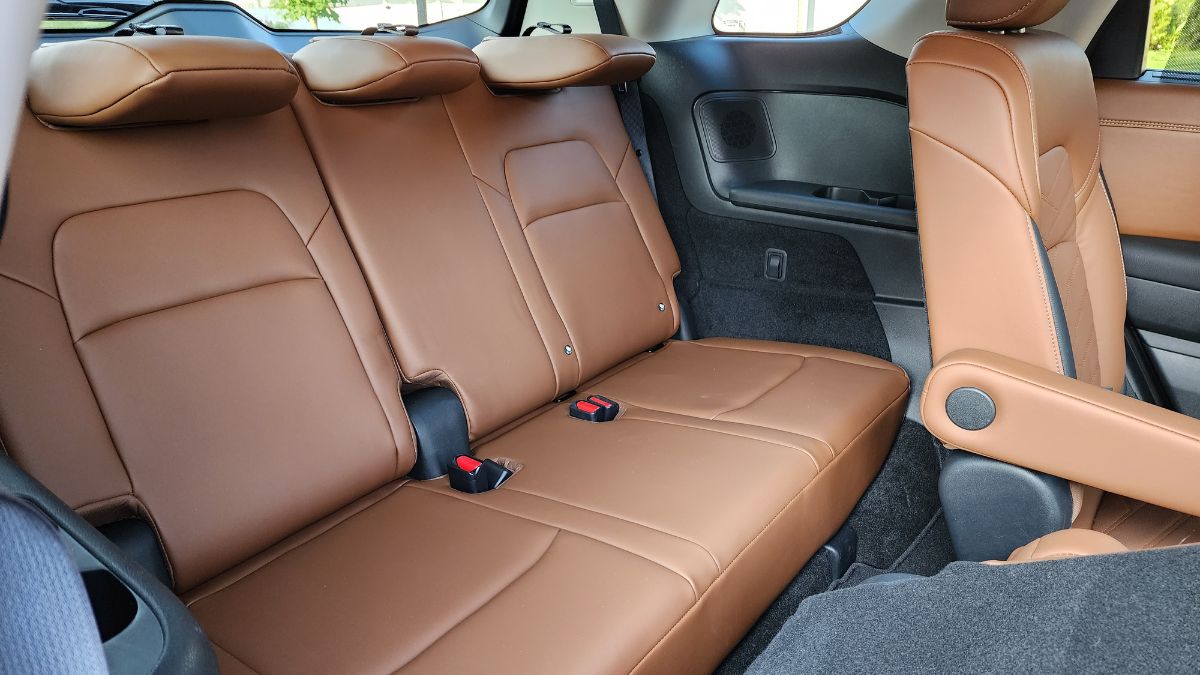 Long highway journeys are made simpler with the availability of ProPILOT Assist. This advanced driver assistance feature combines steering assist and Intelligent Cruise Control to provide a helping hand in heavy highway traffic and on open highways. Utilizing a forward-facing camera, forward-facing radar, and other sensors, ProPILOT Assist keeps the Pathfinder centered in its lane and can bring the vehicle to a complete stop in stop-and-go traffic. The ProPILOT Assist with Navi-link, standard on the SL and Platinum trims, takes the system's performance even further by using navigation data to adjust the vehicle's speed proactively before curves and freeway exits.
Driving Experience:
The Pathfinder Platinum 4WD, which I tested for a week, ensured a smooth and enjoyable driving experience, whether you're cruising along the open highway or conquering challenging off-road terrain.
The Intelligent 4WD system provides enhanced traction and stability, while the Drive and Terrain Mode switch lets you optimize power delivery for different driving conditions. I didn't haul many pounds, but based on my previous experience of hauling even an RV with a Nissan Titan truck, I can confidently say that with a maximum towing capacity of 6,000 pounds, the Pathfinder effortlessly hauls trailers, outdoor toys, and more, making it an ideal companion for all your adventures.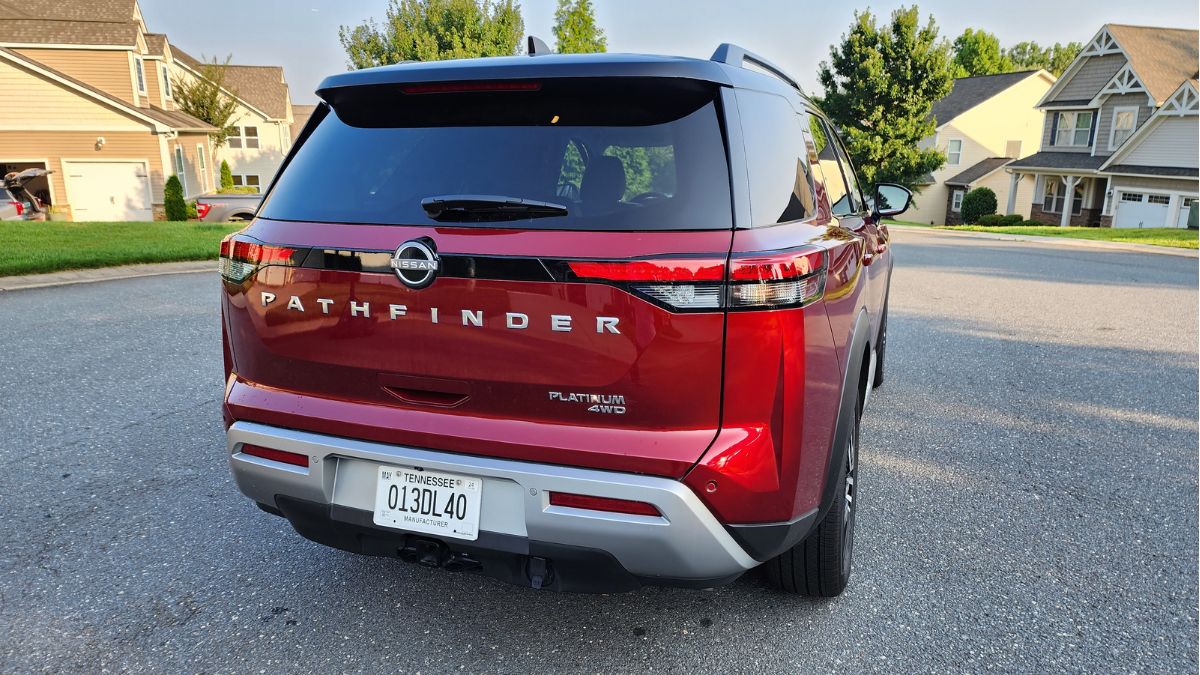 The 2023 Nissan Pathfinder Platinum 4WD embodies the spirit of adventure and offers unmatched flexibility for today's SUV buyers. With its rugged design, impressive capability, and advanced technology, it delivers a driving experience that exceeds expectations.
Whether you're embarking on a family road trip, tackling challenging off-road trails, or simply navigating daily commutes, the Pathfinder Platinum 4WD is ready to accompany you on every journey. With its range of trims and features, there's a Pathfinder to suit your preferences and needs. Get behind the wheel of the 2023 Pathfinder Platinum 4WD and discover a new level of excitement and freedom on the road.
Armen Hareyan is the founder and the Editor in Chief of Torque News. He founded TorqueNews.com in 2010, which since then has been publishing expert news and analysis about the automotive industry. He can be reached at Torque News Twitter, Facebok, Linkedin and Youtube.