A Ford Bronco That Is Powered By Roush
It's always fun to reimagine classic vehicles. And there's the niche of enthusiasts who just love the off-road, open-road feel of the Ford Bronco. Now, imagine having a classic Bronco, but with a modern Roush Performance V8 engine in it? You don't have to imagine any longer as Gateway Bronco is teaming up with Roush Performance to make it happen.
Gateway Bronco, innovator in the re-imagination of Ford Broncos, guarantees up to a 5-year warranty by producing reconditioned off-road vehicles on a production line with quality checks each step of the way. Each product is equipped with an OHC Ford 5.0-liter V8 engine, a 10-speed automatic transmission and is engineered to perform like a modern vehicle using proprietary solutions exclusive to Gateway Bronco.
The latest ROUSH supercharged Ford 5.0-liter V8 engine will be mated to the robust automatic for the first time in a reimagined classic Ford Bronco. Each classic SUV will also wear a "Powered by ROUSH" badge on the dash, as well as the engine.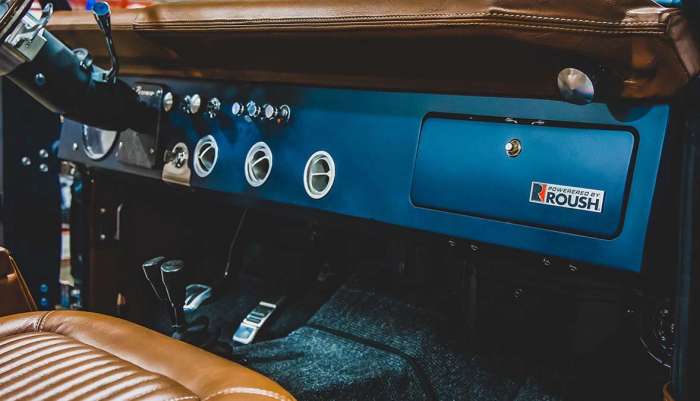 The marriage of these two companies makes perfectly good sense as it will create a truly one-of-a-kind vehicle with amazing performance.
"Roush has been first in racing, engineering and manufacturing of specialty Ford-based performance vehicles for decades," said Seth Burgett, president and CEO of Gateway Bronco. "It's appropriate that they're the first to offer a Generation 3 5.0-liter V8 and 10-speed automatic solution for the classic Bronco. We're proud to collaborate with Roush and be the first to offer this world-class combination."
"Engineered for success, Roush engines deliver the power, reliability and thrills based on lessons learned from our championship-winning race teams," said James Kemp, Program Manager of Roush Performance Engines "We're thrilled to help Seth Burgett and his team at Gateway Bronco integrate our latest Roush crate engine and 10-speed transmission into their beautiful classic Ford Bronco."
Gateway Bronco's standard specification provides 460 horsepower and 420 lb.-ft. of torque from its 5.0 liters of displacement; a supercharged version is optional. With the supercharged Roush drivetrain, 0-60 arrives in under five seconds.
"The Roush team has done an outstanding job providing the robust, modern power that Bronco fans crave, complete with a full warranty," said Burgett. "Their reputation for reliability means that owners can enjoy many years of fun without concern. And the strong technical support from the Roush team means Gateway Bronco will have access to new innovations as they become available. The spectacular modern Roush drivetrain truly transforms our classic SUV's, making this a golden age for enthusiasts."
I'm not a collector, but I am someone who appreciates rare vehicles. So to me, combining something timeless, classic and wonderful like old-school Broncos with the high-performance goodness of Roush engineering only makes for a truly special vehicle. Now, will someone give me a ride in one of these?
Speaking of Broncos, Ford continues to tease us with little images and videos, like the one I recently wrote about here. My colleague Marc Stern reported that the new Bronco, which is much anticipated, may debut at the New York Auto Show. Hey, Ford, we are very much growing impatient and ready to see what the new Bronco will look like!
Jimmy Dinsmore has been an automotive journalist for more than a decade and been a writer since the high school. His Driver's Side column features new car reviews and runs in several newspapers throughout the country. In addition to being a nationally syndicated automotive columnist, Jimmy has been published in a compilation book about children growing up with disabilities, where he shared his own very personal experience. He is also co-author of the book "Mustang by Design" and "Ford Trucks: A Unique Look at the Technical History of America's Most Popular Truck". Also, Jimmy works in the social media marketing world for a Canadian automotive training aid manufacturing company. Follow Jimmy on Facebook, Twitter and LinkedIn.