Ford Expedition Timberline Off-Grid Concept Elevates SUV's Adventure-Ready Capability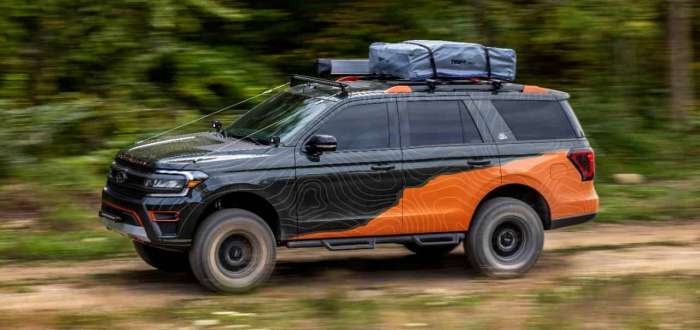 For the most part, when people buy Ford Expeditions, they are making a statement. What's the statement? "I have arrived; I own a full-sized SUV, and I'm important." Now, this may seem like the ultimate in bragging, which, admittedly, it is. But, there is something to be said for it.
Want The World To Know About Your SUV
If you own a Ford Expedition, the ability to say so and show it off goes hand-in-hand. Yes, you want the world to know about it, but there might also be a part of you who wants to keep it down a bit, so the Expedition stays in your driveway longer than 15 minutes.
There's an exciting concept vehicle – there's no telling if it will be built, but it could be a good seller – which nicely counters this "show-off" trend. Next month, the Ford Timberline Off-Grid, a concept SUV, will be at the upcoming Overland Expo East in Arrington, VA. The model is a one-off based on the Timberline, the most off-road-capable Expedition ever. If you wanted to use an Expedition as the basis for a trip off the grid, then this SUV is it. The Timberline was added to the 2022 lineup recently. Here's an analysis of the new Ford Expedition models that I wrote recently.
The 2022 Expedition Timberline Off-Grid concept is upfitted with proven names in off-road hardware and off-road accessories to help adventurers confidently trek to hard-to-reach mountainside trailheads, remote lakes, and distant desert dunes.
"The Expedition Timberline Off-Grid concept provides a futuristic view of how family adventurers can potentially get even more out of an Expedition Timberline, including the absolute best mobile basecamp," said Robert Varto, program manager of the concept.
Multi-Day Off-Roading Functionality
Expedition Timberline Off-Grid concept focuses on multi-day off-roading functionality and ease-of-use. The SUV's raised stance is most noticeable, custom DeeZee Rock Rail Hoop Steps and unmistakable CG Detroit custom topographic wrap over factory Forged Green exterior paint.
The 2022 Ford Expedition has the best available ground clearance in its class at 10.6 inches. The concept adds another two inches with custom FOX® Performance Elite Series 2.5-inch shocks with Dual Speed Compression™ adjusters and remote reservoirs front and rear. In addition, 17-inch Method Race Wheels® with Bead Grip® technology are wrapped with 35-inch General Grabber™ all-terrain tires.
The Expedition Timberline Off-Grid concept leverages Ford's Outfitter collection with dealer-available accessories to ensure the best mobile campsite. These include a Thule Tepui Explorer tent with crossbars attached to its roof rails. Also, a factory-available transmission shield has been included in the installation. Plus, there is an Overland Vehicle Systems' Nomadic 180-degree awning that quickly pulls out to help protect adventurers from the elements and a Wild Land portable privacy room shower.
Lots Of Light For The Night
To light up the trail and campsite at night, a 50-inch Rigid® light bar is mounted above the windshield with an additional Rigid 20-inch light bar below the grille. And, D-SS Rigid side shooter cube lights are installed atop the hood. Rigid spotlights mounted within the wheel wells and liftgate further illuminate those areas. The flip of a switch turns the lights red for stargazers.
The interior of the Expedition Timberline Off-Grid concept reveals an EZ STAK® custom aluminum dual storage drawer unit under a custom Luno® camping mattress with room for two. To make sleeping in the concept vehicle even more comfortable, Luno also provides a concept-specific Base Extender™, window shades, and portable USB fan. And to ensure this concept vehicle can handle electric loads needed at off-the-grid campsites, a Clarios AGM battery is designed for vehicles supporting the most demanding applications.
With a Turtleback Expedition Series Trailer™, the largest trailer in the Turtleback lineup, the capability of the Expedition Timberline concept vehicle is further extended in the wilderness. The trailer matches the Expedition Timberline Off-Grid concept with Method brand wheels and Grabber all-terrain tires. It's designed to hold additional gear for an extended cross-country trip, including a two-burner propane stove and deep-well sink, a pair of drop-down tables, a 42-gallon water tank, and a six-gallon water heater external shower hookup, plus pancake propane tank. Additional available options include a refrigerator and a 100-watt solar panel.
Concept Set For Pair Of Shows
The Expedition Timberline Off-Grid concept vehicle will be shown this Friday through Sunday at Overland Expo East at Oak Ridge Estates in Arrington, Virginia, then at the Specialty Equipment Market Association show in Las Vegas Nov. 2-5.
Marc Stern has been an automotive writer since 1971 when an otherwise normal news editor said, "You're our new car editor," and dumped about 27 pounds of auto stuff on my desk. I was in heaven as I have been a gearhead from my early days. As a teen, I spent the usual number of misspent hours hanging out at gas stations Shell and Texaco (a big thing in my youth) and working on cars. From there on, it was a straight line to my first column for the paper, "You Auto Know," an enterprise that I handled faithfully for 32 years. Not many people know that I also handled computer documentation for a good part of my living while writing YAN. My best writing, though, was always in cars. My work has appeared in Popular Mechanics, Mechanix Illustrated, AutoWeek, SuperStock, Trailer Life, Old Cars Weekly, Special Interest Autos, and others. You can follow me on: Twitter or Facebook.