See the Incredible Jeep Concepts at the 2022 Easter Jeep Safari
The 56th Annual Moab Easter Jeep Safari is officially underway, and this year Jeep is sending a stunning set of 2022 Jeep Wrangler, Gladiator and Grand Cherokee Concept vehicles. The 2022 Jeep Magneto 2.0 Concept will definitely be one of the stars of the show, but there are plenty of new ideas for improving anyone's outdoor adventure.
The Easter Jeep Safari opened today and will run until April 17th, in Moab, Utah. Jeep teased this year's outing as being "Bigger, Better, Faster and Greener". Judging by the one-of-a-kind lineup, it will be a spectacular off-roading adventure.
New Electrified Jeep Concepts
Jeep Wrangler Magneto 2.0 Concept

The Jeep Wrangler Magneto 2.0 is an update of sorts to last year's battery-electric Jeep Wrangler Magneto. The new version has jaw-dropping 625 horsepower for serious rock-climbing. It can instantly deliver up to 850 lb.-ft. of peak torque to the wheels. That is more than triple the torque output of last year's concept. The Magneto 2.0's powertrain includes a custom-built axial flux electric motor that operates up to 5,250 rpm. It has a six-speed manual transmission for ultimate control over acceleration.
It has four lithium-ion battery packs, distributed throughout the chassis for weight balance, with a combined power of 70 kW/h, running an 800-volt system. An inverter derived from race cars converts DC power to AC for the high-tech motor.
Jeep Grand Cherokee Trailhawk 4xe Concept
Jeep has debuted a Jeep Grand Cherokee 4xe and we finally get to see an ultra-capable version perform. It will deliver 56 miles per gallon equivalent (MPGe) and 25 miles of all-electric range. Easter Jeep Safari gives the Jeep brand and Jeep design team the opportunity to take production vehicles like the Grand Cherokee 4xe to the next level. This Jeep Grand Cherokee 4xe Trailhawk concept pairs legendary Jeep 4x4 capability with electrified freedom to deliver ultimate fuel efficiency and driving range.
Like the new production Grand Cherokee 4xe, the Grand Cherokee Trailhawk 4xe concept is powered by two electric motors, a 400-volt battery pack and 2.0-liter turbocharged, four-cylinder engine.
"Easter Jeep Safari is the perfect opportunity for the Jeep brand to push the limits of four-wheel-drive development and, most importantly, to stay connected with our customers," said Jim Morrison, senior vice president and head of Jeep brand North America. "Moab is a rite of passage for many Jeep owners, and to own a Jeep is to truly understand the lifestyle – it's what the Jeep brand is all about. Whether it's a Jeep concept or the latest Jeep production vehicle, our customers have the chance to get up close and personal with our passion projects during this event. From a fully capable BEV off-roader to rugged and powerful terrain tacklers, every concept is a true reflection of what our customers tell us they want and give a taste of where the future of the Jeep brand and off-roading can go."
Jeep Rubicon 20th Anniversary Concept
This Jeep Concept is sure to be a hit in the real world and one could almost guarantee that we will see it go into production. Twenty years ago, the Jeep brand introduced the most capable production vehicle of its time – the Wrangler Rubicon.
Two decades later, The Jeep Wrangler Rubicon continues to be a the ultimate performer for the Jeep brand. The Rubicon 20th Anniversary concept is based on the Jeep Wrangler Rubicon 392. It features a 6.4-liter V-8 engine, customized exterior and stunning interior. Lessons learned in off-road settings like Moab continue to push the entire Jeep lineup forward.
The modified four-door Wrangler Rubicon 392 has a performance hood with center scoop, custom-built half doors and Sky One-touch powertop with removable side panels for open-air freedom. Gold tow hooks and badging send the message that this Wrangler Rubicon 392 is something special.
Jeep '41 4xe Concept
"Since 1941." It's notably displayed, a badge of honor on Jeep brand vehicles and a symbol of pride that recognizes the Jeep brand's longstanding military heritage and legendary 4x4 capability leadership for more than 80 years. Every Jeep carries the legacy of the original Willys MB. It was the trusty 4x4 vehicle the U.S. Army specifically requested. The Willys MB did everything, went everywhere and was a significant influence on 4x4 vehicles built thereafter. The retro Willys concept heading to Easter Jeep Safari this year blends military grit and determination with the Wrangler 4xe's electric-vehicle technology. The concept's 4xe plug-in hybrid powertrain is capable of an estimated 49 MPGe and delivers up to 21 miles of nearly silent, zero-emission, electric-only propulsion, making it the most capable, technically advanced and eco-friendly Wrangler ever.
The concept's exterior color, including wheel flares and mirror caps, is honorably decorated in an olive D.R.A.B. '41 matte green finish, with black powder-coated steel bumpers, Warn winch and JPP bumper hoop. The retro trim cap accentuates a tan soft-top, while JPP half doors offer an enhanced open-air experience to let even more of the outside in. A custom stenciled graphics package from the Jeep Graphic Studio and accent-colored tow hooks are the finishing touches fit for a five-star general.
Jeep Bob Concept
This concept is sure to draw a lot of attention because it marries the Jeep Gladiator with the capability of the Jeep Wrangler. The Jeep Bob concept is Jeep's take on the popular trend of "bobbing" the long overhangs of pickup truck beds. The Bob is based on a Jeep Gladiator Rubicon, but all four doors and B-pillars have been removed for the ultimate open-air freedom. Additionally, a customized hardtop has been perforated and a canvas top has been stretched over top to provide shelter from the elements while allowing natural light through.
The Gladiator bed has been "bobbed" a full foot of length. Custom steel front and rear bumpers improve the vehicle's approach and departure angles. The Bob has a 3-inch lift with custom off-road suspension, Dynatrac Pro-Rock 60 axles supported by a mix of King Coils and Bypass shocks, plus massive 40-inch tires are mounted to 20-inch beadlock wheels. The Bob concept is powered by a turbocharged 3.0-liter Eco-Diesel V-6 engine. It looks like a ton of fun and should have incredible off-road performance.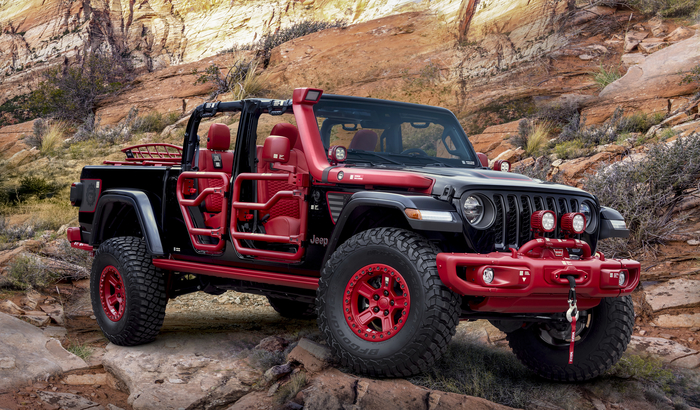 Jeep D-Coder Concept by JPP
The Gloss Black Jeep Gladiator D-Coder is another vehicle that will draw a lot of attention at this year's Easter Jeep Safari. It has more than 35 JPP and Mopar accessories, each painted in a vibrant Maraschino Red and labeled with QR (quick response) codes. The QR codes turn this vehicle into a rolling catalog of factory-tested and factory-backed items available for customer purchase. Each scannable QR code provides a live link to the Mopar eStore consumer website for specific part numbers, specifications and pricing information. Enhanced QR codes on the bedside and hood link to the current JPP catalog.
Mopar specialty parts on the Gladiator D-Coder concept include: a Rubicon three-piece modular bumper carrying a single-hoop tubular grille and winch guard with a pair of TYRI 7-inch LED off-road lights just above a Rubicon Warn winch, a JPP 2-inch lift kit with FOX shocks and JPP 17-by-8.5-inch five-spoke beadlock wheels riding on BFGoodrich KM3 37-inch tires. A JPP Gorilla Glass windshield offers up to three times the strength of a standard windshield. A pair of TYRI 5-inch LED lights mount securely in JPP A-pillar mounting brackets on each side of the cowl area.
Jeep Birdcage Concept by JPP
Designed as a wide-open-air extreme 4x4 machine, the Jeep Wrangler 4xe Birdcage concept showcases a variety of custom accessory innovations from JPP and Mopar. The Birdcage rides on an industry-first JPP 2-inch lift kit with FOX shocks, specifically engineered and tuned for the plug-in hybrid electric Wrangler 4xe.
For the serious off-roader who craves true open-air wheeling, the windshield and windshield wipers are removed. The design team closed off the instrument panel and created custom cowl and windshield-wiper filler panel covers, creating a smooth factory appearance while protecting against dirt and debris. The Mopar design team created the Add-A-Trunk concept decklid panel that provides security for accessories when the roof is removed. Designed for any Jeep Wrangler model with the capacity to store a full-size cooler with ease, the Add-A-Trunk feature uses gas-assisted shocks to lift the decklid panel out of the way for easy access when the swing gate is open.
For additional storage, a 600-pound capacity Rhino-Rack cargo basket is securely mounted to the top of the roll cage. Inside the tailgate panel, a JPP swing-gate flip-down table provides a perfect working or eating space and sits next to an integral on-board air compressor.
"Teaming up with the Jeep brand, there is no better place than the annual Easter Jeep Safari to show off our latest production and custom innovations to true off-road enthusiasts," said Mark Bosanac, North America vice president, Mopar service, parts & customer care. "Unlike any other aftermarket offerings, our factory-tested and factory-backed Jeep Performance Parts are specifically designed and engineered to face the toughest trails in the world."
2021 SEMA Concepts
Three additional Jeep concepts by JPP, recently introduced at the 2021 SEMA (Specialty Equipment Market Association) show, will be making the trip to Moab for the first time.

Among the three Jeep concepts that debuted at SEMA, the Jeep Wrangler 4xe concept showcases how passionate off-roaders can build upon the award-winning SUV with factory-backed items from JPP.
The Jeep Wrangler Overlook concept stretches a four-door Wrangler Sahara into a three-row off-roader loaded with luxury touches.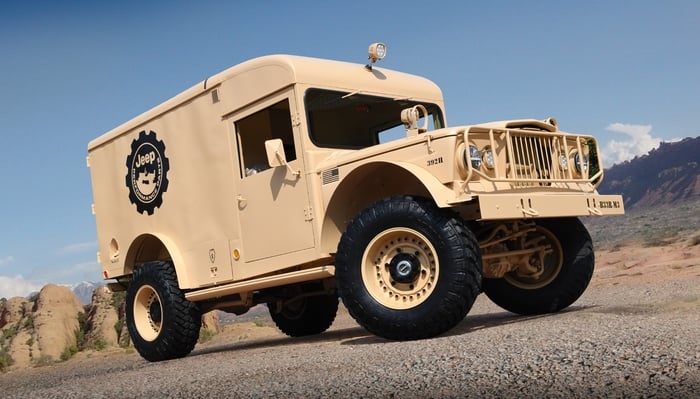 The intimidating Kaiser Jeep M725 concept is the transformation of a vintage 1967 Kaiser Jeep M725 military ambulance into an ultimate off-road support machine and rolling mascot for JPP.
Easter Jeep Safari

Easter Jeep Safari, hosted by Moab's Red Rock 4-Wheelers four-wheel-drive club, consists of trail rides, departing from Moab, Utah, throughout the nine-day event. The Jeep Safari was started in 1967 by the Moab Chamber of Commerce as a one-day trail ride. Over the years, the Safari expanded until it finally reached the current nine-day event. "Big Saturday" remains the culmination of the event on the Saturday of Easter weekend. The event is known worldwide.
Jeep Photos
Follow Mary Conway at @maryconwaymedia and send her car news tips for future stories.