Jeep is on its way to the 57th Annual Easter Jeep Safari and is dropping hints for what we will be seeing hit the trails this year. The Jeep Performance Parts division is playing another huge role Jeep's concepts this year, as the JPP logo is clearly on display in some of the concept photos. Jeep is calling its teases Trail Markers and this second Trail Marker shows three different vehicles, including a neon green vehicle that looks the front of a 2023 Jeep Wrangler, but it could also be a Gladiator.
For Trail Marker 2, Jeep is asking the question, "When it comes to legendary electrified off-road capability, unapologetic color palettes and powerful platforms for any adventure, what comes to mind?"
This neon green vehicle is one of the concepts that feature Jeep Performance Parts. It appears to have huge fender flares and tires and a beefed-up grille. It also appears to have guide wires that run from the fender flares to the roof. An off-roader from a different company features those sorts of wires, so if a Jeep driver likes the look, they are now able to have that type of functionality.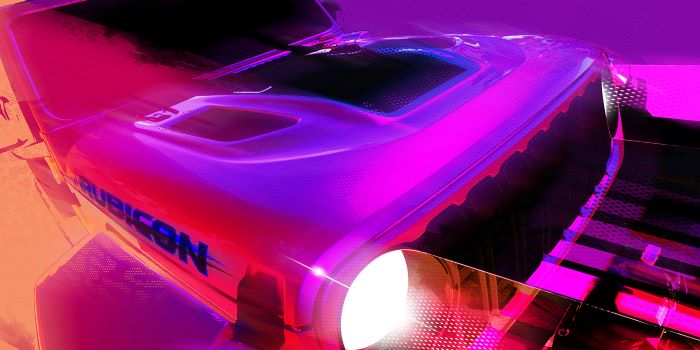 The Pink-Themed Rubicon 4xe

The neon-pink sketch shows a vehicle that is clearly a Rubicon 4xe. The blue outlines on the lettering signal the 4xe. However, Jeep doesn't show enough of the vehicle to know if it is a 2023 Wrangler or possibly even a Gladiator. A Gladiator 4xe isn't on the market yet, but the Easter Jeep Safari is all about Jeep concepts, so this could be one of the highlights.
In its first Trail Marker tease released earlier this week, Jeep said, "Just when you thought the Jeep brand couldn't push the limits any farther, an entirely new collection of eye-catching, mission-capable concept vehicles will be unveiled and driven aggressively during the annual event. The Jeep brand and Jeep Performance Parts (JPP) by Mopar design teams are bringing their A game to create several one-of-a-kind, rock-crawling, terrain-traversing vehicles that will take four-wheeling to the next level and prove why there's nothing quite like legendary Jeep 4x4 capability."
The pink hue is certainly eye-catching and it may be time to Jeep to unveil a Gladiator Rubicon 4xe.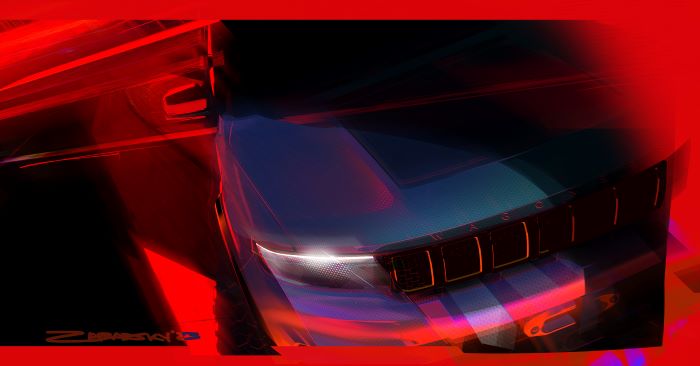 The 2023 Jeep Wagoneer
The red-tinted photo is clearly marked as a Wagoneer. However, it is difficult to tell much more from the sketch. Jeep has promised electrified versions of all of its vehicles eventually, but this may not be an electrified Wagoneer. It could be a Wagoneer that is outfitted with Jeep Performance Parts to be an off-road trail warrior.
The sketch vehicle appears to have a dark decal on the hood and perhaps a winch on the front, which can signify a TrailHawk trim level on other models. This could be a heavy-hitter designed for the great outdoors.
57th Annual Easter Jeep Safari
Jeep has been using the Easter Jeep Safari outside Moab, Utah as a test lab of sorts for more than five decades. Jeep shows off some of the concepts that have been carefully planned by designers and off-road enthusiasts. Jeep sees how the concepts perform and are received by the fans and then some of the concepts or performance packages make it into the Jeep lineup.
This year's 2023 Easter Jeep Safari will take place April 1-9, 2023. The gathering is hosted by Moab's Red Rock 4-Wheelers club. It is one of the largest off-roading events in the world. The automaker isn't saying how many concept vehicles will be at the Safari this year. However, we'll follow all of the developments for you right here.
Jeep Photos

Mary Conway is a professional automotive journalist and has decades of experience specializing in automotive news analysis. She covered the Detroit Three for more than twenty years for the ABC affiliate, in Detroit. Her affection for the Motor City comes naturally. Her father ran a gas station while Mary was growing up, in Wisconsin.
Follow Mary Conway at @maryconwaymedia and send her car news tips for future stories.