Every year the Texas Motor Press Association sponsors a number of outings. This year's Off-Road Invitational includes big honors for the 2023 Ram Limited. The automotive writers voted the 2023 Ram 1500 Limited as the Texas Full-Size Truck of the Year. Awards like these are important because Texas is such a huge market for trucks. If you have ever traveled to Texas, you know that you see trucks everywhere due to the number of ranches, feed yards and the emphasis on jobs in oil and gas.
"The 2023 Ram 1500 sets the standard for luxury pickup trucks again this year. It is hard to find a better combination of functionality and luxury in a pickup truck," said Michael Satterfield, president Texas Motor Press Association."
2023 Ram 1500 Adds Even More Luxury
New for 2023, the popular Ram 1500 Limited is adding another tier of luxury appointments with the new 2023 Ram 1500 Limited Elite. The Limited Elite becomes the new premiere level adding even more premium touches to the pickup known for adding refinement to the truck market. The Ram 1500 Limited has won numerous awards for the luxury changes it brought to truck interiors. The 2023 Ram 1500 Limited Elite kicks it up more than a few notches adding premium leather bucket seats, a suede headliner, unique instrument cluster, multifunction tailgate and jeweled rotary shifter.
"The new 2023 Ram 1500 Limited Elite Edition takes the highest quality materials in the industry and elevates the benchmark for interior comfort into rarified air," said Mike Koval Jr., Ram brand CEO – Stellantis. "Ram 1500 Limited buyers have enjoyed the ultimate combination of capability, luxury and refinement for a decade now and the Limited Elite Edition is the latest example of how Ram delivers the most luxurious pickups in the industry."
Nationwide, trucks are often mobile offices, but they have also become family vehicles. Over the years, automakers have focused on making the vehicles more comfortable for drivers and passengers. They have added more technology that appeals to passengers, such as premium sound systems, wi-fi and personalized infotainment screens. Ram has made infotainment screens larger and easier for drivers to manage, whether they are using them for maps, phones or other information. The Texas automotive writers credited the Ram for being functional and luxurious, a difficult balance to achieve.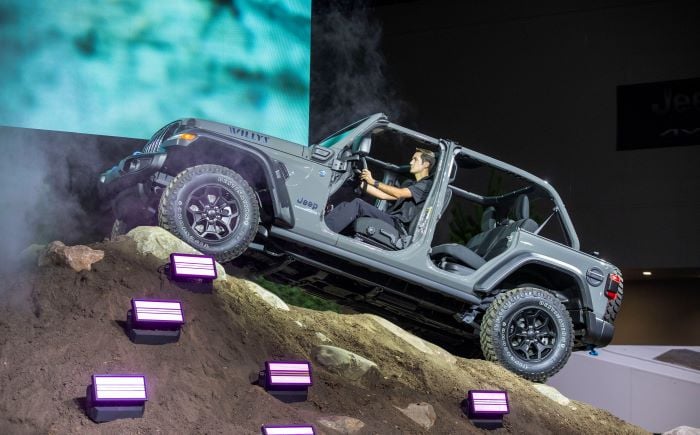 The 2023 Jeep Wrangler Rubicon 4xe wins Texas Off-Road SUV of the Year and Texas Mid-Size SUV of the Year
The Texas Motor Press also honored the 2023 Jeep Wrangler Rubicon 4xe for its performance both on and off-road.
"The Jeep Wrangler has always been a leader in off-road, and the new 4xe continues that trend of blazing trails by offering a plug-in hybrid in one of the most off-road capable vehicles ever made, said Satterfield. It can tackle any trail, but still offer enough electric range to cover most people's daily commuting. It's the best of both worlds."
Texas Motor Press Association
Texas Motor Press Association (TxMPA) brings together automotive industry professionals to create content highlighting the automotive industry for a Texas-based audience and beyond. The membership is made up of automotive industry journalists that cover cars, trucks, SUVs, ATVs, and UTVs in a variety of media as well as professionals that represent corporate interests in the automotive community.
Ram Photo
Mary Conway is a professional automotive journalist and has decades of experience specializing in automotive news analysis. She covered the Detroit Three for more than twenty years for the ABC affiliate, in Detroit. Her affection for the Motor City comes naturally. Her father ran a gas station while Mary was growing up, in Wisconsin.
Follow Mary Conway at @maryconwaymedia and send her car news tips for future stories.