The EV market is highly attractive for investment in spite of recent down-swings and will only go in one direction in the future. It's not surprising then, that Michigan-based battery company Our Next Energy has been generating significant buzz and investment from big names in the automotive and venture capital worlds. Breakthrough Energy Ventures, which was founded by Bill Gates and counts Jeff Bezos and Richard Branson among its contributors, supplied ONE with $25 million worth of Series A funding in October 2021, and now BMW's getting in on the act.
BMW i Ventures
As you might have guessed from the name if you're not already familiar, BMW i Ventures is a venture capital offshoot from BMW which invests in future technologies that have relevance in the automotive universe. In the past it's provided funding to Rapid Liquid Print, a 3D-printing company specializing in soft materials such as rubber and silicone, and Actnano, which produces hydrophobic nanocoatings to protect circuitry and other electronics. Now, the firm is leading a $65 million investment in Our Next Energy which will allow for expansion of ONE's Bay Area R&D center as well as helping it find and develop a site for its first major production facility.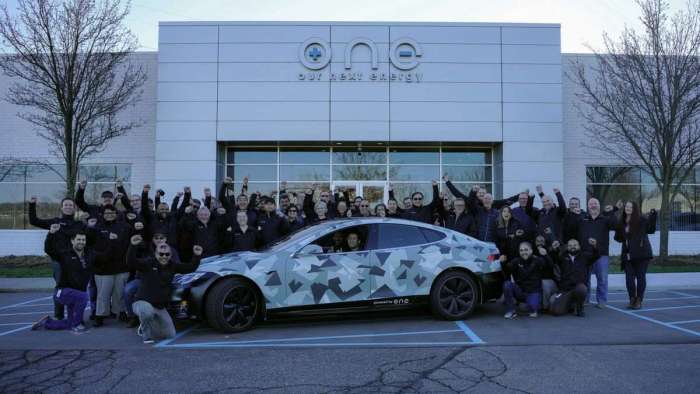 752 Miles on a Single Charge
The funding announcement follows ONE's announcement that they had driven a Tesla Model S equipped with one of their prototype Gemini batteries 752 miles across Michigan on a single charge. Taken indoors away from traffic and December in Michigan with its power-sapping cold temperatures, the same Model S ran for 882 miles at a constant 55 mph on a dyno. The Gemini battery installed in the Tesla has a 203.7 kWh capacity and uses a cobalt-free lithium iron phosphate chemistry. For comparison, the 520-mile Lucid Air Dream Edition has a 118 kWh battery pack.
"The ONE Gemini battery aims to eliminate range as a barrier to electric vehicle adoption by doubling the available energy on board in the same package space" - Mujeeb Ijaz, ONE Founder and CEO
Our Next Energy
ONE was founded in July 2020 near Detroit by CEO Mujeeb Ijaz with the goal of using sustainable materials drawn from a conflict-free supply chain to create batteries with safer chemistries than existing offerings. Ijaz has 30 years of experience in battery systems and previously worked for Ford, Chrysler, and Apple before setting up on his own with ONE. Dr. Steven Kaye serves as Chief Technology Officer and heads ONE's R&D department. Dr. Kaye also worked for Apple as part of the Special Projects Team leading battery-related research and development. Kaye holds more than 60 patents related to battery technology.
Our Next Energy plans to start production of their 79 kWh Aries battery in late 2022 and will show the world a production-quality prototype Gemini in 2023. With compelling products and some big name backers, Our Next Energy is certainly one to watch.
Images by Our Next Energy licensed by CC BY 2.0.
James Walker is an automotive journalist at Torque News focusing on Lucid Motors. If it's got wheels he's interested, and he's looking forward to seeing what kind of cars the EV revolution brings us. Whether it's fast, slow, new, or old, James wants to have a look around it and share it in print and on video, ideally with some twisty roads involved. You can connect with James on Twitter, Instagram, and LinkedIn.