Lucid's Latest Partnership Delivers Five-Star Luxury
Lucid Motors has partnered with Rosewood Sand Hill resort to showcase its EV wizardry in Menlo Park, California.
Resort guests will have the ability to test drive or simply go for a ride in a Lucid Air with hotel staff in the hotel's dramatic northern California surroundings. Reports indicate that Lucid will provide Rosewood Sand Hill with a pair of Lucid Air Tourings in the hopes of drawing more customers to the brand.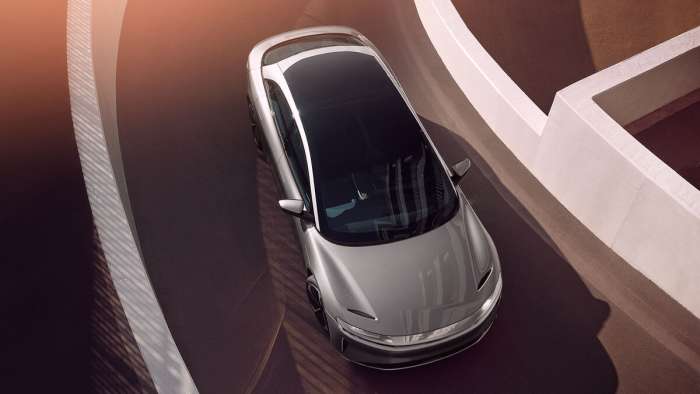 The Air Touring boasts a pair of Lucid's proprietary motors for 620 horsepower and a EPA range of up to 425 miles. Lucid says that the Touring can take on 200 miles worth of charge in just 15 minutes.
Related Story: Lucid Stock Pops With Latest Buy Rating
Lucid Owners Preferred
The second arm of Lucid's deal with the luxury resort involves people who have already put their money down and bought a Lucid Air. Lucid owners will receive complimentary accommodation upgrades (availability permitting), a $100 hotel credit, local wine, access to all hotel amenities and free WiFi access. Do hotels that start at $1000 a night really nickel and dime their guests over internet access? Not a worry for you, Mr. or Mrs. Lucid Owner.
Rosewood Sand Hill is a five-star luxury resort located near the Santa Cruz mountains; an ideal place for customers to test out the California-designed Lucid Air. The Air features interior schemes named for the Santa Monica, Santa Cruz, Mojave and Tahoe areas with renewable woods and fabrics throughout.
Related Story: Lucid Expands Further North With Another Canadian Studio
Images by Lucid Motors licensed by CC BY 4.0.
James Walker is an Automotive Journalist at Torque News focusing on Lucid Motors. If it's got wheels he's interested, and he's looking forward to seeing what kind of cars the EV revolution brings us. Whether it's fast, slow, new, or old, James wants to have a look around it and share it in print and on video, ideally with some twisty roads involved. You can connect with James on Twitter, Instagram, and LinkedIn.