Lucid has overtaken Rivian's market capitalization for the first time since the latter company's IPO debut on November 10th, 2021. Originally sold at $78 per share, RIVN reached heights of $172 before a long and sustained slide brought it to the level around $65 where it rests today. Wednesday marked the first time that Lucid's market cap exceeded Rivian's, which it currently does by nearly $5 billion. As of writing Lucid Motors is worth $63.15 billion while Rivian sits at $58.30 B, making them the tenth- and eleventh-most valuable car companies in the world.
Rivian's Post-IPO Slide
Rivian charged out of the gate at its IPO as the latest in a line of promising EV manufacturers with compelling products and promises of big deals to come in the future. The deals are still on and the R1T's still a very compelling truck, but the stock now trades 60% lower than it did at its all-time high of $172, taking the company from a $150 billion+ market cap down to around $60 B. There are a few factors responsible for this, as well as sell-offs seen across the wider EV market that are ongoing.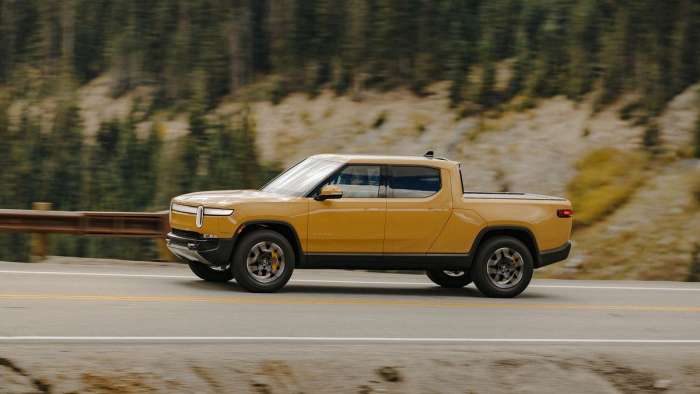 Losses, Departures, and Stellantis
First and foremost, Rivian revealed that it had lost more money than was expected during its Q3 earnings report on December 16th. Expected losses, while not ideal, are a necessary part of any new operation, and it often takes a few years for a new car company to become profitable. Unexpected losses, however, can signal to investors that all is not well at the top of the company and breed uncertainty.
Second, there's the fact that Rivian's Chief Operating Officer Rod Copes left his position in December, right as the company was ramping up production of the R1T pickup truck. It's important to state that this was, in Copes' own words, a planned retirement from Rivian parting ways on positive terms after two years in the post, but the timing could have been better. Investors reacted negatively to a senior management figure departing at such a pivotal moment for the company. Rivian says that Copes' duties have been divided among other executives and it's business as usual.
Third is Amazon's recently-announced deal with Stellantis (formerly Fiat-Chrysler) which will see one multinational giant supply the other with battery-electric versions of the Ram ProMaster van to be used in last mile deliveries. Amazon is Rivian's second-largest shareholder, and Rivian's deal to supply it with 100,000 electric delivery vans by 2030 was a major selling point at the time of its IPO. That deal still absolutely stands, but the news of Amazon looking for additional electric vehicle suppliers triggered an 11% drop in Rivian's share price the day it was announced.
Finally, there's the news that Rivian didn't meet its goal of producing 1200 vehicles by the end of 2021. The actual figure turned out to be 1050 built, with 920 of those delivered by January 10th. This, I feel, is much more predictable for a fledgling manufacturer than the previous three reasons Rivian's stock has taken a beating. Rivian isn't alone in its troubles either, as Lucid has had its share of difficulties recently.
Investor Faith in Lucid
Lucid has faced its own issues recently, with customers reporting delayed deliveries and poor communication from the company regarding when they'd receive their Air Dream Editions. The news that the company was the focus of an SEC investigation surrounding, among other things, reservation numbers given to investors didn't help its share price, and at this point I'd think it fairly safe to say that Lucid did not meet its target of all 520 Dream Edition sedans delivered by year's end.
Despite these problems, Lucid hasn't experienced the same turn of fortunes as Rivian, and seems to be the safer bet moving forwards. The lockup period for its earliest shareholders expired yesterday, but we're yet to see any evidence of large scale sell-offs. By moving ahead of Rivian, Lucid becomes the world's second-most valuable EV manufacturer, trailing only to runaway leader Tesla.
Images by Lucid Motors and Rivian licensed by CC BY 2.0.
James Walker is an automotive journalist at Torque News focusing on Lucid Motors. If it's got wheels he's interested in it, and he's very excited to see what kind of cars the EV revolution brings us. Whether it's fast, slow, new, or old, James wants to have a look around it and share it in print and on video, ideally with some twisty roads involved. You can connect with James on Twitter, Instagram, and LinkedIn.
James Walker has no position in any of the stocks mentioned.