Lucid Shares an Image of Lucid Air Readying To Debut in Jay Leno's Garage
Now in its sixth season, the show is shot through with the veteran comedian's undeniable love of cars, beginning as a web series for NBC.com before moving to a prime-time slot on CNBC in 2015.
Big Dog Garage
The show is filmed in Leno's Burbank, California "Big Dog Garage," where a great deal of his personal collection resides with many of the vehicles parked in front of blown-up images of the magazine ads that caused him to fall in love with them as a young man.
Viewers can expect an in-depth look at the Air's exterior, interior, and design ethos, likely accompanied by a Lucid executive, perhaps even CEO/CTO Peter Rawlinson himself. From there, it's off for a test drive, with Leno giving his impressions of the car's performance and handling characteristics.
Performance Tests
Leno's Garage test drives don't always take place on public roads, with Jay having set a world speed record at a drag strip earlier this year with a Tesla Model S Plaid.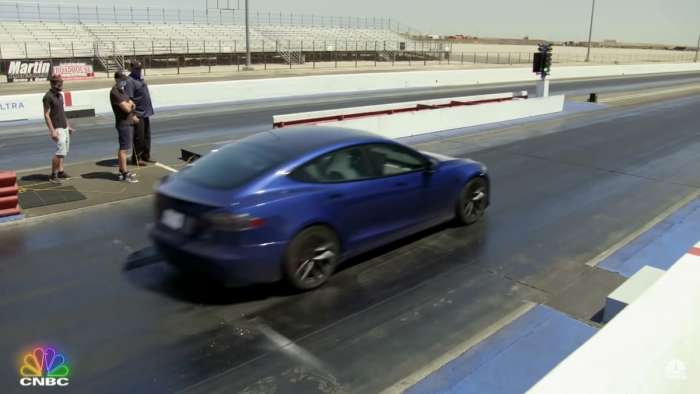 Leno is a proponent of electric vehicles and sees them as the future despite his love for internal combustion-powered cars. He has previously owned a Tesla Model S, though he sold in during 2021 to make room for another electric vehicle. Whether this new EV will be a range record-breaking Lucid Air or not remains to be seen, but I'm betting there's a pretty good chance it will be.
Elon And Cybertruck
Leno's Garage has a history of showcasing important new electric vehicles, with Elon Musk making a couple of appearances, first in 2008 to show off the original Tesla Roadster and then again to give Jay a drive in the Cybertruck. The Model Y has also featured in an episode, although Jay stated that he would be sticking with his Model S over the Y.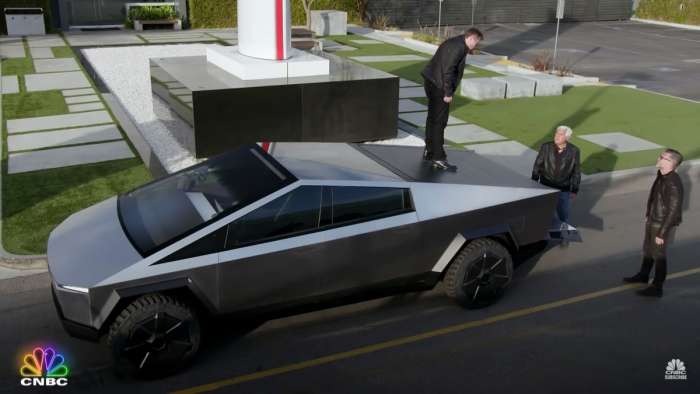 The Mercedes EQS, a direct competitor to the Lucid Air, was also featured in an episode in August 2021.
Prototypes
A couple of significant prototype EVs have also featured on Leno's Garage. Canoo's rather unique minivan featured in July 2020, and Jay went off-roading with wildlife photographer Amber Arbucci in April 2020 in Bollinger's SUV prototype, which features a glass roof and angular bodywork looking like an old-school body-on-frame 4X4 truck.
So far Rivian has been absent from Leno's Garage, but with the company going from strength to strength it seems that this will be remedied sooner rather than later.
Before that, though, the Lucid Air will have its turn in the Big Dog Garage.
Jay Leno's Garage airs Wednesdays on CNBC at 10 PM ET.
Images by Lucid Motors and Jay Leno's Garage licensed under CC BY 2.0.
James Walker is an automotive journalist at Torque News focusing on Lucid Motors electric vehicles. If it's got wheels he's interested in it, and he's very excited to see what kind of driver's/performance cars the EV revolution brings us. Whether it's fast, slow, new, or old, James wants to have a look around it and share it in print and on video, ideally with some twisty roads or a track involved. You can connect with James on Twitter, Instagram, and LinkedIn.