This handsome devil is the Polestar 6 and thanks to resoundingly positive public reactions it's headed to production. We'll have to wait a while to get our hands on it though, as Polestar's model pipeline has a couple of cars between the 6 and its 2026 launch date.
Based on the O₂ roadster concept (or should that be "exactly the same as the O₂ roadster concept"?) the Polestar 6 apes the "design, technology and sustainability ambitions" shown off by the also very good-looking Polestar Precept concept.
This means it'll use Polestar's bespoke bonded aluminum platform relying on adhesive and oven curing, rather than welds and rivets, to join its lightweight body shells together while maintaining the safety standards that Volvo is famous for. Polestar says that its first in-house platform will allow its future cars to weigh less than smaller traditionally built cars while providing increased range and responsive handling.
With the overwhelming consumer and press response, we took the decision to put this stunning roadster into production and I am so excited to make it a reality. Polestar 6 is a perfect combination of powerful electric performance and the thrill of fresh air with the top down." - Thomas Ingenlath, Polestar CEO
LA Concept Edition
The first 500 examples of the 6 will be special "LA Concept" editions featuring the blue paint, cream leather interior and 21-inch wheels of the car in these pictures, and overall production numbers won't be as limited as they were with the Polestar 1.
The Polestar 6 will share the same 800-volt architecture as the Polestar 5 with up to 884 horsepower and 663 lb.-ft. or torque on tap from a pair of electric motors. Zero to sixty is targeted at 3.2 seconds and top speed will likely be limited to 155 mph.
Something For The Weekend
The 6 will give the Polestar lineup a gorgeous hard-top convertible to complement the other cars in the range. We've had the large grand-touring hybrid Polestar 1 and the practical liftback Polestar 2.
The "sport SUV" Polestar 3 is set to arrive next year followed by the Polestar 4, a "coupe SUV" to compete with the likes of the Porsche Macan. After that comes the extremely handsome Polestar 5 with its sights set firmly on Tesla, Lucid and Porsche.
Polestar 6 reservations are open now and we'll see more of the roadster this weekend at Pebble Beach and The Quail.
Related Story: Polestar Wants To Build A Truly Climate-Neutral Car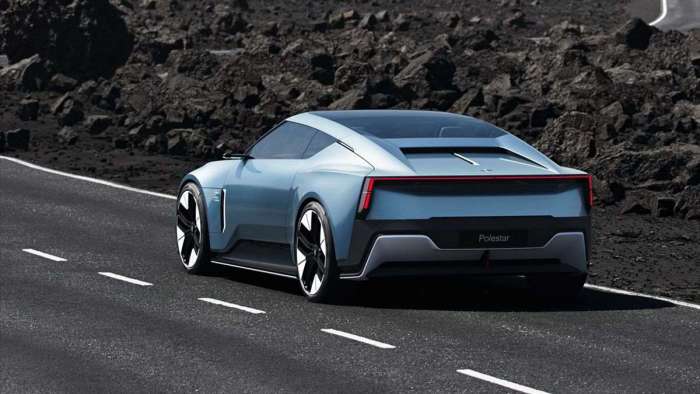 What do you think of the Polestar 6's looks? Futuristic Swedish perfection or colder and more clinical than a car like this should be? Let us know in the comments below and check back with Torque News for more coverage of Monterey Car Week.
Images by Polestar licensed by CC BY 2.0.
James Walker is an Automotive Journalist at Torque News focusing on Lucid Motors. If it's got wheels he's interested, and he's looking forward to seeing what kind of cars the EV revolution brings us. Whether it's fast, slow, new, or old, James wants to have a look around it and share it in print and on video, ideally with some twisty roads involved. You can connect with James on Twitter, Instagram, and LinkedIn.