In the sea of debuts and announcements taking place over the course of Monterey Car Week 2022, Lucid took the wraps off its new performance sub-brand AKA Sapphire.
With more models to come, it's the flagship Lucid Air that gets the Sapphire treatment first. The video below from Engadget shows us close-up details of Lucid's new hyper-sedan, including its trick tire compound and all those bear logos.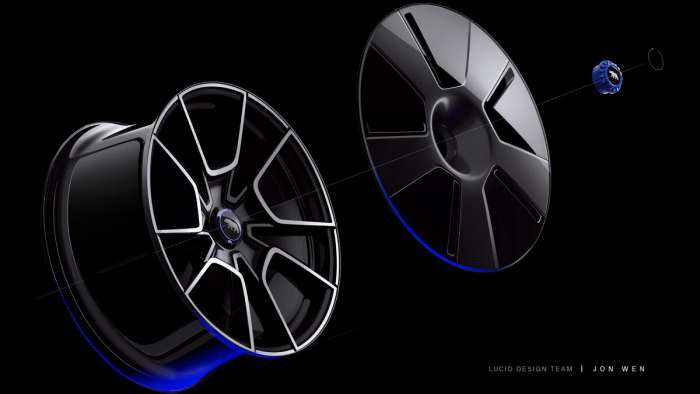 Wheels and Tires
The Lucid Air Sapphire departs from the aerodynamic wheel designs seen on the rest of the Air family in favor of lightweight forged wheels with race-style center locks. They're staggered in size and wider than those found on the Grand Touring, Touring and Pure in order to make space for wider rubber and the Sapphire's enormous carbon-ceramic brakes with four-piston calipers in the rear and mighty ten-piston units up front.
Carbon fiber aero disc covers are included with the Sapphire to recoup some of the beefed-up Lucid's efficiency losses.
Following this performance-efficiency balancing act are the Sapphire's tires; specially developed Michelin Pilot Sport 4S rubber designed to give the best of both worlds. Featuring a low rolling resistance center band flanked by stickier rubber on the shoulders, the super-Lucid's tires are designed to maintain efficiency under normal driving conditions while providing performance tire grip once speeds climb.
The Sapphire also gets new bushings and springs while its dampers and steering set-up are specially tuned for even higher performance than Lucid's other offerings. Lucid's recently launched "Stealth Look" is standard on all Sapphires.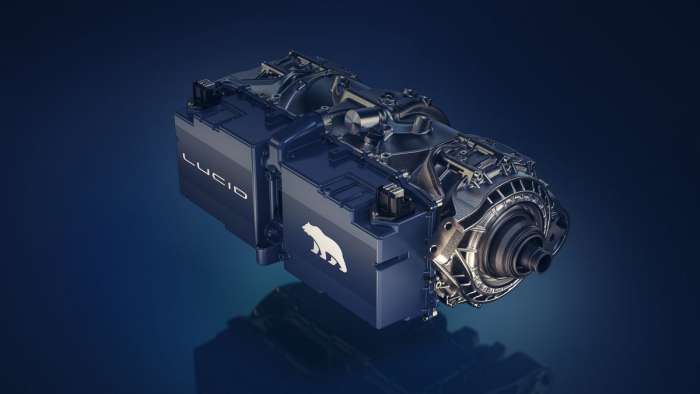 Dual Rear Motors
The source of the Air Sapphire's increased power is its new rear drive unit, which doubles up on Lucid's compact and powerful electric motors in a singe blue-painted casing. This gives the Sapphire exceptional torque vectoring capabilities according to Lucid and negates the need for a rear-wheel steering setup.
Lucid hasn't given us an exact range figure yet but assures us the Sapphire's range is longer than existing tri-motor electric vehicles. No prizes for guessing who they're talking about there.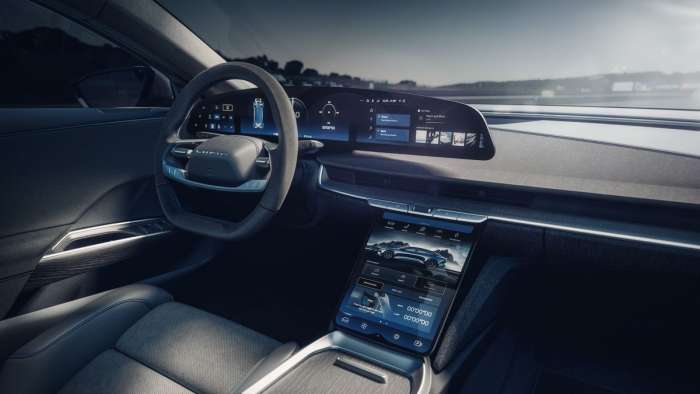 Interior
Inside the Sapphire maintains the same modern luxury that Lucid has been praised for with a few performance upgrades. As this is the fast version there's much more Alcantara with the steering wheel and seats now featuring the grippy material. Those seats have been given extra bolstering over standard, but not so much that they shout about it. The Sapphire's many interior screens get new blue hues, while the previous car's "Sprint" mode has been replaced by Sapphire mode.
Lucid Air Sapphire deliveries are scheduled to begin in 2023 with prices starting at $250,000 before taxes and fees.
Images by Lucid Motors, video by Engadget licensed by CC BY 2.0.
James Walker is an Automotive Journalist at Torque News focusing on Lucid Motors. If it's got wheels he's interested, and he's looking forward to seeing what kind of cars the EV revolution brings us. Whether it's fast, slow, new, or old, James wants to have a look around it and share it in print and on video, ideally with some twisty roads involved. You can connect with James on Twitter, Instagram, and LinkedIn.