Very Rare 2017 Civic Type-R Black Edition Ends European Production Run
With the offering of a very limited Black Edition comes a manufacturing transition to the long anticipated U.S. safety compliant Civic Type-R 5-door hatchback. It's coming.
I've followed the evolution of Civic Type-R for the better part of a decade with a twist or two along the route. After the front-wheel drive Nurburgring track record was set by Honda Civic Type-R back in 2015, America Honda fans, or more specifically, Civic Tuners, took up the cause of bringing Civic Type-R to the United States. After all, to this crowd, a street legal, out of the box race-ready 300+ horsepower Civic made perfect sense -- American Honda said yes!
Damn the price point and the fact that Civic Type-R would come to market as a FWD only variant, what did Ford and Subaru know anyway? Civic Type-R is sinister, wicked fast and exceptionally cool looking. And despite the fact that the manufactured in England Type-R comes to the U.S. in very limited numbers, with a MSRP approaching $40,000, the Honda diehards want one -- like I said, very cool and very rare, a Civic like no other.
The European Civic Type-R Black Edition is an instant collectible
With only 200 units manufactured, and sold exclusively through dealerships in England, The Civic Type-R Black Edition is one of if not the rarest Civic variant ever manufactured -- a sure instant collectible, with a price tag to match. I'm sure it sold out immediately.
Here's' the good news: With the release of the Civic Type-R Black Edition comes the inevitable manufacturing start of the 2018 tenth generation Honda Civic Type-R. According to our sources at American Honda, we can expect to see a what I believe will be a very limited order opportunity midyear 2017.(could be wrong!) For the rest of us, here's the first production turbocharged 5-door Civic hatchbacks in Honda history.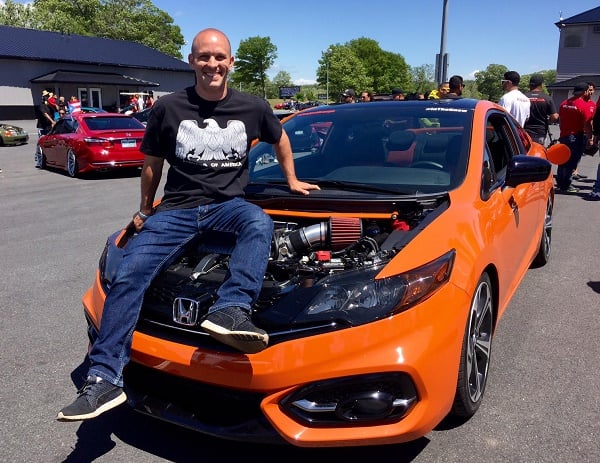 On a personal note: I believe the Civic Si will become available first. As of this writing, according to Torque News friend Jason Richmond of "HondaPro Jason " fame, California based Hondata ™ performance, has developed hardware for not only Civic Turbo, but Turbo Si, and the venerable 10th generation Civic Type-R world car.
We watched Jason drive Type-R on the streets of O.C., I believe it's O.C., he didn't say.
I've sat in the driver's seat of Civic Type-R and loved the fit and finish. Jason drove the darn thing, and listening to his enthusiastic diatribe, am convinced that when made available to U.S, consumers, Civic Type-R will be a tour de force to recon with. It may in fact be well worth the lofty price point. Let's drive it.