A Final Salute to Acura TLX GT
I'm an optimistic sort and a die-hard Honda racing fan. From the age of 14 or so, I took my first Craftsman hand tools and constructed the first modified Honda dirtbike of many to come. It was crap, crusty, rusty and iffy. But with a very limited knowledge of the inner workings of what was then a 65 cc 4-cycle engine, mounted to an over-sized frame, with scavenged Desert Enduro "knobby" tires, I dove headfirst into a lifetime of everything automotive -- and everything racing -- leading to where I am today -- still a Honda fan.
And that's the beauty of Honda, Acura Racing
In a world of fractions of a second making the difference between a "podium," and loading up the race car, or in this case 2 race cars, and hoping for a better run next race, HPD combined with the fabrication and track know how of RealTime Racing brings 150% to the competition every time out. And despite being (perhaps) just a bit outgunned as to program budget and rolling hardware, kept Acura TLX GT running in the top 5, most of the season, with the evolution of driver Ryan Eversley behind the wheel, a star-season-run by any measurement. I enjoyed getting up close and personal with TLX-GT at SEMA Las Vegas.
Mechanically, the twin turbocharged 3.5 Liter VTEC, proved to be mechanically bulletproof, with TLX-GT falling to the wayside with body, chassis related damage on several occasions -- PWC is as aggressive as NASCAR -- so is P.D. Cunningham and Ryan -- it's tough on the hardware.
5 podiums in 2 seasons, not enough, in rolls NSX GT3

Bentley, Cadillac, Ferrari, Mclaren, Mercedes, Nismo, Porsche, it's a tough crowd
Acura ends the 2016 Pirelli World Challenge racing season GT Manufacturers Championship in 6th place, 6 points behind Bentley, 26 points ahead of Audi, and light years ahead of Mercedes.
In the final driver's point standings we find Ryan Eversley in 6th position with 1305 points. Well done Ryan! And team owner, and still the winningest man in Pirelli World Challenge Peter Cunningham finishing the season in 18th place, (top half) despite surrendering his seat for dedicated 2017 Acura NSX GT development. This will be a car and team to be reckoned with.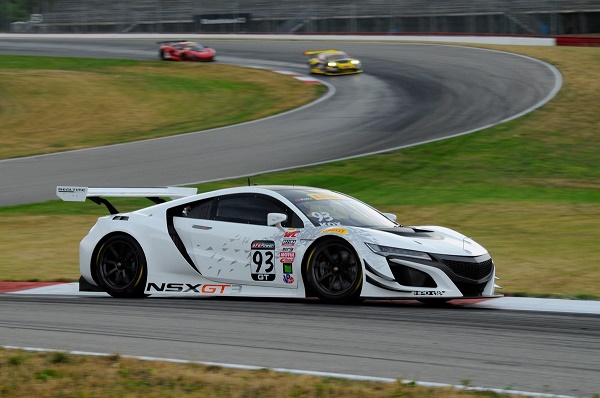 Round 20 a bit anti climatic for Acura racing fans

Sunday's PWC round 20 found Ryan Eversley finishing in 10th place, a mere 7.23 seconds off the lead with RealTime Racing newcomer Spence Pumpelly finishing 9th with a best lap time of 1:26:769.. It should be noted that Pumpelly recorded the 5th fastest practice lap time Saturday. Like I said, mechanically bulletproof, with exceptional suspension and tire 'track set up." Realtime Knows racing. With the introduction of 2017 Acura NSX GT to a field mostly comprised of european supercar derivatives, I look to NSX and RealTime, Acura Racing to return to PWC as a force to reckoned with in 2017. What 's the fate of TLX-GT? I have no idea. Can we put it on the street?