Acura's Precision Performance takes maker way beyond NSX in 2017
Acura looks past the segment shaking NSX sports hybrid supercar with a company-wide mantra of "Precision Performance" to drive development and subsequent sales in 2017 and beyond. If nothing else, Honda's premium brand is unique, segment breaking, and just a bit of a rebel.
Looking to recall records, Acura's lineup remains one if not the most mechanically reliable in the auto industry today. In short, Acura's car lineup doesn't sell in pre recession numbers simply because consumers have shifted intent to the crossover/SUV segment -- where Acura remains king in the 2 and 3-row premium SUV segment.
2017 Acura MDX to remain the best selling premium 3-row SUV in America
We caught a glimpse of Acura's near-future design direction through the advent of the Acura Precision Concept. From its redesigned diamond grill, coupe-like invisible handle 4 door body line, integrated body-flow head and tail lighting, hot-rod inspired monster sized alloy wheels, and candy coated color scheme, no other manufacturer in North America approaches this over the top, yet very doable design exercise -- it's the "art of the line" personified.
In rolls MDX wearing the Precision Concept's diamond grill and oversized wheels
Two years ago in Los Angeles I had the pleasure of interviewing Acura design lead Ms. Michelle Christensen. I turned my question to the often maligned "Acura Beak." Let me put it to you this way: I like what Acura did with my question, and what the 'flatter' big "A" diamond mesh design does for the looks of the uptick 2017 Acura MDX 3 row SUV.
For 2017 Acura will present the only 1 engine, 3-motor hybrid gasoline/electric premium 3-row SUVs in the industry. The benefit to "hybriding MDX is greater city fuel economy (+7 MPG,) while increasing combined horsepower(+35,) and instantaneous torque. Here's my take on MDX.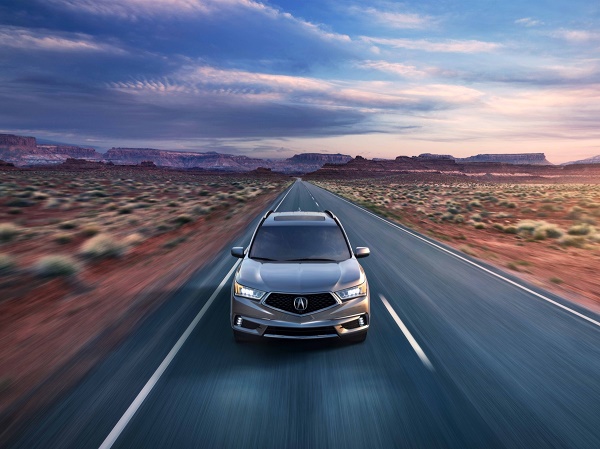 But there's much more to the MDX equation than meets the eye: As we enter the posh interior confines of Acura's best selling vehicle, the 'uptick' as to the quality of interior fit and finish,(real wood accents) is palatable. We view custom transition color piped cooled, heated, and infinitely adjustable leather seating, 2nd row captain chairs, a near intuitive driver to vehicle command interface, and Acurawatch ™, with active safety suite standard at all trim levels. Unquestionably, looking to the total package, MDX once again tops the segment for standard feature value at a financially attainable price point.
A new ILX for 2018
Knowing that Acura ILX is built on a Civic world platform, unless dropped from the lineup, Acura's portal sedan should be revealed sometime in mid to late 2017 as a 10th generation Civic derivative with Acura panache and flair. As to TLX? Other than a possible turbocharged variant, a grill change out, and a possible proprietary transmission upgrade, I believe TLX will remain mostly unchanged for 2018. We'll see.
Will we see an NSX derived roadster in 2017/2018?
Here's the thing: For me and other tall drivers that have experienced NSX behind the wheel, I hope so! Honda dealers have been calling for a roadster drop-top halo car for the better part of a decade. With the advent and release of the S650 roadster in Japan (it does look like a mini NSX) the remains hope among the Honda,acura loyal that a roadster is on the horizon heading for North America.
Outside of announcing the pending arrival of MDX hybrid, our friends at Acura remain tight lipped as to near future rollouts. What we do know is that Jon Ikeda and company remain dedicated to "Precision Performance," that sometimes elusive element that separates a "good" car or light truck from a "great car," Acura's on it!