Acura NSX Sport Hybrid signals shift in makers design directive
With the the introduction of the 2015 Acura TLX sport sedan came a renaissance for a mark that at one time turned the established Asian and European import car market on its proverbial ear. That was in the 1980's and 90s, were at the time, offerings such as Integra and Vigor presented great value through precision no nonsense engineering, reliable low cost to maintain, fun to drive compact and midsize coupes and sedans that outsold the competition hands down.
Less expensive to purchase and generally mechanically bulletproof, back in those days Acura was a wake up call for a price bloated, maintenance intensive segment dominated by the English, Germans and Italians: and then rolled in NSX.
The beauty of the first generation Acura/Honda NSX was its price point, mechanical simplicity and road handling dynamic. At that time NSX placed the less than reliable Italian maker Ferrari on call along with Porsche and Chevrolet Corvette, as automotive sport enthusiasts took notice. Acura now had its halo car, and as is said "the rest is history."
NSX would ride a wave of popularity through its last year of production (Aug 1990 to Nov 2005,) and remains a sought after collector's car today. I had the opportunity to drive one at this event, and was impressed that at 6 foot 5 inches tall I could shoehorn my way into one.
Acura's dedicated to precision driven performance and expanded hybrid applications
Designed and manufactured in the United States, after a 10 year hiatus from production, a much different gasoline engine, 3 motor electric hybrid NSX supercar emerges to Automotive Press and consumer accolades. Once again Acura NSX sents a benchmark in the rarefied segment of low volume high priced supercars.
Affordable by supercar standards
With a financially attainable beginning MSRP of $156,000, and a combined horsepower and torque output of 500 [email protected] rpm/406 lb-ft (550)@2000 to 6000 rpm, 2017 Acura NSX is the "value" of the luxury performance coupe classification. And unquestionably sits at the pinnacle of Honda engineering meets exceptional safety and balanced ergonomically correct driving comfort. Read my initial NSX drive and ride impression here.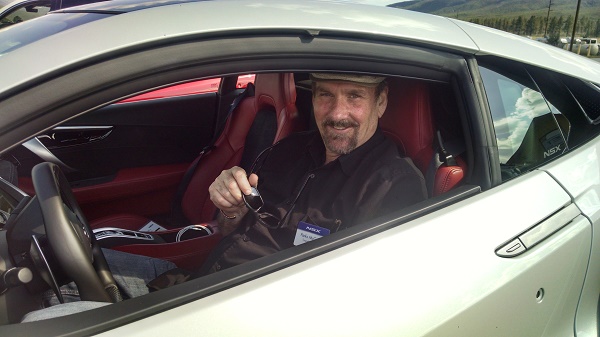 Acura's future rests in performance hybrid technology
As announced earlier in the year by Torque News and others, the 2017 Acura MDX hybrid will come to market in late 2016 showcasing not only Acura's re energized uptick design directive, but also a next generation turbocharged, torque vectoring, gasoline/ electric hybrid propulsion system.
What this means for consumers is not only a more dynamic looking 3 row SUV, but class leading fuel efficiency in town, something that's largely eluded the non diesel SUV segment in North America. Furthermore, Acura's mother company Honda has promised an implementation of plug-in electric facilitation on an expanded Clarity platform. As goes Honda so goes Acura? Maybe.

As to the future of Acura design, one can see it in the "Precision Concept" sedan. A stunner to be sure! I spent a moment with lead designer Dave Marek in Carmel, California. As unique as the car itself, Dave points to a cutting edge, dynamic future for Acura Division and those that opt to own and drive one. "It's the art of the line," Acura style.
Photo attributions Parks R. McCants 2016