Acura NSX is Green Car Journal's '2017 Luxury Green Car of the Year'
2017 Acura NSX is a very complicated, tech driven exercise in hybrid-sport-electrification. While there are other available contenders in the segment, BMW, Mclaren, Porsche, the second generation NSX supercar is the most financially attainable member of this very tight grouping. And frankly, does some things better than the competition -- with a very user friendly, near intuitive driver to car connectivity, mostly missing in the less than forgiving world of the supercar.
Ron Cogan and company like NSX for its "difference"
I had the pleasure in sharing some drive and ride time with Green Car Journal's publisher Ron Cogan in Diamond Springs, California. Not only did I learn much from the lifelong auto journalist, and prior Ferrari owner, as to what a true-performance-car driver looks for from a supercar format, but what in actuality defines a "car of change."
The definition is much broader than one might think. "Green," can mean many things in the world of automotive design and critique. It's not always defined in ground breaking fuel efficiency or ZERO carbon emissions, although NSX, specific to its rarefied segment, excels at both. In the world of automotive design and subsequent manufacturing, the path to "Green," while accelerated, is most often traveled in slow progression, as opposed to 'leaps and bounds." Green Car Journal's" been on the auto news-beat since 1992.
On a side note, NSX was a pleasure to drive on the street, in "normal" mode
Ron and I both marveled at how civilized 2017 Acura NSX is on the street. It's that thing that Acura does so well, a split driving personality if you will. NSX performs as well on the street as it does on the track. Cabin to street visibility is surprisingly good in this mid engine supercar. The cabin is quiet, leather glove comfortable, body-form-supportive, yet not restrictive. Not an easy ergonomic balancing act in what is essentially a very refined and civilized, two-place GT-3 car.
Here's what Mr. Ron Cogan said from the Washington D.C. Car Show podium
The 2017 Acura NSX was awarded the 2017 Luxury Green Car of the Year™ distinction by Green Car Journal. The Acura NSX challenges supercar norms with cutting-edge and world-first technologies. A first-of-its-kind Sport Hybrid Super Handling All-Wheel Drive™ power unit that electrifies all phases of driving – accelerating, braking and cornering – enables an unprecedented combination of performance and efficiency.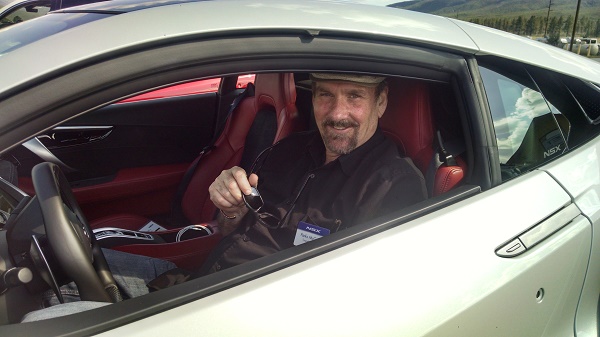 "The 2017 Acura NSX delivers the luxury of driving a sports car equally at home on the highway or the track, that also happens to have important 'green' credentials," said Ron Cogan, editor and publisher of Green Car Journal and CarsOfChange.com. "Its advanced hybrid drivetrain, impressive aerodynamics, use of lightweight materials, and significantly improved city fuel efficiency over the previous generation are all positive testaments to its distinction as the 2017 Luxury Green Car of the Year™."