Acura 'Mood Roads' previews future advanced human to car connectivity [Video]
What if your car could read your mood, and anticipate how your present state of mind entered into how you operate the vehicle, react in stop and go traffic, it's impact on your reaction time, and the safety of you and those around you, what if?
We recently had the opportunity to experience Acura's take on the advanced precision cockpit while attending the Los Angeles Auto Show. It's a bit of a mind blower, as lightning fast finger-sweep touch pad action works in tandem with a much improved single screen center stack and much improved dial-centered i-MID.
Then there's facial movement recognition for voice command, hand signals and eye motions for calling on advanced convenience and active safety features -- all coming to personal transportation as the auto industry embraces autonomous driving.
When your virtual drive experience turns into a very technical "mood ring"
Inspired by the very advanced, highly computerized, nearly self-learning, 2017 NSX, and RLX Sport Hybrid's, Acura's "Mood Roads" experience at Sundance is a glimpse into a near future of "learning" cars that optimize not only fuel efficiency based on your driving style, but adjusts transmission shift points, steering feel, foot-brake-pressure and default drive mode selection -- all, based on your personal drive style preference.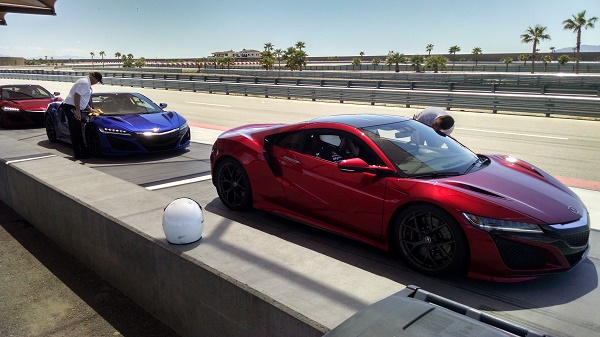 "Mood Roads" is a futuristic experiment in car reads driver, with safety implications
Where I see this technology applied is in vehicle operating safety technology. When linked to autonomous driving, or even today's near autonomous active accident avoidance technology, the greater connectivity a car has to its driver, the greater the reduction of reaction time. This advancement will save lives -- the color, and scene changing driving mood ring is just the bonus.
What Acura tells us
"Let your subconscious be your guide:" Jan 18, 2017 — Marking its seventh year as Presenting Sponsor and Official Vehicle of the Sundance Film Festival, Acura returns to Park City, Utah with Acura Mood Roads, a new, first-of-its-kind immersive virtual journey inspired by the brand's signature performance technologies that define the exclusive Acura driving experience. Housed at the new Festival Village presented by Acura, running Jan. 20-28 at the Sundance Film Festival, Mood Roads offers attendees a full-sensory virtual driving experience, using brainwave technology to tap into 30 of the driver's emotional, cognitive and physical inputs to create a unique environment with landscape, color and music changing in real time to reflect the driver's moods.