2019 Mazda CX3 Performance Absolutely Kills it!
This is my 3rd brush with Mazda CX3 in as many years. Frankly, Mazda's not so entry level sport utility sub compact 5 door hatchback is more sport than utility. And that's cool. There's still plenty of room for "stuff" behind row two, and yes, with the split rear seat dropped to the folded position, one may carefully carry a compact bicycle, snowboard or hobby building supplies on CX3's near flat cargo deck -- but you most likely won't want to.
Here's the thing, Zoom, zoom is an understatement in 2019 CX3
For 2019, Mazda Motor Company takes SkyActive ™ engine and drive train technology to a new level of power and fuel efficiency. Mazda's philosophy of "one with the car" screams for the driver's attention when sitting behind the wheel of 2019 CX-3.This is a driver's car first, and a family toting hauling platform second. I compare Mazda CX3 to Honda HR-V.
For 2019 Mazda kicks up CX-3 Horsepower and Torque to 148/146 respectively, plenty of Zoom, zoom. Also, AWD, is available, although from what we've experienced in the FWD (front-wheel-drive) variant, not mandetory for superior traction and track-like handling characteristics.
Although sub compact in dimension 2019 Mazda CZ-3 presents a refined, leather optioned, well balanced driver to the wheel seating position. For 2019 Mazda redesigns the driver and front passenger seat for a firm but comfortable hold. There's plenty of clearance between the knee and dash pad for this 6' 5" journalist, head and shoulder room is also ample.
Visibility forward is unobstructed. Our Grand Touring test mule is equipped with an exceptional heads-up display featuring road sign recognition, I like it. For 2019 driver's will discover a much improved active safety suite including side and rear cross traffic sensing, lane keep assist, stability track, and more. Vehicle entry and start up is facilitated Via a key less ignition fob. Also standard for 2019 is a color backup monitor, and optional integrated navigation.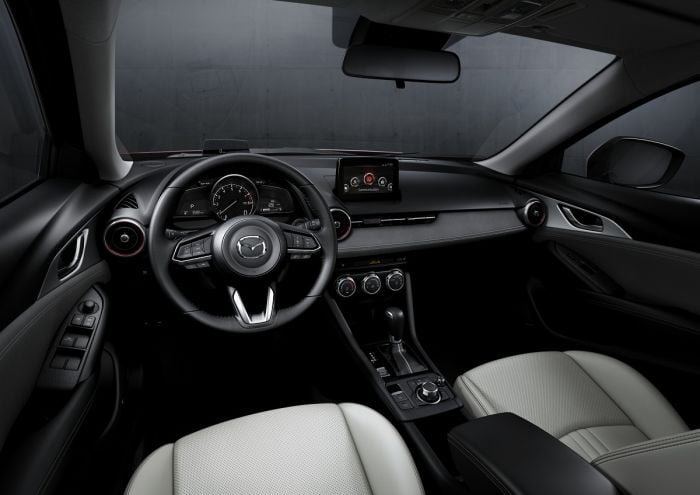 I further appreciate the in your face yet balanced grill treatment, new wheel designs, taillights, and adaptive headlights. Our Soul Red Crystal and parchment leather subject is a head turner with performance to match.
Also gone is the center consul pull brake, replaced with a neat toggle. Shifting is facilitated with a select shift stick, or in the case of the Touring Edition, steering wheel mounted paddles. Braking is solid, yet not grabby, with maneuverability in town second to none.
2019 Mazda CX-3 adapts a Miata attitude
The evolution of Mazda CX-3 is punctuated with Miata inspired handling and rev-happy engine performance. That could be expected. What I find to be pleasingly surprising here is the overall drive and ride dynamic. Not only does this exceptional subcompact crossover maneuvers well in town, thanks to very short overhangs, exceptional suspension engineering, wide track dimensions, and much improved road noise to cabin abatement, 2019 Mazda CX-3 is a very capable long haul traveler. Need more room? Check out Mazda CX9.
With a beginning MSRP of $21.365 and a fully loaded price as tested of $29,625, I recomend a CX-3 test drive to anyone considering the purchase of a near premium sub compact hatchback.
What I like: Exceptional power to weight ratio, track star road handling, exceptional color pallet, unique trim, fit and finish packaging.
What I'd change: Not much. CX-3 could use an inch or two in row 2. But then again, Mazda CX-5 will do that for you. Night vision could be better.