2018 Mazda CX-9's horsepower and torque rating is dependent on the gasoline octane grade used. Looking to CX-9 specifications one finds two horsepower ratings, a first for the SUV segment. The fuel sensitive 3-row SUV drives home an interesting personal spending option. Is there added performance value found in Premium grade gasoline? Would you give up peak horsepower to save a dollar or two?
2018 Mazda CX-9 is a bit underpowered on paper
On the face of it, 2018 Mazda CX-9 is not the most powerful 3-row SUV on the road today. Yet, when we look to the overall drive and ride package presented by Mazda's flagship, Torque News discovers several near premium features that drive CX-9 to the front of the midsize 3-row SUV segment. Reading CX-9 specifications, more specifically, stated horsepower, a head scratcher develops. Mazda's flagship SUV states 2 very different horsepower ratings, the higher, dependent on octane. Our Mazda expert John Goreham takes a look at the entire lineup here.
Horsepower is but a small part of the CX-9 performance equation
As I wiped my reading glasses in the quest for a clear view of the specifications, I suspected a possible misread of Mazda CX-9's turbocharged engine horsepower output; yet there it was. The SKYACTIV-G 2.5 L turbocharged gasoline 4-cylinder engine produces a rather unimpressive 227 peak horsepower at 5,000 RPM running on regular unleaded gasoline. Could that be?
Weighing in at well over 4,000Lbs, I found CX-9 to have more than adequate pedal power while maneuvering through the outbacks and downtown streets of Eugene,Oregon. Sure, the high revening turbocharged 4 cylinder was a bit whiny at times, but overall, performed well. Mazda engineering does a commendable job of motivating their largest SUV offering while maintaining a reasonable real-world fuel economy of 21 MPG combined. (Mazda claims 23) Believe me, we didn't baby CX-9 while driving in mostly cold, snowy and wet, winter weather.
On the road with 2018 Mazda CX-9 Grand Touring All Wheel Drive
We spent last week behind the wheel of a Soul Red Crystal Metallic, on Sand leather, 2018 Mazda CX-9 Grand Touring AWD. To say that Mazda CX-9's body design language is a bit in-your-face, is an understatement. From its long hood and wide-shark-grin grill, rather unique bending halogen headlights, to its coupe-like, short-overhang, drop-swoop-roof line to power hatch integration, 2018 Mazda CX-9 is a head turner, at any trim level.
Mazda CX-9 is without question one of the most unique looking mid size near premium 3-row SUVs on the market today. Yet there's a bit more to this story than fuel choices and a fully loaded bargain priced MSRP. Mazda CX-9 is touted by its maker as the "driver's" 3-row SUV, and that it is. Thanks to advanced suspension tuning, plus-size wheels and tires, and a very comfortable leather covered power adjustable drivers seat, CX-9 handles more like a compact crossover than a near full sized SUV. looking for something smaller? Check out Mazda CX-5.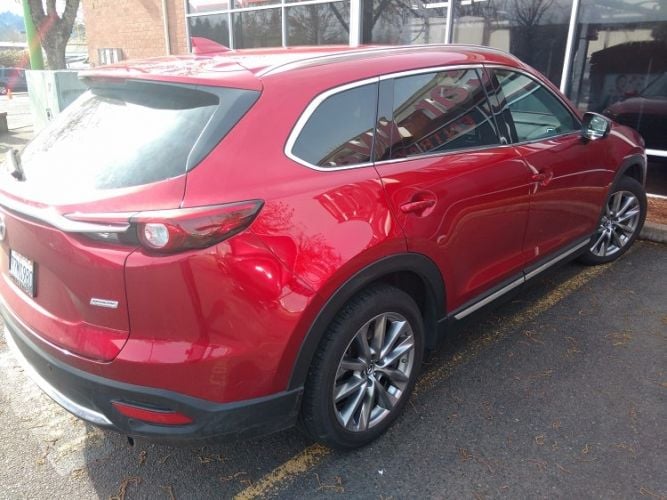 We found the road to steering wheel feedback to be responsive, the brake pedal feel natural, and the engine to transmission pairing more than adequate. In the case of 2018 Mazda CX-9, the mechanical magic that is SKYACTIV AWD (all-wheel-drive) works seamlessly behind the scene. Although you won't find wheel mounted paddle shifting on CX-9 Grand Touring, we found that engaging "sport" mode on the downhill providing excellent grade-holding capability.
And yes, a bit of "Sport" when called for. Where CX-9 may lack in sprint-speed horsepower, it gains in available torque. Thanks to direct fuel injection and turbocharging, Mazda's 2.5L 4-cylinder gasoline engine produces 300 lb-ft torque at 2,000 RPM, and holds it through the mid-range.
No, 2018 Mazda CX-9 is not designed for hard offroad adventures

As equipped from the factory, 2018 MAZDA CX-9 AWD is best suited for hard surfaced variable weather and road condition traction duty. While visiting Western Oregon, we put CX-9 through harsh winter weather testing on ice, rain drenched, and snow covered roads. Thanks to a well finished, leather clad seating, piano black laminate, brushed aluminum, climate controlled interior, driving through bad weather was akin to watching a Winter storm roll in from a living room easy-chair. Interior road noise levels while not luxury-class-quiet, are very reasonable; drive fatigue, negligible.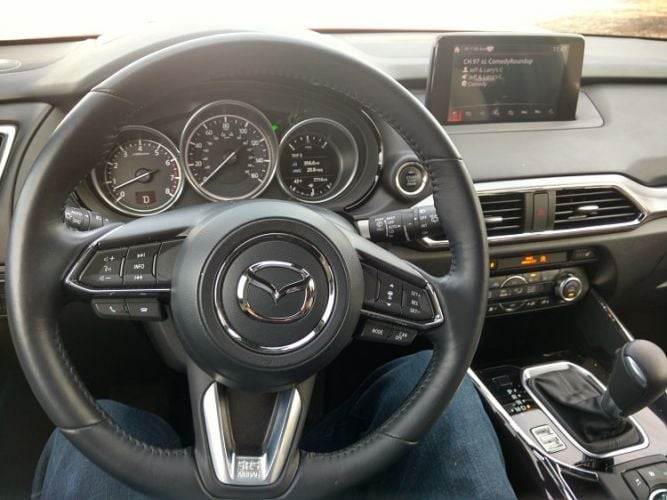 Premium sound, top of segment active safety, descent hands free connectivity, and more
Because we're not here to sell Mazda CX-9, let's cut this assessment short and default the details to American Mazda. CX-9 sales were up 26.3 % last year. We attribute the sales uptick to outstanding standard feature value,and a very favorable MSRP. Our fully equipped 2018 Mazda CX-9 Grand Touring AWD, rolled off the showroom floor with an MSRP of $42,905; it lacked nothing, sans a full length glass top.
While you can find greater horsepower available in the midsize 3-row SUV segment, one would be hard pressed to find greater bang for the buck, and drive-attitude for the money. I recommend a CX-9 comparative test drive to anyone shopping the sub-premium 3 row SUV or crossover segment.
What we like: Favorable MSRP, unique body styling, ZOOM, ZOOM.
What we'd change: Small top-dash mounted touchscreen monitor, smallish seat sizing, * more charging and connectivity ports. Greater in town fuel efficiency.