2017 NSX arrival sparks consumer buzz for Acura dealerships
It's been a tough sales month or two for Honda's premium car division. Personally, I'm a big fan and find Acura MDX and RDX hard to beat when it comes to premium, mostly standard safety and convenience features. But there is plenty of competition out there, and Acura, while financially attainable, isn't the only player in the premium sedan or SUV segments.
None the less, Acura MDX remains the top selling premium 3-row in North America, (with the 2 row compact RDX rounding out the light truck lineup) and will come to market later this year in a one engine, 2 motor hybrid variant. In the meantime, Acura sedan sales have dropped off a bit as consumers weigh the lineup against not only the offerings of Lexus, Cadillac and other domestic makers, but mother company's Honda Accord and Pilot SUV.
Acura Division sales off 9.2% in July
Why? I couldn't tell you. When looking to the numbers, Acura has one of the lowest recall rates in the industry, with way better than average consumer satisfaction. It may be a matter of production catching up with promotion.
A new look for the precision crafted Acura brand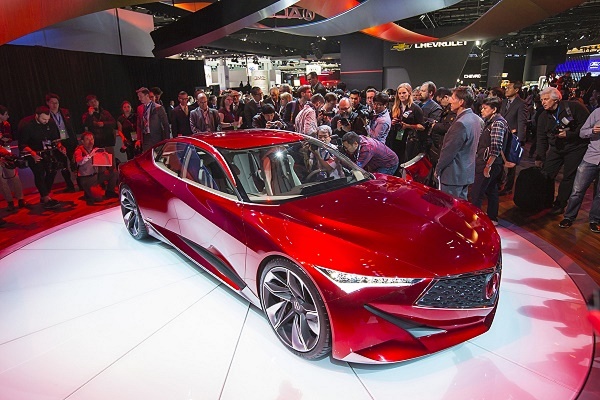 O.K., I'll just say it! Either you like the minimalist look of the current Acura lineup or you don't. Acura design is well aware of the need to kick the bling up a notch while removing the controversial "Acura Beak" from the design cue. Hence, this concept comes to manufacturing with the 2017 Acura MDX carrying the new design language into the lineup.
But for me and countless others, there remains great value in the current lineup with the possibility of a negotiated discount on the dealership side as Acura transitions into a new and improved lineup.
To date 23 NSX supercars have been delivered to retail customers.
And that's a commendable start for a very limited production, mostly hand assembled gasoline/electric hybrid supercar. I first experienced NSX behind the wheel in Palm Springs. Will the excitement generated by the NSX at Acura dealerships sparked increased sales? Certainly.