2017 Honda Ridgeline remains a bit controversial as to initial visual impression and stated mission, consumers don't always get what Ridgeline. This factoid came home to me once again as a neighbor pondered Ridgeline's "truckness." I believe I just coined a new word. Anyway, John, a do it yourself maintenance landlord, on first look stated " Ridgeline's more like a car, right?" I assured John that Ridgeline is quite truck-task-capable, yet Honda Accord comfortable on the road -- he wasn't buying it! Such is the plight of Honda's unibody pickup truck. Me, I love it! We first met Ridgelne in Cowboy country.
With that tid bit out of the way, how is 2017 Honda Ridgeline holding after 8,000 miles of abuse?
Those of you that drive press or rental cars on a regular basis know what I'm referring to -- press cars get put through the ringer by good and bad drivers. They're "curbed" regularly, ran out of fuel, discarded in airport parking lots, sometimes for weeks. And generally subjected to a lifetime of automated car wash scrub downs in the 10,000 service cycle that press vehicles are generally limited to.
Add to the aforementioned Ridgeline's off-road-capable, our current Black Edition has served as a support vehicle to mud events, and I'm confident that it's been beat a bit! We take a road trip in Ridgeline Black Edition.
Doing the math: Our 2017 Honda Ridgeline has seated 30 to 50 drivers behind the wheel
On delivery of our Ridgeline Black Edition loaner, I noted a clear coat scratch or two on the driver's side. And, due to 50 or more car wash brush cycles, the beautiful pearl black paint clear coat is burnished a bit. Inside, Ridgeline looks great. The driver and front passenger seat looks and rides like new. The 2nd row has had little to no butt time, so, it is new.
All systems, right down to Ridgeline's handsfree Bluetooth phone connectivity work like new, as do all active safety features, drive mode selection, and lane keep assist. The 3.5 Liter fuel injected V6 gasoline engine and 6-speed automatic transmission standard in Ridgeline, is mechanically bulletproof. So, no wear noted there. Gear shifting is seamless, as is the SH- AWD transitions from pavement to gravel road.
I'm assuming that the summer tires are original to the truck. And, although more suited to paved road use, do o.k. In the gravel. The front suspension remains tight with a positive road to steering wheel feedback. Braking is good, although I personally prefer a stiffer brake feel. Ridgeline retains a boot-activated parking brake; all other features are automated, and work without fault.
There is a mystery rattle somewhere on the left side of the cab. To me, this slight annoyance originates at the exterior of Ridgeline -- like I said, it's been off road.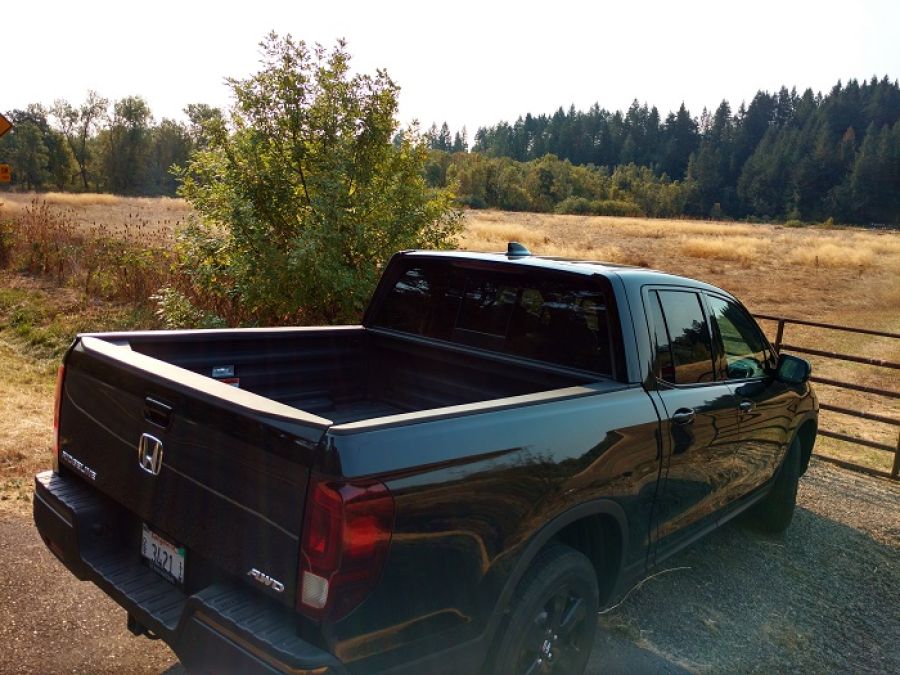 At 8,000 miles, Ridgeline operates as new
Although I'd transitioned out of the seat of Honda's Civic Type-R halo car into Ridgeline, I found Honda's one and only pickup truck offering to be powerful, responsive, comfortable, and uniquely attractive. Based on this week in the seat, I wouldn't hesitate to buy a used Ridgeline Pickup, it's that good.