Honda Ridgeline finalist '2017 Green Truck of the Year'
Green Car Journal's publisher and contributing editor Ron Cogan is first and foremost a car and light truck fan. He's driven them all over the years and dedicates his rather exceptional writing prowess to promoting Cars of Change -- in this case, light and commercial duty trucks of change -- something he's occasion to use at his home base in northern California.
Ron also happens to be an associate, and an all around thinking provocateur. He likes most aspects of the reinvented Honda Ridgeline, but also appreciates what Dodge, Ford and other truck brands bring to what continues to be the best selling automotive segment in the U.S..
Publisher of Green Car Journal since the magazine's inception in the early 1990's, Mr. Ron Cogan's dedicated his career to the education of the driving consumer, as to the attributes of what he refers to as "cars of change," you'd be surprised as to how broad that category is.
Getting back to it: 2017 Honda Ridgeline and company

Green Car Journal announced the light duty and commercial truck finalist in mid October while I was on the road in Tokyo, Japan, covering a story for Ron and company. Although I don't find any details in this article as to the selection process in the Green-Truck category. I'll go out on a limb here and make the assumption that the ever growing field of available compact through full size pickups is assessed and then whittled down by a panel of qualified judges. Such is the case with "Green Car of the Year." and judging participants such as Jay Leno. As to what constitutes a "pickup truck," I'll leave that up to you, the reader.
Personally, in an 'apple's to oranges' comparison of the competition, and after driving most of the light trucks of the midsize and full-size segment, while Honda Ridgeline will never haul or tow as much weight as Ford F150 or Dodge Ram, it does smoke the competition in ride quality and standard feature tech-driven personal connectivity, passive and active safety features -- while offering a fist full of accessories that other makers in the segment simply don't.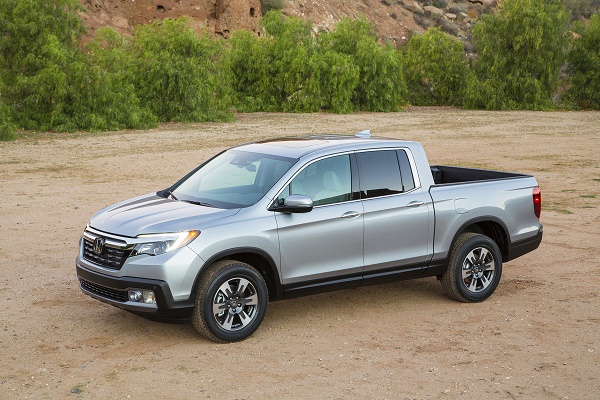 .
In the words of Mr. Ron Cogan
Green Car Journal has announced finalists for the magazine's high-profile 2017 Green Truck of the Year™ and Commercial Green Car of the Year™ awards that will be presented at the San Antonio Auto & Truck Show in San Antonio, Texas. These important awards honor pickups and light commercial vehicles that raise the bar in environmental performance in a variety of areas including efficiency, emissions reduction, and overall environmental improvement.
Both light- and heavy-duty models made the cut this year to become finalists for 2017 Green Truck of the Year™ including the Chevrolet Colorado, Ford F-250 Super Duty, GMC Canyon, Honda Ridgeline, and RAM 1500.
The 2017 Chevrolet Colorado and GMC Canyon mid-size pickups feature a new and efficient V-6 for 2017 to round out powertrain choices including an inline-four and high-mpg turbodiesel. The RAM 1500 continues to impress with its functionality and myriad options including an EcoDiesel motor achieving the highest mpg in its class. Honda's all-new Ridgeline exemplifies Honda's approach to efficiency and technology with a handsome and driver-friendly new pickup design and plenty of tech. Ford sets itself apart from the crowd yet again by continuing its integration of lightweight aluminum construction for the body and cab of its F-250 Super Duty pickup.
The winner of the 2017 Green Truck of the Year award will be announced at the San Antonio Auto and Truck Show November 10. 2016.