2016 Honda Civic Touring tight as new after 10,000 miles, or so
Opening the glove box to the very used pre-production 2016 Honda Civic Touring, I discovered a Brazilian press card for an earlier event in Los Angeles. This particular black on black 2016 turbocharged Honda Civic Touring had most likely attended our first introduction to the redesigned 10th generation world compact platformed Civic in Malibu, California back in October of 2015, yet it showed little discernible wear.
A testimony to multiple driver, variable condition manufactured in longevity
Granted, 10,000 miles logged on a Honda car or light truck is simply break in time. It's not unusual to encounter 8th and 9th generation Civics selling for premium dollars on a neighborhood used car lot with 160,000 miles posted on the odometer.
That's crusher time for most compact cars rolling the roads of North America. Yet with 2 new motors introduced with the 10th generation Civic, a question remains for would be Civic buyers as to long term reliability and longevity, specifically as to the 1.5 liter turbocharged Earth Dreams ™ gasoline engine and CVT combination.
Lighter construction doesn't necessarily mean cheap!
To date, the lighter yet larger 10th generation Civic sedan appears to be holding up very well under the varying driving style of countless news journalist and Honda personal. Other than a very odd "crackle" effect noted on this Civic's dash trim, the interior and exterior finishes appear to be holding up extremely well.
This particular Civic is akin to an endless cycle "wash and release" rental car. Yet it remains show-room tight!
As to the overall mechanical condition of the car, groans, squeaks, grabby brakes, wheel wobble, etc, there may have been a minor air vent or glove box rattle originating on the passenger side. Hard to say, I was having too much fun driving Honda's first and only turbocharged Civic to take much notice of it.
Transitioning from Accord Hybrid to Civic Touring was seamless enough
Granted, while 2016 Honda Civic Touring may not be as quiet and refined as the up line 2017 Honda Accord Hybrid, it's astoundingly quiet and refined when compared to former generation Civic. There's also that turbocharged/CVT experience new to the Civic mark. As I grabbed a handful of turbocharged whoopass, I was reminded of the first time I discovered 100+ mph seamless torque enabled passing speeds in 2016 Honda Civic Touring.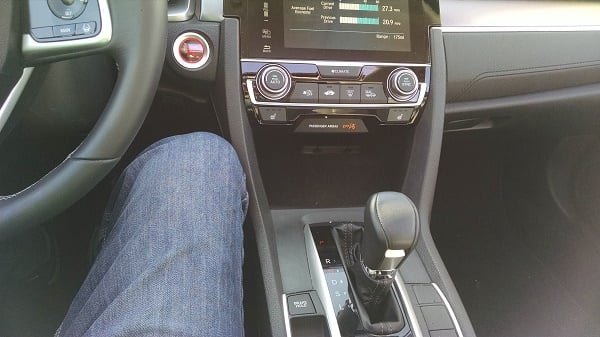 I further believe that driver's seat comfort had benefited a bit from multiple butt time spent on the road. This Civic had a slightly worn confidence about it. Perhaps I was tripping! Either way I was suddenly entertaining the idea of securing one as my daily driver. And this was coming from a review journalist that had not only driven the entire Honda, Acura lineup, but the competition's as well.
In short: For the dollar spent, one would be hard pressed to beat the overall value presented in this 4-door compact sedan. It's #1 in North America for several reasons, and I do believe after driving this well used 2016 Civic Touring for the afternoon through commuter traffic in Napa, California, that reliable long-term mechanical and esthetic component value is a given.
How's your 2016 Civic holding up? Your thought proving, honest yet kind comment is always welcome here.