2016 Honda Civic Owner Drives 10,000 Miles on Factory Break-in Oil
We've been asked by readers in the past as to recommended Civic service cycles. While Honda's "oil life" dash indicator can be a useful measurement for tracking maintenance cycles, should that be the only indicator s to remaining oil life?
We recently read from a Civic Owner's Forum member that's driving 10,000 miles before changing his initial factory engine "break in" oil. Presently coming up on 9,000 miles in his Civic EX, his oil change minder tells him that oil life remaining is 15%. Cool enough , but for me, I'm not willing to possibly shorten the service life of the most expensive component in the car by ignoring the other signs of dirty, abrasive engine oil. Learn how to maximize Civic fuel efficiency here.
Changing the oil is the cheapest method of extending engine life
Sure, ecology minded drivers, and those of us watching our dollars would just assume extend the oil change cycle as long as possible -- while Jiffy Lube and other oil change and lube services companies preach the " change your oil every 3,000 miles" mantra. In the end, the right time for an oil change is dependent on several factors.
Dust, frequency, heat and intensity
While a 3,000 mile oil change cycle may be a thing of the past for today's low friction engines and reduced carbon, alcohol enriched fuels, living and driving in a hot dusty environment, excessive stop and go traffic, sport-like driving, and heavy loading can all lead to the need for a more frequent oil change cycle.
Don't read me wrong here, I truly appreciate the convenience of the electronic oil-life minder that comes standard on the 2016 Honda Civic. It's a useful tool, and by most accounts an accurate measure of remaining oil life. This Civic had 148,000 miles on it before customization.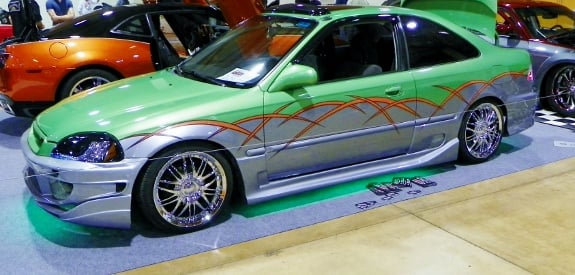 But for me, spending $40 or $50 every 4,000 to 5,000 miles or so is an affordable safeguard against excessive engine wear. It's not unusual to encounter a past generation Civic with 200,000 plus miles showing on the odometer. Take care of your Civic, it will go the distance.