2016 Accord EX-L Vs 2016 Mazda6 Touring: Which sedan's best for you?
After spending a week in the seat of 2016 Mazda6 Touring, and taking multiple road trips under varying driving conditions in Honda Accords of all trim levels, including the Accord Hybrid, I walked away with one smack up the side of the head realization.
Both Accord and Mazda6 bring features to the segment unique to their brand in a midsize, near premium, import sedan segment, with no shortage of competition. Both offerings present a financially attainable opportunity to lease or purchase a very capable, great looking sedan, with decent power and comfort traits.
Honda Accord outscores Mazda6 in consumer satisfaction for 2016
According to Consumer Report's latest new car purchase guide: 2016 Honda Accord comes out on top of the midsize sedan segment with the highest score in customer satisfaction, reliability and overall purchase value. Mazda6, not so much so, this year anyway. But then again, I'm not Consumer Reports.Read our latest Honda Accord drive review here.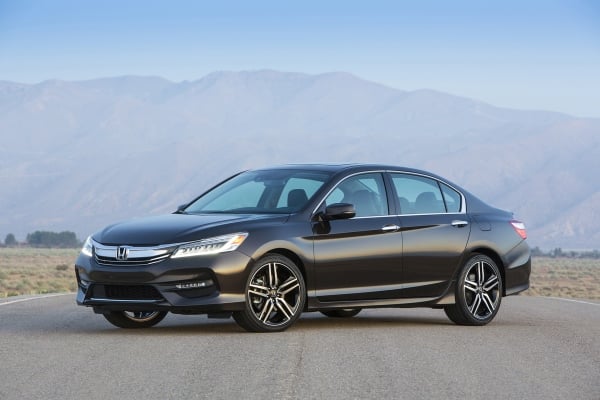 2016 Honda Accord EX-L
With that said, why do I consider 2016 Mazda6 to be worthy of your consideration when contemplating the lease or purchase of a near premium midsize sedan -- have you seen Mazda 6 Touring? It brings inspiring body and grill design to an often bland mid sized-commuter-car segment.


2016 Mazda6 Touring
And a very comfortable, infinitely adjustable seat it is. It's rare that I find a driver's seat these days that I'm comfortable in. Don't read me wrong here, many brand and models, foreign and domestic, offer excellent seating, Mazda's just happens to fit my 6 foot 5 inch frame.
Honda Accord is not the exception here, although a new Honda Accord seat, just out of the box, tends to run a bit stiff for my taste -- specifically the power adjusted leather covered seats. And Accord doesn't offer a power adjusted seat on the passenger side, Mazda6 Touring does.


2016 Mazda6 Touring
As to initial visual impact, although Accord is a great looking midsize sedan, From the front, Mazda 6 brings a unique " in your face" visual edge, along with a minimalist, yet functional, comfortable interior to this competition. However, I do prefer the rear deck look of 2016 Honda Accord to the rather monochrome presentation of Mazda6. The plot thickens!


2016 Accord Coupe Touring

I appreciate Mazda's crisp, two-tone interior seating surfaces, 2016 Civic-like streamlined dashboard, extremely bright interior lighting and the near intuitive layout of Mazda6's one screen center stack. In the case of Mazda6, rather it be a cost saving measure, or simply the way they do things at Mazda, the dashboard and instrument cluster in this 5 place midsize sedan works very well without being over-tech.


2016 Mazda6 Touring

As to the rear seat, both maker's feature a drop down split rear bench with access to enormous trunks. Both trunks are nicely lined, although I do find Honda Accord's trunk lining to be of a thicker molded composition. I further discover a bit more head and legroom in the second row of Honda Accord. There's also the exceptional drive-environment.


2016 Honda Accord EX-L

Where the Mazda6 interior could be improved is in the the "heft and girth" of its dimensions, and materials used. Although the interior looks great, (fit and finish is impeccable) when directly compared to the 2016 Accord EX-L trim package, Accord takes interior finish accolades based on substantial look and touch. The trims are heavier, carpeting denser, and seats just a bit more substantial looking. Mazda6 is well finished, but comes across as being a bit minimalist in its overall composition.


2016 Honda Accord Sport
It's those small details that catches one's eye. Accord does that very well and punctuates your drive and ride experience with arguably the best arranged instrument cluster and Infotainment monitor in the segment. Does it work any better than Mazda's?
Both Honda and Mazda cut a cost corner or two
And then there's that quirky thing Honda does to save a buck. Depending on the model and subsequent trim level, the front passenger seat often remains manually adjusted, or if power, minus lumbar adjustment, something the Mrs doesn't appreciate.
I'm not quite sure why manufacturer's opt to save a few dollars in the second most important seat in the car. As we all know, it's the women in the family that determines what car ends up in the garage or on the driveway -- we say, give her a power seat! Our Mazda6 Touring sported a 3-way power adjusted front passenger seat.
While both makers offer a programmed 2-driver seat setting, Honda places the seat control on the driver's side door panel in plain sight - while Mazda opts to place to the set button on the left side of the driver's seat, a bit annoying, you can't see it. As to cellphone and personal electronics entertainment connectivity and charging, yes, both sedans have plenty off it, with cup holders to spare.
My recent foray into the world of Mazda came with a drive and ride experience in the confines of a fine Italian Loafer like seating environment. I found the same to be true in Mazda 3 and MIata. Hey! What can I tell you, Mazda builds a comfortable seat. For me it's fatigue free, and that more than offsets the notable lack of dual-monitor personal interface and torque "Zoom, Zoom in Mazda 6. It's no rocket ship.
Honda Accord EX-L comes to the game with the same horsepower and tech for less money


2016 Honda Accord Sport
Accord and Mazda6 claim near identical torque and horsepower in the 2.4 - 2.5 Liter fuel injected 4 cylinder gasoline engine. (184 to 189 horsepower/ 181 to 185 ft-lb torque. How each company chooses to direct the torque to the road makes a difference in on-ramp acceleration.
While I truly enjoyed Mazda's SKYACTIVE ™ drive, 6 speed automatic transmission with steering wheel mounted manual paddle shifting, Honda Accord's CVT (constant variable transmission) produced a quicker on ramp launch, and in fact, a general feeling of greater horsepower and torque.
Mazda6 a bit noisy at startup
I was that journalist that complained about Honda's noisy direct injected 2.4 liter VTEC gasoline engine, until I drove Mazda6. There's no getting around it! Although Mazda6 is quite capable, roadworthy and most likely mechanically bulletproof, where it lacks is in the engine noise and interior quiet category -- it's not especially either. At idle Mazda6 with the hood open, sounds like a concrete mixer tumbling a load of marbles.
While my assessment may be a bit of an exaggeration, I'm not quite sure how else to describe it. In all fairness to Mazda, the engine room hood is very effective at reducing engine noise when closed. And, while sitting behind the wheel of Mazda6, noise transferred from the engine to the cab is negligible.
Vibration and road noise transference to the cabin is also quite muffled, although there does exist a yet unidentified (mirror or door seal) wind noise, but that's all you hear while driving or riding in Mazda6. I'd say that Accord and Mazda6 tie in the interior quiet segment.
Our 2016 Mazda6 Touring came with IDS, were they seriously going after Acura TLX here?

O.K., this is where things get just a bit foggy for me. And frankly, I believe the greatest Mazda6 purchase or lease value may rest with the entry level offering -- it shares the same engine with the Touring edition, and comes with an MSRP of $21,490 (Sport, manual transmission.) Here's where 2016 Accord pencils out as a greater long term lease or purchase offer. You may scan 2016 Honda Accord specifications here.


2016 Honda Accord
Let's just start by stating that we never found the EPA rated 40 mpg highway behind the wheel of Mazda6. Out of fairness to Mazda we were rolling on winter tires. However, the highest overall fuel efficiency achieved in our Mazda6 was 34, the same as Honda Accord V6, and that's the tie breaker here.
Although a visual stunner, 2016 Mazda6 Touring is overpriced as tested

No matter how we crunch the numbers, despite the stunning array of tech, safety and comfort features Mazda6 brings to the segment, they're rolling it on a fine tuned suspension, powered by a rather "cranky" normally aspirated 4 cylinder engine SKYACTIVE ™ 6-speed automatic, FWD drive train. At the same price point of our stellar test mule($33,500+) one can purchase an accessory loaded 2016 Accord EX-L V6 (278 horsepower/272 ft-lb torque) 6-AT with Navigation and Honda Sensing.
A closing thought or two
The difference in horsepower, refinement and quiet acquired through the Honda V6 is measurable, with a negligible drop in fuel economy. In-short, the 2016 Mazda6 while arguably a fine car is a bit underpowered for its top of the segment price point. There is talk of a soon to arrive turbocharged engine for 2017 Mazda6. I say, bring it on. I wish to drive one.


2016 Mazda6 Touring
For our friends that hold fuel economy as foremost when considering the lease or purchase of a new 4 door sedan, Mazda6 in a lower trim level may be the answer for you. By utilizing Mazda engine management,(variable drive modes) and driving conservatively. Mazda6 can most likely be coaxed to meet or exceed its state EPA MPG of 26 city/ 38 highway or 28 city/ 38 highway with i-ELOOP technology.
Mazda6 presents the highest fuel efficiency in the segment for a non hybrid midsize sedan. You may scan 2016 Mazda6 specifications here.