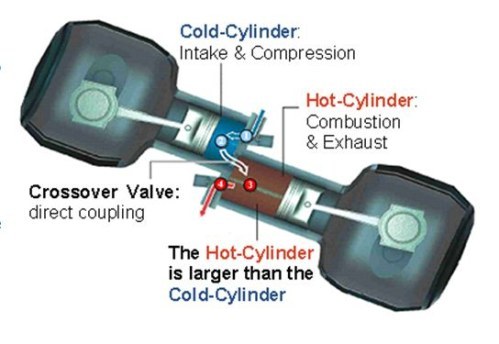 Tour Engine Prototype 2 operational before SAE World Congress
Please
SHARE
with friends and include TorqueNews in
Google Alerts
for tomorrow's interesting stories.
For the record, this reporter has been covering the split-cycle engine developments of many companies. However, one company stands out as making great progress for its unique design arrangement, that is Tour Engine.
Dr. Oded Tour, the son of the Hugo Tour, the inventor and developer of the opposed piston, split-cycle engine, was kind enough to provide me with a copy of the poster that his company will use at next week's SAE World congress. There was no confidential material on the poster so I was welcome to report any part of the information presented.
This is not my first coverage of Tour Engine or the technology. One thing that did surprise me, though, was the number of companies vying for recognition by literally splitting the 4-stroke Otto Cycle into two separate phases: 1) the colder intake and compression phase; 2) the hotter power and exhaust phase. Key is that both cycles occur in parallel.
Most significant of the Tour engine is its opposed piston arrangement. Dr. Oded Tour spent considerable time last year educating me on the thermodynamics and the advantages of such an arrangement. It was a one-on-one tutelage that I will always remember
Nonetheless, Tour is not the only split-cycle play in the world. The poster openly reveals Scuderi Engine, which I have covered extensively the past two years as well, and will cover again at SAE. I heard of a few more but never had any dealings or contacts. They include, Zajac Motors, Speka Design and Thring Design.
The fact that Tour is willing to admit these other companies exist says something about the character of Oded and Hugo Tour, as well as the design differentiation of Tour Engine. Again, opposed pistons have a greater thermodynamic efficiency, and that can be proven by Dr. Tour. Just ask him. The lack of connecting tube helps provide the basis for what Tour says is "superior thermal management."
Is it enough to make a significant difference among the competitors? I do not know for sure; but rest assured Tour is at the forefront of split-cycle engine development.
Engine Layout and Cycles
Running Engine
I have always been intrigued by the credentials of Hugo Tour. As a former lieutenant-colonel in the Israeli Air Force, Hugo held key positions including base commander of the IAF Mechanical and Engineering control laboratories (Yahav). He gained vast experience there in engine technologies and attained the reputation as an exceptional "out of the box" mechanical troubleshooter and problem solver. End result was a passion for combustion engine innovation the past 20 years which ultimately led to the invention of TourEngine™.
Pages
Please
SHARE
with friends and include TorqueNews in
Google Alerts
for tomorrow's interesting stories.