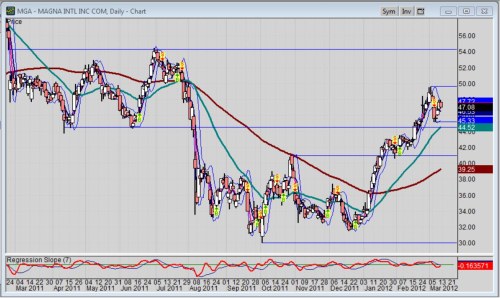 Magna International Inc (NYSE: MGA) stock breakout may be on the horizon
Please
SHARE
with friends and include TorqueNews in
Google Alerts
for tomorrow's interesting stories.
The daily stock chart for Magna International Inc. already shows a pattern of multiple price channels, which have already been broken out and even tested. Regardless of how long the patterns may take to form, stock breakouts from price channels are by nature inevitable; and that is the condition we see with the present price pattern of Magna International Inc. (NYSE: MGA).
However, the direction of a breakout is not an exact science. That is why every serious trader knows that before making any trading decision, a choice has to be made as to which side of the trade you believe gives you the highest probability of success. So, applying that logic to Magna International Inc. (NYSE: MGA), you have to decide whether to prefer the short side of the market, the long side, or perhaps not be in the market at all. For those with option experience, a straddle or a strangle in this case would help alleviate any anxiety.
Stock Fundamentals
Magna missed big time on the last quarterly earnings, reporting $.32 when the estimate was $1.02. More important, though, was the market's reaction. There was no giant sell-off; and that by itself was a bullish sign that traders were looking beyond.
From the aspect of company fundamentals, though, Magna International Inc. is a diversified global automotive supplier. It designs, develops and manufactures technologically advanced automotive systems, assemblies, modules and components. It even engineers and assembles complete vehicles, primarily for sale to original equipment manufacturers of cars and light trucks.
Furthermore, Magna operates in three reporting segments: North America, Europe and the rest of world. At the end of 2010, for example, Magna had 256 manufacturing operations and 82 product development, engineering and sales centers, in 26 countries.
The company's capabilities include interior systems, seating systems, closure systems, body and chassis systems, vision systems, electronic systems, exterior systems, roof systems, powertrain systems, vehicle engineering and contract assembly and hybrid and electric vehicles/systems. Magna's products include CellForm Lightweight Structural Composite and FutureForm Thin Seat.
For the record, I have worked with Magna on a few projects in my engineering career, with them in the supplier position and me in the Tier 1 position. I do not recall any serious negative experiences.
Divining the Tale of the Tape
MGA is currently trading within a channel of $45 and $50. If you believe in a long position, the you could enter on a pullback to $45. Another strategy is to wait for th eprice dynamics to define itself more clearly. For example, wait for a break above $50 with a stop placed below the level of entry.
Pages
Please
SHARE
with friends and include TorqueNews in
Google Alerts
for tomorrow's interesting stories.