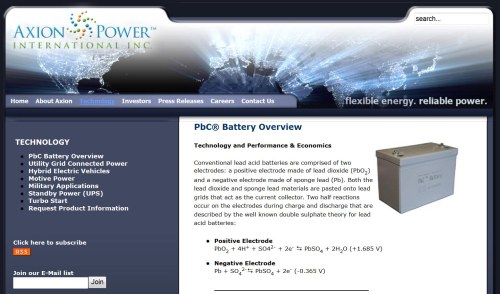 Axion Power and Norfolk Southern pointing the way with advanced carbon electrodes
Please
SHARE
with friends and include TorqueNews in
Google Alerts
for tomorrow's interesting stories.
Who knew that lead-carbon batteries would make such a fuss? Furthermore, who knew that it would be the rail industry that would lead the way for automotive and transportation in this arena of advanced carbon electrodes?
The use of lead-carbon known as PbC®, according to the Axion Power news release, is proving that nano-technology can produce lead-carbon electrodes with greater acces to its energy density; and, in concert with old-fashioned lead-acid in a battery, should be taken seriously.
Fact is, a PbC battery is far cheaper than lithium-ion; and this first order to Norfolk Southern (NYSE: NSC) is setting a precedent as to its viability and affordability.
For the record, Norfolk Southern stock made a pop to the upside today. Earnings per share of $1.23 noted yesterday beat analyst estimates by 11 cents. And this new technology will surely contribute again and again toward its bottom line.
Axion Power said this first $400,000 purchase order is part of a $475,000 total purchase order, that will be used in the commissioning of Norfolk Southern's NS-999. The total purchase order will be shipped and deployed in the next 90 – 120 days. To date, this is the largest single PbC battery order that Axion has received.
While no further details were disclosed, Axion Power Chairman & CEO Thomas Granville commented, "We have been working with Norfolk Southern for two and a half years, and we are very pleased that this first hybrid 'switcher' yard locomotive, to be run completely on PbC batteries, will soon be in service. We have been moving on a parallel development path with respect to supplying batteries for the first NS 'over the road' locomotive. This larger, more powerful, unit will require approximately twice the number of batteries as those to be shipped for the yard 'switcher' locomotive. High-performance PbC batteries are ideally suited for hybrid locomotive applications due to their high charge acceptance, fast charge and discharge capabilities (important in regenerative braking), and their inherent ability to equalize voltage when utilized in large string configurations."
Granville continued, "Of course PbC batteries are also very stable and safe because of the close construct similarities they share with lead-acid batteries - a chemistry that has been safely deployed for more than a century. Unlike some of the batteries being used in various vehicular applications, PbC batteries operate safely at all temperatures; are 100% recyclable; and are priced substantially below the cost of some of the more highly publicized exotic battery chemistries. We feel these attributes are becoming more fully appreciated by our customer base in general, and by NS in particular. As for a strategic partner, you couldn't ask for one better than NS. We anticipate a long and mutually beneficial partnership as they move forward with their hybrid locomotive strategy."
Pages
Please
SHARE
with friends and include TorqueNews in
Google Alerts
for tomorrow's interesting stories.