Subaru and its motorsports partner Subaru Tecnica International just completed a Nurburgring 24-hour qualifying race and the car performed perfectly according to a report from the Japanese automaker. On May 18-19, the Subaru WRX STI NBR race car finished at the top of its SP3T class in a 6-hour qualifying race for the upcoming race in Germany.
Subaru is putting the final preparations on the 2019 WRX STI for the 47th Nurburgring 24-Hour Race coming June 20-23. The grueling race is held at the Nurburgring in the Eifel region of Rhineland-Palatinate. This is Subaru's 12th Nurburgring 24-Hour Race challenge since 2008.
Subaru has won the SP3T class (for sub-2 liter turbocharged vehicles) five times, in 2011, 2012, 2015, 2016 and 2018. The STI competes with leading European manufacturers like Audi (Audi TT), Volkswagen (VW Golf 7 TCR) and Opel (Opel Astra) again this year.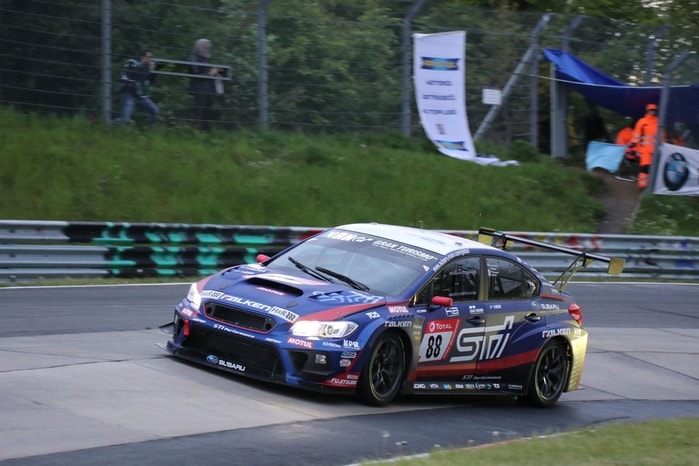 Newly-revamped 2019 Subaru WRX STI
The 2019 Subaru WRX STI NBR race car has new upgrades with optimized gear ratio, improved brake balance, overhauled aerodynamics, improved chassis geometry, the wheels are stiffer, and road holding performance has been improved. Subaru shoots for a second consecutive win in the class with the race car further improved from 2018.
The newly-upgraded 2019 Subaru WRX STI NBR came in 34th place overall in the recent 6-hour qualifying race. Subaru officials say the STI NBR is ready to win its 6th class title. Stay tuned. 

You Might Also Like: Subaru WRX STI Begins Nurburgring 24-Hr Prep Early; 7 New Upgrades
Leave your comments below, share the article with friends and tweet it out to your followers!
Follow more Subaru WRX STI news on Facebook, Twitter, Instagram, Subaru Report
Photo credit: Subaru Global