If you want to be fully engaged with your car, you'll need a manual transmission, but there aren't many left in North America that only come equipped with a manual gearbox. There are only eight cars produced for performance buyers that are manual-only equipped. Subaru offers two of the performance cars, the 2019 Subaru WRX STI performance-tuned sedan, and the limited edition STI S209. The Subaru BRZ tS sports coupe was another Subaru model equipped only with a manual rower, but only 500 were produced in 2018.
Along with the WRX STI, and STI S209, the other six cars that only come with a manual gearbox are the Hyundai Veloster N, Honda Civic Type R, Honda Civic Si, Ford Mustang Shelby GT350, Ford Mustang Bullitt, and Camaro 1LE. So if you want one of the last manual-only performance cars, you have a very short list to choose from.
Subaru WRX STI Type RA
You might be wondering is there is any difference between the WRX 6-speed manual transmission and the STI manual gearbox. There is. WRX uses a wide ratio spread and incorporates carbon synchronizers on first and second gears. Subaru enhanced shifter feel for the 2018MY 6-speed gearbox, with a new synchro design and reduced friction, along with smoother clutch take-up.
WRX also offers the Sport Lineartronic CVT automatic with stepped manual and automatic shift modes controlled with steering wheel paddle shifters. Most enthusiasts don't want a CVT automatic in their sport-tuned sedan, and it's not offered in the performance-tuned STI.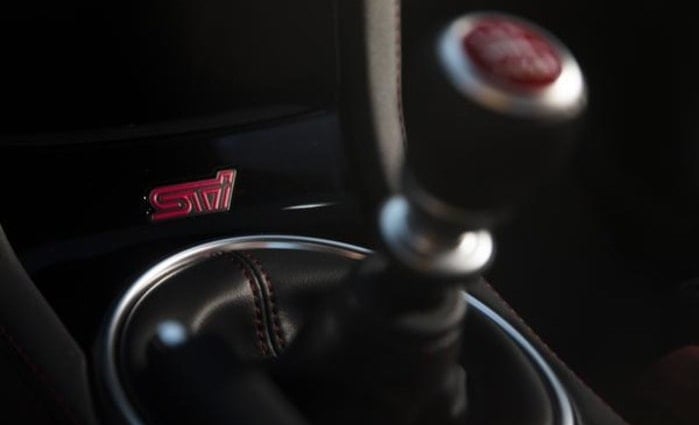 The 2019 Subaru WRX STI is equipped exclusively with a specially reinforced close-ratio 6-speed manual transmission to handle the extra horsepower and torque over the WRX. No automatic transmission is offered.
STI S209
Subaru launched the highest horsepower WRX STI in the companies history and it's coming to the U.S. market later this year. Before now, the only place you could get an S-line STI was in Japan. Subaru Corp will only build a very limited run of 200 examples for the U.S. market. This performance car is technically not a Subaru, but specially-built for Subaru by Subaru Tecnica International. It also only comes equipped with a 6-speed manual gearbox.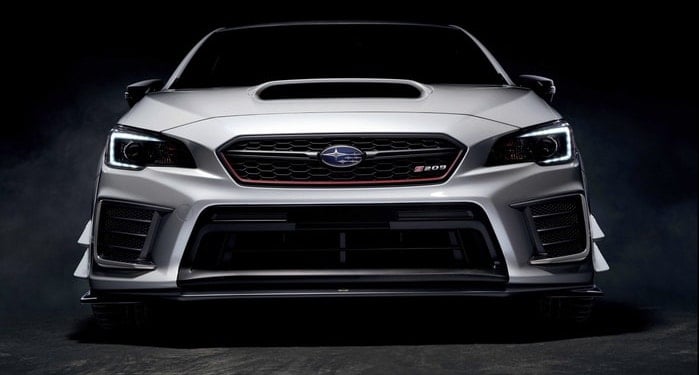 Only 500 examples of the Subaru BRZ tS were produced and they've all been sold. So if you want one, you'll need to get a previously owned model. Torque News drove the new BRZ tS when it was first released in early 2018. We wished for more power upgrades, but the 205hp BRZ naturally-aspirated boxer engine had enough power for most driving situations, even at altitude in Colorado where we tested the BRZ tS trim.
BRZ tS
With the 6-speed gearbox, it allowed us to keep the revs high and the power band at optimum levels. The 6-speed manual gearbox engaged easily, and the short throw made it a joy to drive. The standard BRZ comes with the optional 6-speed automatic transmission with paddle shifters on the Limited model, but the 6-speed manual is the gearbox for driving enthusiasts.
If you want one of the last performance cars in the U.S. to only offer a manual gearbox, Subaru still offers two of the best. You can buy the 2019 Subaru WRX STI or STI S209 with a manual-only, and if you want the limited edition BRZ tS, you'll have to find one on the resale market, or a dealer might still have one tucked away.
Please, click to subscribe to Torque News Youtube Channel for daily Subaru and Automotive news.
You Might Also Like: Subaru STI Needs New Mitsubishi EVO XI In The Worst Way
Bookmark my Subaru page and be sure to follow the latest Subaru WRX STI reports on STI/Facebook, Twitter, Instagram, Subaru Report. Tweet your Subaru news tips to us @WRX_STI_News and we'll give you a shout out! Be sure to check back tomorrow for more Subaru news and updates!
Leave your comments below, share the article with friends and tweet it out to your followers!
Photo credit: Subaru USA, Subaru via Minhaz Ahmed