The Subaru plant where the top-selling 2024 Outback midsize SUV is made just picked up a prestigious award I've never heard of. Subaru of Indiana Automotive (SIA), Subaru's U.S. plant, announced it was inducted into the Indiana Manufacturers Hall of Fame. It's the first-ever for any automotive manufacturing facility. 
I keep customers informed on all new Subaru model production issues and will give you the latest up-to-date information here daily. 
SIA was chosen from a select group of Indiana manufacturers for its positive achievements and contributions to the manufacturing industry and an ongoing commitment to its employees and community, according to the announcement.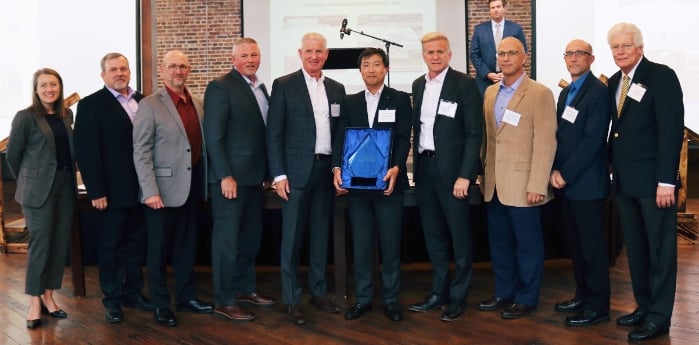 Photo: Subaru of Indiana Automotive
Pictured left to right is IMA Board Chair Rachel Osting, SIA Group Leader Charlie Horwedel, SIA Assistant Senior Manager Jeff McTagertt, SIA Senior Manager Mike Harmon, SIA Executive Vice President Scott Brand, SIA President and CEO Ryoto Fukumizu, SIA Senior Vice President Ed Wulbrecht, SIA Vice President Steve Rider, SIA Senior Manager Mike Perkins, and IMA President and CEO Brian Burton.
"On behalf of our associates, I'd like to thank the IMA for this honor," said Ed Wulbrecht, senior vice president at SIA. "We are as proud of the 7 million vehicles we've made as we are to call Indiana—and Lafayette—our home."
"The IMA Hall of Fame Inductions are held to celebrate and recognize the positive achievements made by Indiana manufacturing companies and to honor their contributions to furthering manufacturing in Indiana," said IMA President and CEO Brian Burton. "We congratulate Subaru for their outstanding work and continued dedication in making Indiana a manufacturing powerhouse."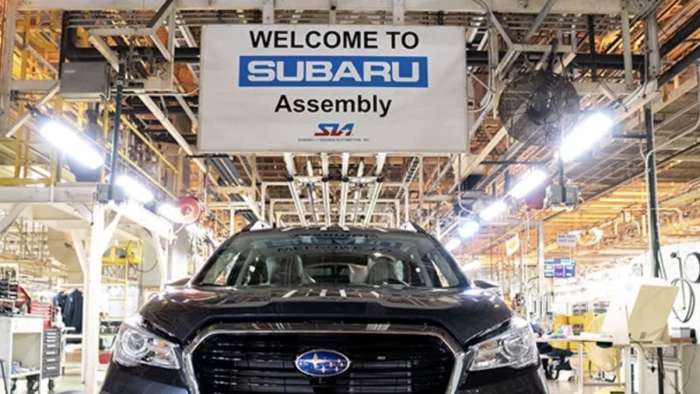 A subsidiary of Subaru U.S. Holdings, SIA is the only Subaru manufacturing plant outside Japan. Models built at the plant in Lafayette are Subaru of America's number one selling Outback midsize SUV, 2024 Crosstrek Sport, Limited and all-new Crosstrek Wilderness, Subaru Ascent 3-Row SUV, and the 2024 Legacy midsize sedan. 
I've covered the SIA plant extensively and how Subaru Corporation recently switched production to make room for the 2024 Crosstrek to be moved to the U.S. for the first time. The first third-generation Subaru Crosstrek SUVs rolled off the assembly live in the U.S. factory in May.
SIA dropped the Impreza compact car and shifted its production to Japan to make room for the next-generation Crosstrek at the U.S. plant. Because the Crosstrek outsells the Impreza by ten times, Subaru of America wanted the Crosstrek built closer to home for its U.S. customers.
SIA recently produced its seven millionth U.S.-built vehicle earlier this year. "Amid ongoing production challenges, this milestone has added significance," said Scott Brand, executive vice president. "Thanks to our dedicated associates, we have continued to produce big numbers despite supply chain issues."
Subaru of Indiana Automotive was inducted into the Indiana Manufacturers Hall of Fame. It's an award I've never heard of. Congratulations SIA! 
Thanks for reading, everyone. I hope you enjoyed this Subaru of Indiana Automotive story. See you tomorrow for my daily Subaru Report.
For additional articles related to the Subaru Outback, Crosstrek, and other models, here are a few of my top picks. 
MY TOP PICKS
Here is a YouTube video from SIA you may be interested in watching
Denis Flierl - I have over twenty years of Subaru and automotive journalism experience. I enjoy bringing you, the Subaru fans and customers, the most up-to-date Subaru news, reviews, and new model information. You'll find the latest Subaru stories on the Subaru page. Follow me on my The Dirty Subaru website my Subaru Report, All Subaru and WRX STI social media channels:  Also Facebook, Social Platform X, and Instagram. 
I've got you covered! - I cover all Subaru all the time - It's called the "Subaru Report." Check back daily for my expert Subaru analysis!
Please leave your comments below, share the article with friends, and post X to your followers! 
Photo: Subaru of Indiana Automotive