The 2024 Subaru Outback Wilderness and 2024 Subaru Forester Wilderness have one, but the all-new 2024 Subaru Crosstrek Wilderness is missing a key feature. The Crosstrek Wilderness does not get a full-size spare tire. It only comes with a donut for a spare tire. 
So, customers who are out in the wild and have a flat have to drive back on a small tire meant to travel only a few miles. It could be a problem for outdoor enthusiasts who want to get off the grid and take longer overlanding trips.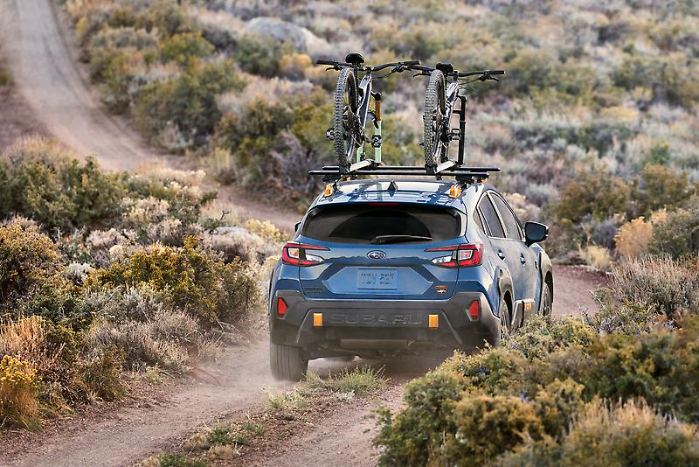 Subaru had to leave off the full-size spare tire on the Crosstrek Wilderness because of the smaller size of the rear cargo compared with the Outback and Forester. They are considerably larger, and Subaru had enough room under the cargo area to put a full-size tire underneath. 
Believe me when I say that Subaru engineers tried hard to find a way, but the rear Crosstrek cargo area behind the back seat is too small. 
Subaru had to weigh whether cargo room or having a full-size spare tire was more critical for the new rugged model. Subaru wanted to give the new Crosstrek Wilderness more cargo-carrying ability, so the full-size spare tire had to go.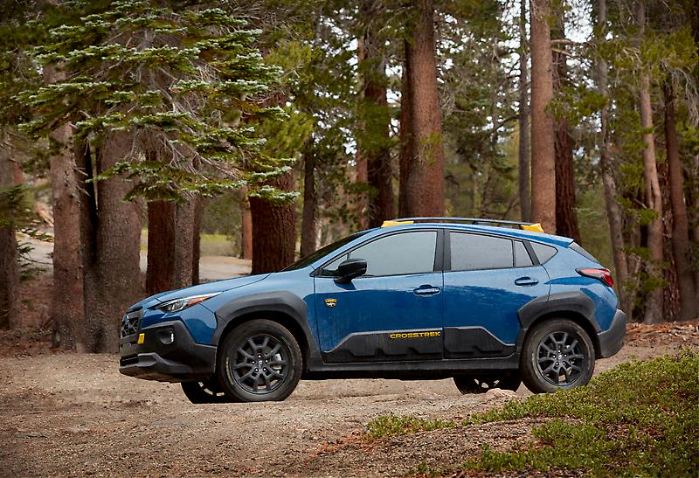 Crosstrek Wilderness does get a transmission cooler. 
Subaru did have to drop a full-size spare tire in the Crosstrek Wilderness, but the Japanese automaker did not have to ditch the transmission cooler on the new rugged trim level. Yesterday, I covered why the Crosstrek Wilderness gets the feature and is essential for getting further off the grid. 
For those Crosstrek owners who want to pull a small camper, Wilderness adds a transmission cooler that boosts towing capacity to 3,500 lbs., up from 1,500 lbs. in non-Wilderness trim levels. 
Subaru now has three Wilderness family vehicles, and they are tapping into a significant group of customers who will use their SUV for more than grocery hauler or commuter vehicle. 
A recent report from WardsAuto says the off-roading trend is real. According to Grandview Research, the global off-road vehicle market was estimated at $22.9 billion in 2022 and is expected to grow at a compound annual rate of 5.3% from 2023 to 2030.
Subaru has positioned itself perfectly to take advantage of active customers who will use their all-wheel-drive vehicle to go camping, overlanding, and further away from civilization. Unfortunately, if Crosstrek Wilderness customers get a flat tire, they'll have to ride home on a small donut. 
Thanks for reading, everyone. I hope you enjoyed this Subaru Wilderness story. See you tomorrow for my latest Subaru Report.
For additional articles related to Subaru Crosstrek Wilderness, here are a few of my top stories you may enjoy. 
My Must-Read Top Picks
Check out the 2024 Subaru Crosstrek Wilderness Is A Beefy Off-Road Capable Small SUV YouTube video
Denis Flierl - I have over twenty years of Subaru and automotive journalism experience. I enjoy bringing you, the Subaru fans and customers, the most up-to-date Subaru news, reviews, and new model information. You'll find the latest Subaru stories on the Subaru page. Follow me on my The Dirty Subaru website, Dirty Subaru blog, SubaruReport, All Subaru, WRXSTI, @DenisFlierl, Facebook, and Instagram.
I've got you covered! - I cover all Subaru all the time - It's called the "Subaru Report." Check back daily for my expert Subaru analysis!
Please leave your comments below, share the article with friends, and post X to your followers! 
Photo: Subaru