Subaru of America launched the 2024 Subaru Crosstrek Wilderness subcompact SUV for active customers with extra gear to haul. There is one significant upgrade that the Crosstrek Wilderness trim level has that the Base, Sport, and Limited trim levels don't have. 
I have covered nearly every new feature on the all-new Crosstrek Wilderness, but not this one. I have discussed the new Geyser Blue exterior color, 9.3 inches of ground clearance, its unique 17-inch black alloy wheels, and a 2.5-liter Boxer engine upgrade.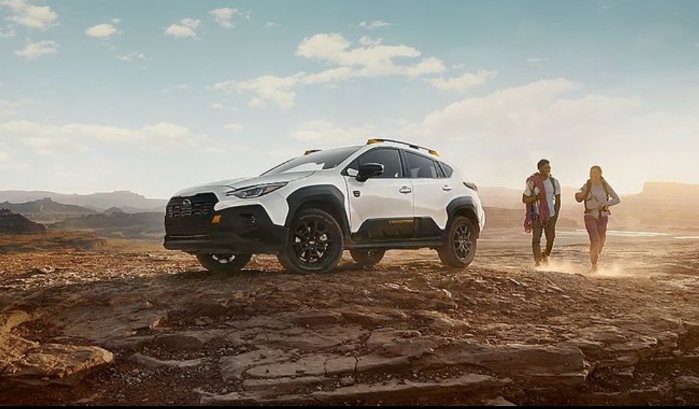 I have also covered a significant Crosstrek Wilderness upgrade: its ability to tow more than the standard model.  
The Crosstrek Wilderness has a 3,500 lb towing capacity, whereas the Base, Sport, and Limited trims can only tow up to 1,500 lbs. The additional tow rating will now allow customers with active lifestyles to pull a small boat or camper. They could not do that safely before. 
But there's a hidden feature on the Crosstrek Wilderness that I have yet to discuss before. The new rugged outdoor-themed trim has a transmission cooler only found on the Crosstrek Wilderness. It can be seen through the redesigned front grille.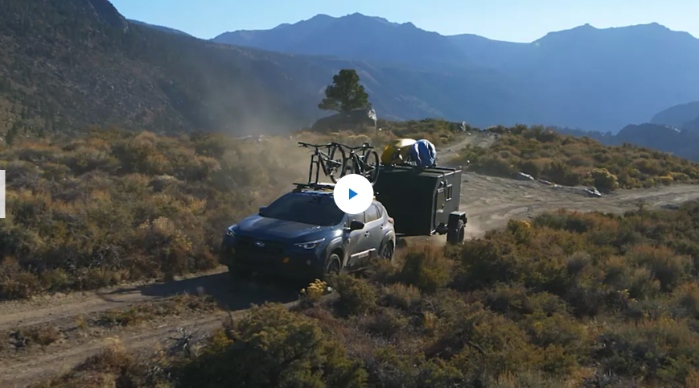 The 2024 Subaru Outback also has a 3,500 lb towing capacity and a transmission cooler; the 2024 Forester Wilderness can tow up to 3,000 lbs and comes with a CVT automatic transmission cooler. 
Why does the Wilderness trim have more towing capacity?
Subaru added a transmission oil cooler that more than doubles the Crosstrek Wilderness model's towing capacity, now 3,500 pounds. In addition, a retuned Lineartronic CVT (Continuously Variable Transmission) provides optimal traction at low speeds and on slippery surfaces, another upgrade that the aftermarket can't offer.
On the roof, the ladder-type roof rack system has a 176-pound dynamic (while moving) load capacity, with a 700-pound static (when parked) load limit. That allows for the use of a rooftop tent. 
Active customers can carry additional gear, have a rooftop tent, and pull a trailer without worrying about the engine and transmission overheating while pulling a high mountain pass.
Also, Subaru dealers can install an OEM trailer hitch on the Crosstrek Wilderness, and the factory warranty covers it. 
What is the price of the Crosstrek Wilderness?
The 2024 Subaru Crosstrek Wilderness is the most expensive Crosstrek trim level, but it is worth it because of the upgrades over the standard model. The all-new Crosstrek Wilderness costs $33,290, including dealer destination and delivery fees ($1,295).
An available option package for Crosstrek Wilderness includes a power moonroof, a 10-way power driver seat with 2-way lumbar support, and a Harman Kardon 10-speaker system with a 432-watt equivalent amplifier for an MSRP of $2,270.
The Crosstrek Wilderness is the trim level you want if you carry additional gear, have a rooftop tent, or pull a trailer. You won't have to worry about the engine and transmission overheating when you are off the grid. 
Thanks for reading, everyone. I hope you enjoyed this Subaru Crosstrek Wilderness report. See you tomorrow, and I will cover one feature that the Outback Wilderness and Forester Wilderness have, but the Crosstrek Wilderness does not.
For additional articles related to Subaru Crosstrek Wilderness, here are a few of my top stories you may enjoy. 
My Top Picks
Check out this YouTube video: What makes the 2024 Subaru Crosstrek Wilderness Different?
Denis Flierl - I have over twenty years of Subaru and automotive journalism experience. I enjoy bringing you, the Subaru fans and customers, the most up-to-date Subaru news, reviews, and new model information. You'll find the latest Subaru stories on the Subaru page. Follow me on my The Dirty Subaru website, Dirty Subaru blog, SubaruReport, All Subaru, WRXSTI, @DenisFlierl, Facebook, and Instagram.
I've got you covered! - I cover all Subaru all the time - It's called the "Subaru Report." Check back daily for my expert Subaru analysis!
Please leave your comments below, share the article with friends, and post X to your followers! 
Photo: Subaru