Everyone knows the Subaru WRX STI is a rally legend, but the Crosstrek is starting to get it's own rally reputation. It's no surprise, the Subaru WRX STI gets another first-place finish for Antoine L'Estage and co-driver Alan Ockwell in the Canadian Rally Championship (CRC). Subaru Rally Team Canada's STI scored another win in the fifth round at Pacific Forest Rally in British Columbia.
It's not just the Subaru WRX STI that's winning stages for the brand. Brandon Semenuk's Subaru Crosstrek finished second at the B.C. rally just a couple minutes behind the STI. Crosstrek was sandwiched between two STIs with the 2007 Subaru Impreza WRX STI of Urlichich/Roxon rounding out the podium finishing in third place.
Subaru scored eight of the rally's top 10 finishers, helping the Japanese automaker clinch the 2017 Manufacturer's championship with 100 points so far this season with two events to go. The only other manufacturers in the top ten were the 2005 Mitsubishi Lancer EVO VIII driven by Dimpers/Kotane and a 2016 Ford Fiesta (Wallingford/Junnila) winning the 2 wheel drive category.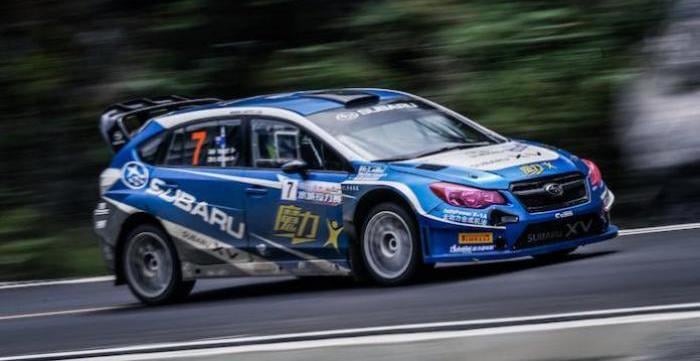 Subaru Crosstrek takes on China
Subaru Canada isn't the only rally team running a Crosstrek. Subaru Rally Team China also has a Crosstrek rally machine. The 600hp Subaru Crosstrek rally car was developed by Vermont SportsCar who builds the rallycars and Global Rallycross WRX STI machines for Subaru here in the US. SRT China has been a partner with Subaru going into its second season, and Chris Atkinson finished second in the Chinese Rally Championship run last month.
Next up for the Subaru WRX STI and Crosstrek rally cars is the 47th running of the Rally of the Tall Pines. The 21-stage event is scheduled to take place Nov. 24-25 in Bancroft, Ontario. Can the Crosstrek beat the STI?
Photo credit: Subaru Canada