The Mitsubishi brand isn't dead, they just needed Nissan to give them some motivation to make their dreams become reality. The brand is on the move and will show the world the direction they'll be taking in the future. It melts the Internal Combustion Engine (ICE).
Meet the their newest creation called the Mitsubishi e-Evolution Concept which will be unveiled at the Tokyo Motor Show 2017. Mitsubishi calls it an SUV, but it looks more like a hot coupe to us. The nameplate indicates it's a successor to the Mitsubishi Lancer EVO X that was axed last year. This has been the brand's dream all along for the EVO.
It looks like Mitsubishi is reviving the Evolution nameplate in the form of an all-electric model that will be sleek and fast. The press release yesterday says the e-Evolution Concept will feature a Triple Motor 4WD system, Dual Motor Active Yaw Control (AYC), a High torque electric drive, and Adaptive response characteristics.
This all points to a very high-performance EV with AWD and driving dynamics that will excite any performance enthusiast. This new Mitsubishi e-Evolution takes the EVO sedan to another level of driving performance. Mitsubishi says, the e-Evolution Concept "Uses high-torque and high-performance electric motors, supplied by a high-capacity battery system to deliver the smooth and powerfully responsive performance that distinguishes EVs from ICE-powered vehicles.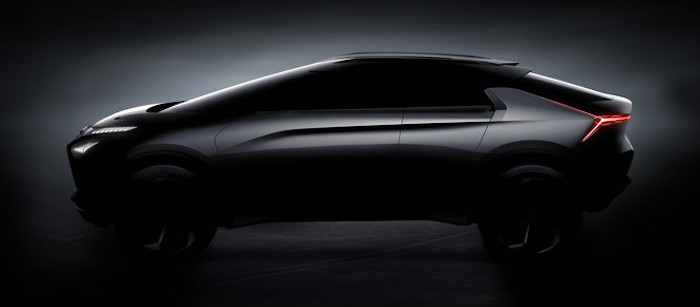 Here's how it will all work together with synergy. Mitsubishi says, the triple motor 4WD system employs a single motor to drive the front wheels, and a new Dual Motor Active Yaw Control (AYC) system that couples two rear motors through an electronically controlled torque-vectoring AYC unit.
The Japanese automaker will also incorporate a "Coaching function" to employ their new Artificial Intelligence (AI) system to augment the driver's capabilities. The system will "build a picture of the driver's skill level" and gives "advice" so the driver can quickly experience a vehicle that behaves the way they want it.
The all-electric Mitsubishi e-Evolution Concept indicates the direction Mitsubishi Motors will take in the near future, and it indicates a high-performance EVO successor will likely be built. Mitsubishi says the new EV, "Is built to stimulate the intellectual curiosity of both driver and passengers, true to the Evolution reputation." It's coming to the 45th Tokyo Motor Show this month. Stay tuned.
Photo credit: Mitsubishi Motors Corporation (MMC)