If you are thinking about buying a new Subaru Forester, you might want to wait a year. The fourth-generation Subaru Forester, introduced in 2013 as a 2014 model, is showing its age and it's ready for a complete remodel. True to Subaru's life-cycle of five years, the Japanese automaker is working on the new fifth-generation 2019 Forester SUV now and it's due out next year. It's coming with plenty of changes for SUV buyers and it's worth waiting for. What can consumers expect when it arrives?
The new Global Platform that underpins the Impreza compact and new 2018 Crosstrek is Subaru's biggest advancement in their automobiles since they developed the driver-assist EyeSight safety system. It's coming on the new-generation 2019 Subaru Forester. Here's what consumers can expect.
The 2019 Forester gets improved driving dynamics
Consumers will see noticeable changes in the new-generation Forester's driving dynamics because it will ride on the new Subaru Global Platform. In a nutshell, the new underpinnings will reduce vibrations and produce a smoother ride quality. The body and chassis will be 70-100 percent more rigid which will translate to improved steering response, and the increased rigidity of the suspension mounting will reduce body roll by 50 percent compared to current models like we see in the new Impreza and 2018 Crosstrek.
SUVs sit up high and don't perform well when taking curves at higher speeds or when changing directions quickly. The 2019 Forester will be designed with a lower center of gravity improving driving dynamics in the corners producing a more dynamic ride. Forester will also grow slightly in size, have a roomier cabin, and enjoy better fuel economy with a direct-injection engine. It will also come with several new Eyesight drivers assist upgrades.
Improved safety
Subaru's new-generation all-wheel-drive 2019 Forester will be the safest SUV they've ever built. The new architecture underpinning the fifth-generation Forester will improve crash energy absorption by 40 percent over present models keeping occupants safer in the event of a crash. Impreza and Crosstrek which already have it, can survive an impact by a heavier SUV weighting 2.5 tons at 66 mph. After an impact, the two vehicle's A and B-pillars will retain their integrity protecting the occupants.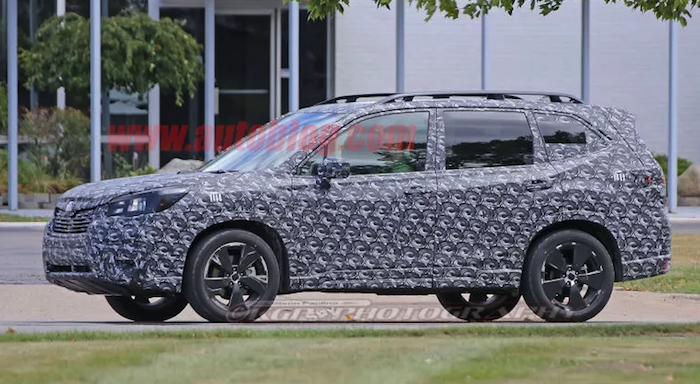 Photo credit: KGP Photography
A camouflaged fifth-generation Forester was spied recently and it could get styling cues borrowed from Subaru's upcoming 3-Row Ascent SUV, as well as a character lines similar to the new Crosstrek. Forester is the next vehicle in Subaru's lineup to get a complete makeover with the new Global Platform, and it will also get a complete drivetrain remodel. If you are thinking about buying a new Subaru Forester, you might want to wait a year. Look for the all-new 2019 Subaru Forester to arrive late next year. Stay tuned.
Photo credit: Subaru Global