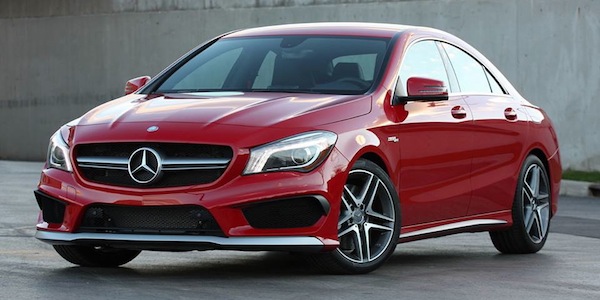 3 Reasons why 2014 CLA45 AMG is best speed machine under $50K
Please
SHARE
with friends and include TorqueNews in
Google Alerts
for tomorrow's interesting stories.
The all-new 2014 Mercedes-Benz CLA-Class seems to be getting all the attention these days, but the AMG version could be an even brighter spot for the the brand in 2014. What could be better than a performance vehicle that offers all-wheel-drive, has a starting price of $47,450, and features the most powerful production four-cylinder engine in the world? That's what the new 2014 Mercedes CLA45 AMG offers to performance enthusiasts around the globe.
The CLA45 AMG offers the best of both worlds. And it's AMG's most attainable performance car in their lineup. Who wouldn't be interested in all-wheel-drive capability with a 0-60 sprint time of 4.2 seconds. It's the perfect blend of performance and at the same time providing a car enthusiasts can drive every day. AMG provides an affordable sports car with all the AMG genes to make it a true performance four-door coupe.
CLA 45 AMG features the world's most powerful four-cylinder series production engine. The 2.0-liter turbo four CLA45 AMG pumps out 355-hp and 332 lb-ft of torque through all four wheels. The Mercedes M133 engine is the world's most powerful production four-cylinder in terms of horsepower per liter of displacement and the world's most powerful production engine, period.
Please include TorqueNews in
Google Alerts
to receive tomorrow's stories and
SHARE
this with friends if it was interesting.
How does the CLA45 AMG's engine achieve these impressive power numbers? AMG uses high-pressure turbocharging that not that long ago could only be handled by purpose-built racing mills. Now, the CLA45 AMG production engine gets twenty-six pounds per square inch. Normal atmospheric pressure is 14.7 psi at sea level and your ears feel 19 psi under 10 feet of water. This engine produces a remarkable 26 psi of boost!
The new CLA45 AMG equipped with 4MATIC transfers all that power to the four wheels for the best traction in wet or dry conditions. The 4MATIC works with the new Mercedes 7G-DCT automated dual clutch transmission, and the rear-axle gear unit with integrated, hydraulically actuated multi-disc clutch. The set-up allows fully variable distribution of the drive torque between the front and rear axles. This is ideal in wet or dry conditions, but works extremely well in snow or ice conditions. Performance car fans can drive this in the winter without fear of getting stuck.
Pages
Please
SHARE
with friends and include TorqueNews in
Google Alerts
for tomorrow's interesting stories.