Dealer markups are now the norm in America. While many models are simply out of stock and off the market, such as the Ford F-150 Lightning, others are in shorter supply than consumer demand. In some cases, dealers are marking the products up by over $10,000 on average.
A new study by our friends at iSeeCars.com lists out the models that are being marked up by dealers the most today. SUVs dominate the list. The Jeep Wrangler tops the list having the highest percent markup in the country today. Its siblings, the Wrangler Unlimited (4-Door) and the Jeep Gladiator, a small pickup that shares much of its styling with the Wrangler, also make the list, coming in fifth and fifteenth place. As always, the Jeep Wrangler is proving to be highly valued by shoppers.
Related Story: Review: Jeep Wrangler Unlimited Rubicon 4Xe - PHEV For The Win
The researchers at iSeeCars analyzed 1.9 million new car listings. They found that the average new vehicle is priced a whopping 10.0 percent above MSRP. Sadly, some new vehicles are priced well above the 10.0 percent average. The list-topping Wrangler is listing at about 25% higher than MSRP.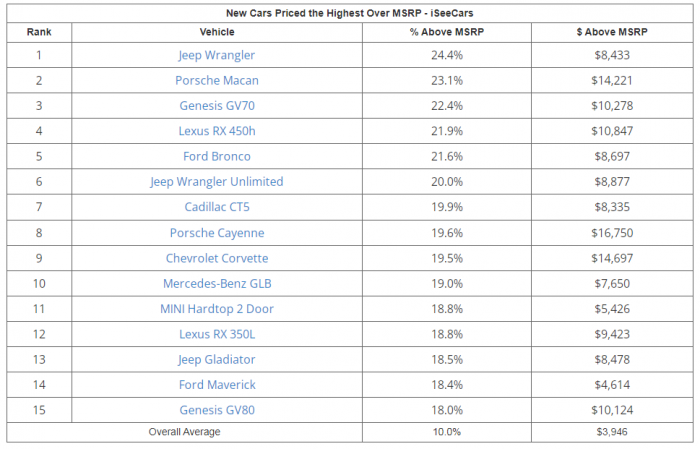 "Dealers have responded to market conditions by pricing cars above MSRP making a higher profit on specific models to help offset lower sales volumes from restricted new car production," said iSeeCars Executive Analyst Karl Brauer. "In today's market, consumers are willing to pay well-above sticker price for new cars because inventory is so scarce and because they know that new car pricing is not expected to improve until 2023 at the earliest."
Chevrolet's Corvette is the vehicle on the list with the highest dollar value listing above MSRP. It has an average markup of $15,000 according to iSeeCars.com's study.
"Demand for the mid-engine Chevrolet Corvette has exceeded supply since its launch for the 2020 model year, and its high demand contributes to the vehicle consistently selling over MSRP," said Brauer. "The Cadillac CT5-V Blackwing trim, which debuted for 2022, has a supercharged V8, and the low availability of the high-performance trim led to significant markups."
To view the full report summary, check out iSeeCars.com.
Image of Jeep Wrangler by John Goreham. Chart courtesy of iSeeCars.
John Goreham is a long-time New England Motor Press Association member and recovering engineer. John's interest in EVs goes back to 1990 when he designed the thermal control system for an EV battery as part of an academic team. After earning his mechanical engineering degree, John completed a marketing program at Northeastern University and worked with automotive component manufacturers, in the semiconductor industry, and in biotech. In addition to Torque News, John's work has appeared in print in dozens of American news outlets and he provides reviews to many vehicle shopping sites. You can follow John on TikTok @ToknCars, on Twitter, and view his credentials at Linkedin
Re-Publication. If you wish to re-use this content, please contact Torque News for terms and conditions.